10 Reasons to Stay Excited About Chicago Baseball After Week 1: Cubs Edition
BY: Collin Brennan |
Apr 7, 2014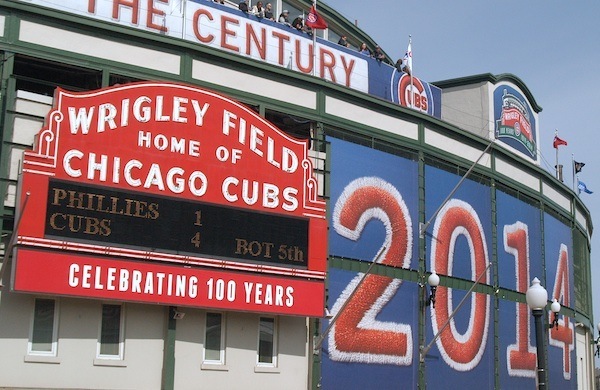 The Cubs didn't have the best Week 1 (eight runs in five games? Yeesh.), but there's still plenty to look forward to in Wrigley Field's centennial season.
This year, the Cubs will celebrate Wrigley Field's 100th season by gunning for 100 losses. It's a noble goal—heroic, even—but the team's fans might think otherwise. In honor of their loyalty, here are 10 reasons to keep the hope alive after a dismal Week 1.
1. The starting pitching staff is hot. Even if nobody else at Wrigley is.
The Cubs may be ranked dead last by most "experts," but they can take solace in a starting staff that has stormed out of the gates with a 1.93 ERA. Although he's had virtually no run support, Jeff Samardzija has been sensational in allowing only two earned runs over his first two starts. The weather might also factor into the Cubs' pitching success, as several opposing hitters simply quit baseball altogether after facing opening-day temperatures in the low 40s.
1a. Speaking of Jeff Samardzija, he could still decide to play for the Bulls.
We already know that Samardzija can catch a football. (At Notre Dame, the acrobatic wide receiver set single-season records in receiving yards and touchdown receptions.) And yes, he has evolved into a key cog in the Cubs' pitching staff. But at 6-foot-5, Samardzija would be the perfect complementary player for the Bulls' playoff stretch run. Imagine him lining up next to
Joakim Noah
. Imagine that
hair
. We're talking levels of style that haven't been touched since Drew Gooden put braids
on his face
.
2. Maybe Junior Lake will wear the wrong jersey again.
Junior Lake sounds like that cool summer camp you were never able to go to because your dad blew all his savings on Cubs season tickets. But far from bringing back painful memories, the young left fielder is here to make sure this summer is the best one ever. He's already on a roll as the team's comic relief, having
worn the wrong jersey
during a game in Pittsburgh. What he'll do next is anyone's guess, like what that nice Becky Petersen from next door is up to these days … .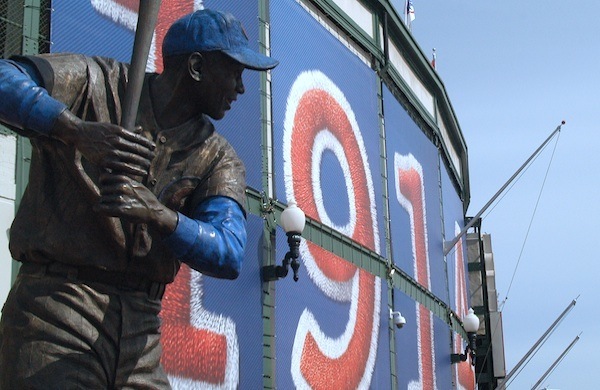 3. Emilio Bonifacio has almost stolen enough bases to build a padded clubhouse fort.
Emilio Bonifacio is no stranger to running around, having played with six teams in his seven-year career. The Cubs are hoping he's found a home that he likes because their sizzling new acquisition happens to lead the league in stolen bases. In a few weeks' time, he'll likely have enough to make his own little padded fort in the clubhouse, where he can meet with reporters who know the secret password.
4. Ryan Kalish looks like the real deal.
Fans are right to feel Pollyannaish about Ryan Kalish, the Cubs' other prized offseason acquisition. Once one of the top prospects in the game, the 26-year-old outfielder was sidelined by the same cervical-fusion procedure that Peyton Manning went through before returning to win NFL MVP. If his two-hit, three-RBI performance against the Phillies is any indication, maybe Kalish is destined for his own MVP. Or at least a couple more starts.
5. New manager Rick Renteria has a cool nickname and once coached a team called the Manatees. We're in good hands.
Cubs managers have been on a short leash lately—Mike Quade and Dale Sveum were both ousted after less than two years on the job. If you're looking for an indication that the new guy is going to be different, look no further than his track record. When Rick Renteria was on the Florida Marlins, he went by the nickname "Secret Weapon." We'll call that a ground rule double. When Renteria was managing in the minor leagues, his team was none other than the
Brevard County Manatees
. The
Manatees
. Yup, that's a home run.
6. Old Style's social-media campaign worked.
It was a near-scandal when the Cubs signed a fat marketing deal with Anheuser-Busch, owner of Budweiser and sworn enemy to Wrigley Field stalwart Old Style. But Pabst Brewing Company got the word out via social media, and fans of Old Style will be glad to know that their favorite "local" beer will still be available at Wrigley this year. We aren't sure
what the future holds
, but for now St. Louis can keep their watery swill to themselves.
7. It's only a matter of time before the rooftop bars install catapults.
Speaking of Budweiser, the company is planning to install a huge sign in the outfield as part of Wrigley's planned renovation. This doesn't sit well with the owners of the rooftop bars, some of which might be blocked by the new sign. The Cubs seem to be going ahead with plans regardless of the owners' complaints, which can only mean all-out war (read: entertainment). At least some
rooftop views
will remain unobstructed.
8. The ivy is set to bloom any day now. Really. Any day.
While we wait, here's a video of Kerry Wood striking out 20 hapless Houston Astros:
9. A new menu of period cocktails lets you drown your sorrows like granddad did.
As part of Wrigley Field's centennial celebration, the park is
rolling out a menu of retro cocktails
inspired by trends throughout the decades. Highlights include the 1910s Weeghman Park old fashioned, the 1970s Cooperstown iced tea, and the 2000s
Carlos Zambrano Gatorade punch
.
10. Clark the Cub isn't as creepy as we feared.
Well, unless you're
Deadspin
(
very
NSFW).
Not depressed yet? Check out Groupon's deals for sports in Chicago
. | Hating baseball more than you realized? Explore more deals on other
things to do in Chicago
.
Photos: Collin Brennan