10 Reasons to Stay Excited About Chicago Baseball: White Sox Edition
BY: Collin Brennan |
Apr 11, 2014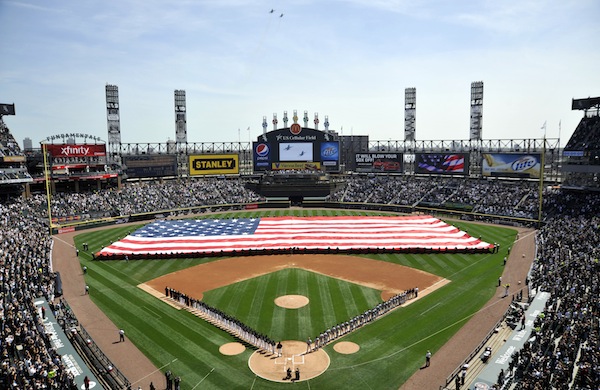 The Sox are off to a not-terrible start, and there's reason to hope the Cell won't feel like a prison this year.
Whether or not Richard Daley cares to admit it, the White Sox have always been the Second City's second team. For evidence of this, look no further than the South Siders' first homestand of 2014: during games
described by Deadspin
as "eerily empty," the visitors' bench seemed to outnumber the fans sitting in the outfield bleachers. They may not win the World Series again this year (okay, they definitely won't), but there are plenty of reasons to look forward to this latest season of White Sox baseball. Besides, even if they suck,
we'll always have 2005
.
1. Flame-throwing lefty Chris Sale is still a frontrunner for the Cy Young.
Before the White Sox landed Chris Sale, their most popular southpaw was a creature that,
by his own admission
, resembles a dirty sock. Let's just say that signing the lefty starter was a step in the right direction. Sale has been on absolute fire this season, stumping opposing hitters to the tune of 14 strikeouts and a slim 1.76 ERA.
2. Cuban-born slugger Jose Abreu is good. And he's going to get better.
Jose Abreu has started the season on a tear of his own. Just 10 games into his promising career, the rookie first baseman is already the proud owner of a two-home-run game (April 10 vs. Cleveland). During most at-bats, he looks like he's trying to become the first player ever to hit a ball from US Cellular Field to his native Cuba. Speaking of Cuba, we might as well start referring to Chicago as Havana North; the Sox have already featured four Cuban players in their starting lineup.
3. The rest of the offense isn't so bad, either.
Don't look now, but the Sox lead the league in runs scored. They've recorded five runs or more in all of their wins, but the bats will have to keep singing if there's any hope of reaching the playoffs. Nobody appreciates the run support more than the reconstructed bullpen, which is pitching only slightly better than a pen filled with actual bulls. Actual bulls that can't pitch.
4. Big Hurt Beer is a thing that exists.
But let's not dwell on the bullpen's woes. How could we, when newly minted Hall-of-Famer Frank Thomas is busy hitting another one out of the park? Yep, we're talking about Big Hurt Beer, the crisp, refreshing lager enjoyed by all players when their managers aren't looking. Frank unleashed his high-ABV juggernaut on the Chicago market a few years ago. We couldn't believe it then and we still can't believe it now, but we're going to ride this train until the wheels fall off. After all, it's not like the celebrity-alcohol pairing hasn't worked beautifully before:
5. This is the year we find out if Dayan Viciedo is for real.
When promising young outfielder Avisail Garcia was sidelined for the season with a torn labrum, Sox fans couldn't help but wince. Garcia was a revelation in his first few games, and he's a key cog in the team's youth movement. But his loss allows another young player—25-year-old Dayan Viciedo—to finally show what he's worth. Viciedo has struggled so far in his career with the Sox, but the potential is there for a breakout season. Besides, he's only 25. What were you doing at 25? Drinking a lot of Big Hurt Beer, we bet.
6. Adam Eaton's bat is almost as powerful as his beard. Almost.
Behold the glory of
Adam Eaton's beard
(Forget the D'Backs jersey. We all make mistakes). Its beauty lies not in its bushiness, but in its close-cropped "comehitherness." This is a beard that compels you to invent new adjectives. This a beard you could take home to your parents. This is the Harrison Ford of beards, meaning it could convincingly play Han Solo and the President
at the same time
. Hell, before all is said and done, maybe it will. Oh, and the centerfielder attached to it isn't so bad, either.
7. Outside of the Tigers, the rest of the AL Central might be Sucktown.
When the White Sox started this season, they weren't supposed to be good. This was a team built for the future—a team stacked with young talent and with
this song
as their clubhouse anthem. But then something beautiful happened. The bats started connecting, Chris Sale started doing Chris Sale things, and the rest of the AL Central stopped looking so intimidating. Who says we can't beat up on the Indians, the Twins, and the…you know, that blue team from Kansas City. Are they still around?
8. The hideously awesome 1983 throwbacks are back to blind opposing batters.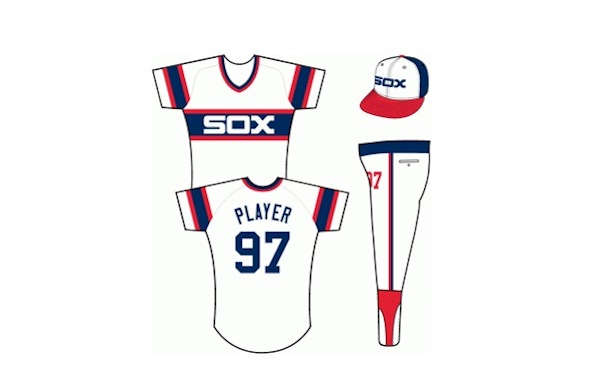 It's a common theme in pop culture: something goes out of style for a few decades, a bunch of hipsters rediscover it, and soon enough it's basking on the banks of the mainstream. Such is the trajectory of the
1983 "Winning Ugly" uniforms
, which returned last year and are back for another go-round. Because nothing says "We're a serious baseball team" quite like a tricolored cap.
9. Southpaw hasn't punched out any drunken fans yet.
The same cannot be said for a certain unofficial Cubs mascot:
10. Bridgeport > Wrigleyville.
See above.
Want to catch a game? Check out Groupon's deals for sports in Chicago. Want to do something other than watch baseball? Check out other things to do in Chicago.