10 Shows for 10 Very Different Comedy Fans at SketchFest
BY: Dan Caffrey |
Jan 20, 2014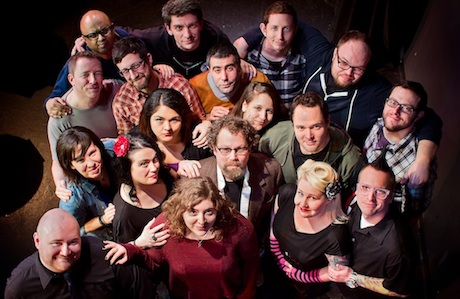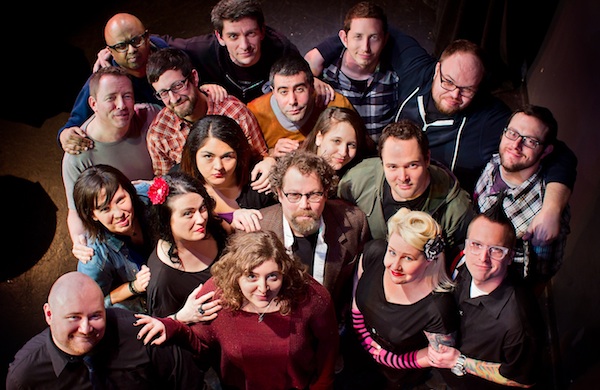 From a musical about relationships to a variety show hosted by Mary Todd Lincoln, this year's SketchFest has something for everyone.
It's literally impossible to see every group performing at the
13th annual Chicago Sketch Comedy Festival
(SketchFest for short), now in its second and final weekend at
Stage 773
's four theaters (1225 W. Belmont Ave.). Just look at the overstuffed
schedule
. The sheer number of acts means there's something for everyone, so we chose 10 of the most distinct, each one appealing to a different kind of comedy fan.
If you've imagined what Portlandia would look like if it took place in Austin, check out: Stag Comedy
Hailing from central Texas, Stag Comedy paints an absurd version of the Lone Star State, one that's populated by terrible a cappella groups and corrupt cops who coach Little League.
(Friday and Saturday at 11 p.m. at The Thrust. $14)
If you think your family Monopoly game is more hysterical and dysfunctional than any comedy sketch, check out: The Charlies
This New York–based sketch group is having a game night that promises to explode into heated arguments and possibly thermonuclear war.
(Friday and Saturday at 11 p.m. at The Cab. $14)
If you like your comedy energetic yet cerebral and dark, check out: Rabbit Rabbit
Rabbit Rabbit's Andrew Bentley and Chris Blake create short narratives that revel in absurdism and characters giving into their most sinister impulses. This mixture of goofiness and id has been lauded by
Time Out Chicago
as "unexpected and a joy to watch."
(Friday at 9 p.m. at The Thrust. $14) 
If you prefer your one-woman shows to examine intensely personal issues, check out: Almost a Genius
Maria Wojciechowski found that the best way to deal with her anxiety, insomnia, and bipolar disorder was to write a sketch-comedy show about it.
Almost a Genius
takes audiences inside her mind for a whirlwind of storytelling, music, and dance.
(Saturday at 6 p.m. at The Cab. $15) 
If you're a fan of Latino comedy, check out: Salsation Theatre Company
Now in its 15th year, Salsation dissects the Latin American experience in the United States. Although humorous, their sketches focus on characters dealing with real-life obstacles such as stereotypes and language barriers.
(Saturday at 6 p.m. at The Pro. $15)
If you want sketch comedy that you can tap a toe to, check out: The Cupid Players
A staple of the Chicago comedy scene, The Cupid Players write and perform
Cupid Has a Heart On
, a musical sketch show that presents the raunchy, sweet, and cynical sides of relationships.
(Saturday at 8 p.m. at The Cab. $15)
If you want your comedy physical, messy, and full of food, check out: Snack Boys
As much as Snack Boys relish pratfalls, adult diapers, and food challenges, they keep their lovingly gross sketches grounded in strong scene work.
(Sunday at 4 p.m. at The Box. $14)
If you long for sketches that speak to the LGBT community, check out: Wig Bullies
The sister company of Salsation, Wig Bullies examines the LGBT experience. Past sketch revues have included
Wigocalypse
, where a group of LGBT characters encounter homophobia at a mall food court during the end of the world. It's a prime example of the collective's MO—using silliness to explore and satirize social issues.
(Sunday at 5 p.m. at The Box. $14)
If you dream of a late-night variety show hosted by Mary Todd Lincoln, check out: The Mary Todd Lincoln Variety Hour
Exactly what it says it is, this show is hosted by the former first lady herself and showcases music, games, and sketches inspired by American history.
(Sunday at 3 p.m. at The Pro. $14) 
If you wonder what a sketch show written and performed by high schoolers would look like, check out: Hey, Look a Pig! 
Kids these days: all they seem to care about are taking selfies and writing and performing in their own comedy troupes. Well, at least one of those things is guaranteed to be true of
Hey, Look a Pig!
, the show penned by the student sketch club at Elmhurst's York High School. Their comedic offerings kick off the last day of the festival.
(Sunday at 2 p.m. at The Thrust. $14)