GROUPON GUIDE TO WASHINGTON-DC
10 Things to Know Before You Hit Gaelic Storm's Next Show
BY: Stephanie McDaniel |
Oct 17, 2022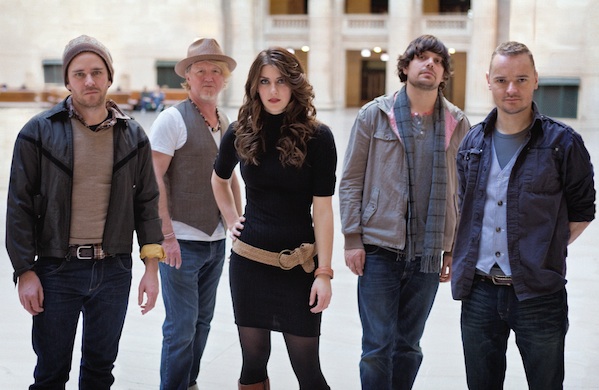 Whether you're lining up for one of Gaelic Storm's annual St. Patrick's Day shows or just planning to catch them on their 200-day tour, you should prepare for a party. With the help of Steve Twigger, the band's lead guitarist, we've identified 10 things that make the Celtic rock band so addictive to their fans.
1. Their pub shows were good enough to land them a gig on the Titanic.
In 1996, Gaelic Storm was playing at a pub in Santa Monica when they were asked to perform as the steerage band in 1997's Titanic. "The Titanic movie was a big foot in the door," Steve said. "We have a lot of notoriety around the country for that. People wanted to see who that band was."
2. They tour more than 200 days a year.
"We've worked very hard since [Titanic]. It's been a steady progression," said Steve of the 2,000 shows they've performed in the last 16 years. "Honestly, when you do so many shows, they all blend together. You don't remember where you were last week, and you have no idea until you wake up where you're going to next day."
3. Their songs celebrate life—and dancing chickens.
The video for "One More Day Above the Roses" captures the band's joyous spirit with a dancing chicken in boxing gloves.
Dance like no one's watching as often as you can,
And when you drink, drink like you're a true-blooded Irishman.
Live every day like it's your last;
They're going by way too fast.


4. They don't stick to one formula.
Gaelic Storm has 10 albums, each with a mix of Celtic rock, instrumental music, and tunes influenced by traditional Irish melodies. They play a wildly varying set of instruments, including the spoons, Highland and Uilleann pipes, bouzouki, and mandolin.
The latest album, The Boathouse, leans heavily on their Celtic roots. After "one whiskey-fueled week in a boathouse on the Chesapeake Bay," Steve said, the band "went back and found a lot of old traditional songs that we liked. Old seafaring songs that we grew up with and got to like over the years."
5. What's bigger than the Titanic? Punching Russell Crowe.
According to the lyrics of crowd favorite "The Night I Punched Russell Crowe," band leader Patrick Murphy once had a run-in with the world's most famous gladiator at Patrick's California pub. Crowe was smoking at the bar when Patrick told him to put it out or he'd kick him out.
He squared right up to me somewhat in surprise,
Then he narrowed up his gaze, shot me daggers with his eyes.
"If you think you're man enough, go ahead," he said.
I was scared for me life so I dalked him in the head.

Fans even put together a reenactment of the scuffle using Legos.
6. Kids, parents, and grandparents party together at their shows.
"We've had as many as four generations at the show at the same time," Steve said. "It's great. It's mostly family-friendly themes, although I guess in Irish families drinking is a family-friendly scene."
7. They'll have a pint with their fans.
Since he's been touring for so long, Steve can look into the audience and recognize half the crowd and even knows many of them by name. "People have expressed to us [that] we're kind of part of their lives now, you know, from generation to generation," he said. After shows, the band often heads to a nearby pub to chat with fans. "That's always nice. Getting to know people and getting to hear what their stories are."
8. Audience participation is required.
For "Me and the Moon," expect a shouting call and response on the lines "We brought the whiskey!" and "We brought the light!" The band also like to blend standup comedy into their sets. The mood turns serious, though, during "Darcy's Donkey," when everyone pulls out their best donkey dance.
9. Their song "Johnny Tarr" is like "Free Bird"—it's always requested.
When asked why people love mellow number "Johnny Tarr," Steve laughed. "It's a mystery to me. It really is. To this day it's like the one song that we cannot get off stage without playing." Based on a now legendary Irishman and heavy drinker, it perhaps embodies that "roguish spirit of drinking in Ireland," he said.
But why not mix it up? "Don't you get annoyed when your favorite song gets messed with like that by the band?" he asked. "It's like, 'I'm just waiting for that one song,' and then they do a reggae version of it or something and you're like, 'Aw, that's not the song.'"
10. They let their fans call the shots.
"Depending on who turns up and who yells out or whatever happens that night, that'll change the direction of whatever we're doing," Steve said. For St. Patrick's Day, though, they always end the concert on a particularly Irish note with an original song called "Kiss Me I'm Irish."
For upcoming tour dates, click here.
Photo courtesy of Gaelic Storm