100 Bottles on the Wall Is Nothing: How Howells & Hood Keeps 360 Beer Taps Flowing
BY: Cody Braun |
Apr 25, 2013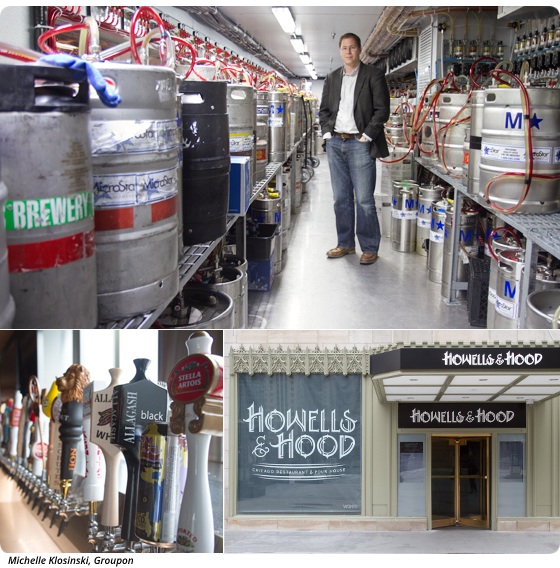 The cooler at Howells & Hood regularly brims with 500 kegs of beer. VP of Operations Ken Henricks explains some of the hidden challenges in keeping them flowing through hundreds of taps.
For a beer lover, opening up the cooler at
Howells & Hood
is like stepping into a chamber full of treasure chests. Beyond the heavy metal door, a set of plastic curtains slaps at you. Then, the first cloud of warm breath dissipates before your eyes, and it is immediately impossible to miss the kegs, somewhere between 550 and 600 of them. Perhaps less noticeable are the dozens of pressure gauges and tangles of tap lines. It might be easy for most people to overlook the challenges all that gear represents, but Ken Henricks is not most people. He's the vice president of operations at
Bottleneck Management
, which runs Howells & Hood. The restaurant, tucked into the Tribune Tower, has more taps than any other spot in the city, and it is part of Henricks's job to pay attention to the little things that keep all 360 of them constantly pouring fresh beer from that trove of kegs.
The Race Against the Clock
Kegged beer has a limited shelf life, and that's at the heart of most of what Henricks does. "We stamp a date on every keg," he says. "And we're checking that every morning. Generally speaking, depending on the beer, you've got three to five weeks." So, from the moment a keg arrives, the race against the clock is on. Henricks says that in the last decade or so, many craft brewers realized that bars simply don't go through half-barrel kegs quickly enough. Half-barrel kegs are the 15-gallon beasts most people recognize from movies about foiling evil college deans. Instead of these, the cooler is mostly filled with sleeker 5.2-gallon kegs, which means the bar only has to serve about two glasses per day from each to finish them with plenty of time to spare. That's no problem for a macrobrew such as Bud Light, Henricks says, but it is a little harder to move a less well-known beer, such as Allagash Black, so making sure that they get equal attention is crucial. That's where the bar's army of certified cicerones comes into play. A cicerone essentially does for beer what a sommelier does for wine, and the training helps make sure the team is digging deep into the list rather than just suggesting a few favorite brews. "That's the goal," Henricks says. "Getting everyone to speak the language. Knowing that pale ales are hoppy is great. Knowing why one might differ from another is better. Do you want malty? Wheat based? Piney, organic hops or citrusy hops?" As time runs out on the Allagash Black, for example, the team has to try new things to get people interested in it. "Once we get to two weeks, we look at flights," Henricks says. That means the team will start incorporating pairing samples with other similar brews. It still tries to make sure it's not giving people something they'll hate, though. "We're not selling ketchup popsicles to a lady with white gloves here," Henricks says, grinning over one of the bar's gleaming tables. Almost nobody who comes in has tried the hundred-something unique brews that are on tap at any given point in time. To move the kegs quickly enough, the whole list has to feel accessible. "Not knocking the Map Room," Henricks says of the renowned Bucktown beer hall. "But that place is intimidating. We want to take that intimidation out of it. I don't care if you've only ever had Miller Lite at a Cubs or Sox game, I want to get you into the world of craft beer, you know?"
The Science of Tending Bar
Those pressure gauges on the wall of the cooler verify that all of the precious craft beers are pushing through the 360 tap lines at the correct rate and arriving with the perfect head and mouthfeel. Every beer has a different optimal pressure; stout should get just a thin veil of foam, whereas a lambic should be dancing with carbon-dioxide bubbles. To further complicate things, Howells & Hood also nitro pours beers. That means some lines must get the proper blend of nitrogen and carbon dioxide, which has to be delivered at a higher pressure. When I visited, I had an Old Rasputin russian imperial stout from North Coast Brewing, to which nitrogen adds a gorgeous creaminess. Henricks says that one other team member works full time to curate the beer list, keep just the right amount of back stock, and ensure the lines are running smooth and clean. Projects such as changing out an empty keg become serious when there are 500 full ones in the way, but the whole bar is laid out in a way that's conducive to such unique challenges. That's partially because Henricks and the rest of the management crew all came up through the ranks of the service industry. "I tended bar on weekends during college," Henricks says. "We're not afraid to get our hands dirty. If I'm walking through, and I see a napkin on the floor, I'll pick it up!" That experience informs subtle decisions that make pouring beer from 360 taps a slightly less daunting task. For example, there are three separate bars in the restaurant, but they all have the same configuration of tap handles. If you know where Allagash Black is on the patio, you know where it is at the bar in the central dining room. A massive glass window there lets diners see the trove of kegs, but it also lets bartenders see if someone is already changing out an empty one. Curating those ranks of kegs is no small task, either. Henricks created the initial list, but it changes nearly every day. There is a heavy focus on beers from Illinois, and Henricks lovingly insists on standing next to those when we take his picture. Revolution Brewing, Metropolitan Brewing, and Two Brothers Brewing Company are, of course, well represented. Filling the rest of the large leather-bound beer list are less-expected offerings that rotate according to changing trends, the season, and availability. The burgeoning Danish beer scene sends several brews from Evil Twin Brewing as well as Mikkeller's Mt. Hood IPA (where there are plenty of those citrusy hops Henricks mentioned). Spicy Belgian yeasts have clearly been busy as well. I'm not wild about cider, but Vander Mill's Totally Roasted, an earthy elixir made from roasted pecans and apples, hardly seems to belong in such a sickly sweet category. But any of those might be gone in a week, swapped out in favor of something new. There is, of course, the constant need for quality control. As the restaurant's patio sheds the winter chill, it is becoming an excellent place to make sure all the beers are coming out OK. "For spring beers, it depends on my mood. I go through phases," Henricks says. "I drink Bell's Oberon a lot. That usually starts showing up around May. Hoppy wheat beers are great in warm weather." And to someone less adjusted to the world of craft brews? "I'm not going to start you off with strong ales," he says. "I'd suggest a Prairie Path from Two Brothers." That's a session beer that practically begs for sunlight with its delicate Saaz hops and straw hue. Henricks doesn't say it, but it probably tastes better if you remember all the people and complex equipment that got it to your glass.
BY: Cody Braun
Guide Staff Writer
Cody is a banjo-carrying gypsy now accustomed to having a permanent home in which to brew beer, store journalism degrees, read Wodehouse, and bake bread.