16 Sweet Ways to Fill Out Your March Madness Bracket—Even If You Know Nothing About Basketball
BY: Amelia Buzzell |
Mar 17, 2014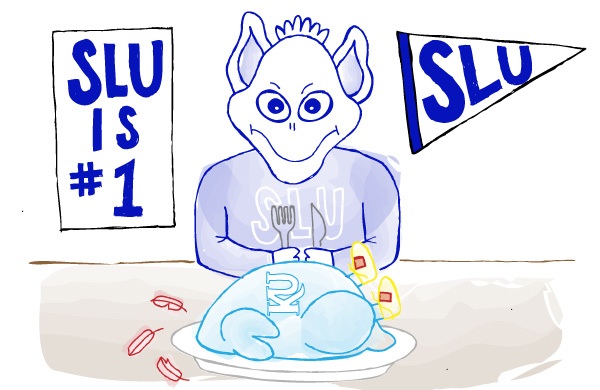 When Selection Sunday comes around each year, some people consult rankings, statistics, and superstitions to fill out their brackets. But a truly flawless bracket is almost impossible to make—there's just a
one-in-9.2 quintillion
chance someone will win Warren Buffett's $1 billion prize for the perfect bracket this spring—so even if you're a college basketball novice, the odds may still be in your favor. As you choose between teams in your bracket this year, bypass clichéd criteria like "Which mascot would win in a fight?" and ask yourself the following questions instead:
16. Which mascot could you feasibly eat for survival?
The bright blue and red plumage of the Kansas
Jayhawk
may signify it is poisonous and unfit for human consumption, whereas Wisconsin's
Bucky Badger
would likely be gamey but satisfying. If you're worried about scurvy, Syracuse's
Otto the Orange
is your guy. A note to gluten-free folks: Wichita State's
WuShock
is a sentient shock of wheat, and should be avoided.
15. Which team has the most kissable coach?
To give your bracket an edge, bypass obvious hunks like Villanova's
Jay Wright
,
Jim Boeheim
of Syracuse, and Memphis's
Josh Pastner
for a guy like
Monté Ross
from Delaware. Isn't he such a lil' sweetie?
14. Which team can pull an upset?
Providence surprised everyone by winning the Big East tournament this year, returning to the Big Dance as an 11-seed for their first appearance since 2004. Look for the Friars to pull another upset in the first round, made possible by the team's signature drill: memorizing opponents' childhood fears.
13. Which players' names sound best in iambic pentameter?
Jabari Parker, master of sick dunks/In blue-clad Cameron, hones his wicked moves
12. Which team is this year's Cinderella?
Summit League champions and 12-seed North Dakota State have a real shot at advancing to the Sweet Sixteen and beyond, thanks to the gritty play of senior forward Taylor Braun and a fresh shipment of Adidas's experimental stained-glass high-tops.
11. Which mascot would be the least welcome at your child's 4th birthday party?
Consider the
Billiken
. Hatched in the fever-wracked dream of a Kansas City art teacher in 1908, Saint Louis University's resident hell-beast sports pointy ears, a wiggly disapproving mouth, and hair like a tiny toupee. It is not welcome at a child's birthday party, nor is it welcome at an adult's birthday party. It is not welcome at a funeral. In fact, it is unwelcome everywhere except the vault beneath SLU's gymnasium.
Runner-up:
Iowa State's
Cyclone
. The bird inside that tornado is presumed dead.
10. Which team has the most tattoos?
Measurement includes all members of the coaching staff, but not student managers. In the event of a tie, the edge goes to the team with the tattoo closest to
this portrait of James Naismith
.
9. Which team did the coolest kid in your middle school like?
Bobby Pfaffenbach had the uncensored version of
The Marshall Mathers LP
, parents who gave out full-size candy bars at Halloween, and the world's sweetest Florida Gators windbreaker. Whatever happened to that guy?
8. Which team's jerseys would make the prettiest color if they were blended into a smoothie?
Blue and white make blueberry, green and white make mint, and orange and black make microwaved barf. Sorry, Mercer.
7. Which team has the most famous fans? 
In a pinch, pick like your favorite celebrity. The Texas Longhorns have the loyalty of Oscar-winner Matthew McConnaughey, Stanford regularly hears cheers from former Secretary of State Condoleezza Rice, and players from Harvard are regularly visited by the spirit of superfan John Quincy Adams.
6. Which seeds are the best bargain?
The selection committee shocked many observers by choosing Big Ten tourney winners Michigan State and defending national champions Louisville as 4-seeds. In the event that the seeding decisions were made on Opposite Day, pick 15-seed American University as tourney champs.
5. Which coach will look truly disappointed in you if you lose your tourney pool?
Don't let Coach down. Can you look into the puppy-dog eyes of Kentucky's
John Calipari
or the white-hot glare of
Rick Pitino
of Louisville without throwing yourself straight into the sun?
4. Which coach could be easily thrown by Bobby Knight while still seated in his chair? 
Gonzaga's
Mark Few
 looks pretty wiry, which would make him an easy throw—but what if Eastern Kentucky's
Jeff Neubauer
 is actually filled with helium?
3. Which team name makes the best palindrome?
That's an easy one: Avonalliv.
2. Which teams have a winning tradition?
Winners find a way to keep on winning, so don't be afraid to let past triumphs color your decision this year. When making your picks, remember: UCLA has 11 titles, Kentucky has 8, and Creighton always wins the raffle at the pre-tournament spaghetti dinner.
1. Which team is best at basketball?
Pick that team.
Illustration by Jessica Duff