2013's Top Moments in Chicago Concerts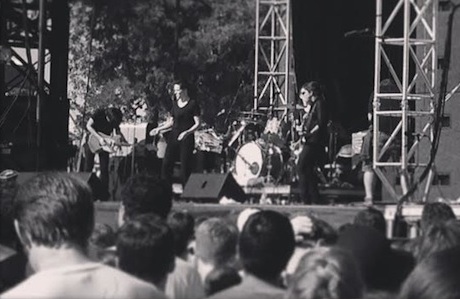 Winter's latest onslaught of snow and frigid temperatures has meant a slow start to 2014. Huddled together inside our office on Chicago Avenue, the The Guide's Arts & Leisure staff took a moment to reflect on some of our favorite concerts of 2013. The highlights range from a pair of sunburnt festival shows (oh, the halcyon days of summer … ) to a literal eruption inside the United Center. 
Paul Collins Beat with Blizzard Babies at Township (February 7)
Growing up in Los Angeles, the capital of crappy hair metal and my least favorite strain of hardcore, it wasn't easy to find great pop music that my punk friends approved of. Peter Case, Jack Lee, and Paul Collins wrote some of the catchiest songs imaginable, but they injected them with an undeniably punk swagger. I showed up at the
Empty Bottle
in March 2012 hoping to see a long-overdue Nerves reunion, but Paul Collins canceled for personal reasons. One year later, I was finally able to see him when he played at Township with Blizzard Babies, an all-female quartet with a similar knack for writing simple, infectious songs. I don't really dance at shows anymore—usually I'm hanging at the back, sipping on beer and wondering why I'm not all that excited. But something seemed to click that night, and for a couple of hours I was 16 again.
– Collin Brennan
Gaelic Storm at House of Blues (March 16)
Gaelic Storm's annual concert makes the day before Saint Patrick's Day feel like New Year's Eve. The five performers on stage drum, sing, and joke their way through their catchiest tunes as slightly intoxicated Irish enthusiasts ratchet up the excitement down in the pit. These concerts crackle with energy because they are all about audience participation, whether it's dancing like donkeys or tossing around beach balls. Throughout the evening, all of the Irish influences came out as Patrick Murphy told a story about how he (supposedly) punched Russell Crowe, fiddle and pipe competed in a showdown duet, and Irish dancers from a local troupe stepped along to the lilting notes. During the encore, everyone sang along to "Kiss Me I'm Irish"—shouting out love for Chicago at the appropriate line—and cannons fired green, orange, and white streamers into the air.
– Stephanie McDaniel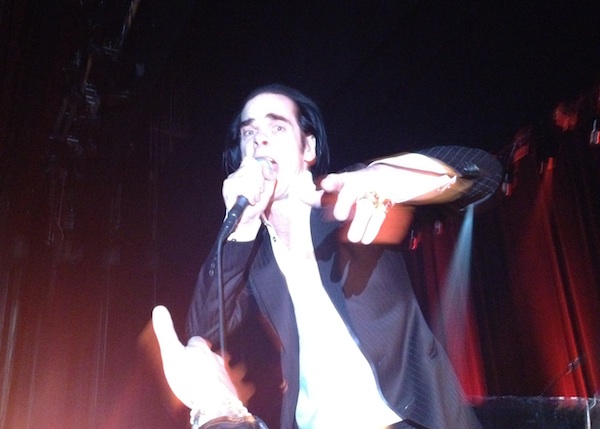 Nick Cave and the Bad Seeds at the Chicago Theatre (April 1)
We didn't get the good seats because they weren't cheap and we didn't know somebody who knew somebody. Yet two songs into his Chicago Theatre show, that gaunt Nick Cave wasn't enjoying himself. There were all of these chairs in front of him—chairs that people were
sitting
in. He couldn't contain his contempt. "Come up here," he beckoned to the crowd, so we swooped down front, where others had paid half a grand to see Nick Cave up close. "Can we get rid of those chairs?" Nick asked, and suddenly the audience worked like a factory, uprooting chairs and tossing them to the side as we squeezed into the front of the stage. Did we ruin the show for those "sitters" who forked up? Yes, and good for us, as we felt the power of a band that sounded more primal and vitriolic in their 50s than they did as viscous Australian teens. He swept us into his terrifying arms. He sweat buckets straight into our eyes. He levitated. The feeling was mutual.
– Roy Ivy
Sigur Rós at UIC Pavilion (April 2)
I had never seen a concert inside a university basketball stadium before, which proved to be a weird experience. Then again, weird is pretty much Sigur Rós's modus operandi. I had actually refrained from listening to all but one song from the Icelandic band's most recent album prior to the show, so most of the music was almost as surprising as the spectacle. For their part, the band stuck mostly to classics from previous albums, but frontman Jónsi really rustled his feather-covered military jacket to the new album's more celebratory tracks. During a closing number, extra violinists joined the band under a constellation of amber bulbs suspended from the ceiling, which made it seem as though they were either drifting through the night sky or hanging out in a really hip garage.
– Will Landon 
Americanarama with Bob Dylan, Wilco, and My Morning Jacket at Toyota Park (July 12)
My Morning Jacket put on a rousing show, and Wilco delivered a stirring hometown set (though snobbishly devoid of "Via Chicago"). But I was there to see Bob Dylan. Although I'd been warned to expect inscrutable wigs and unrecognizable, mumbled manglings of beloved tunes, I found neither. A wigless Dylan and his band delivered a tightly rehearsed, jazz- and rockabilly-tinged set that included thoughtful reinventions of "Tangled Up in Blue" and "Ballad of a Thin Man." Dylan hasn't updated these songs for the modern age; rather, he's infused them with shades of '30s, '40s, and '50s nostalgia that make them all the more enduring.
– Emily Wachowiak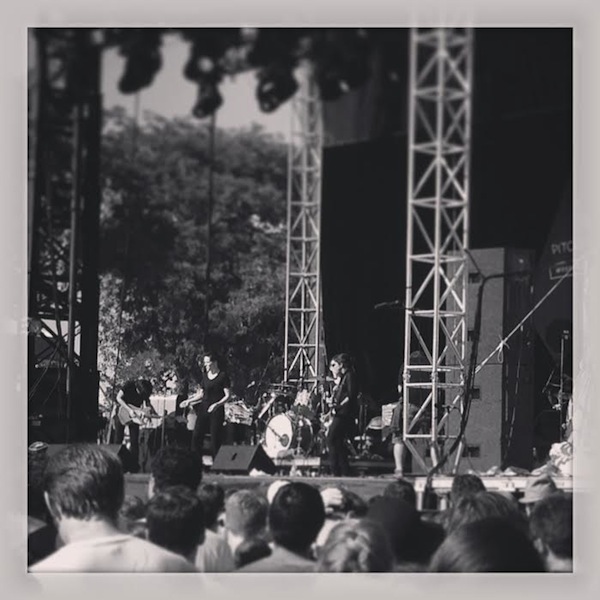 Savages at Pitchfork Music Festival (July 20)
As much as it pains me to pick a festival show, I can't deny how much I enjoyed Savages at Pitchfork. Ten-year-old me was there to see childhood hero (and fellow Ohioan) Kim Deal play a 20th-anniversary set of
Last Splash
with the Breeders, but it was the women who preceded them on the Green Stage that really blew me away. Lead singer Jehnny Beth's on-pitch screaming was a perfect complement to her androgynously beautiful stage presence, and I was in absolute awe of how drummer Fay Milton seemed hell-bent on destroying her kit yet never once lost the beat. Afterward, Kim Deal kept giving props to Savages throughout the Breeders set, and as 10-year-old me danced to "Saints," 30-year-old me was secretly wishing I was still headbanging to "She Will."
– Kelly MacDowell
R. Kelly at Pitchfork Music Festival (July 21)
Count mine among the many eyebrows raised over Pitchfork's decision to book R. Kelly as its festival closer this year. Yes, he's in that Roman Polanski echelon of problematic, but listen: nothing in 2013 made me as stupidly happy as the flurry of dove-shaped balloons that soared into the air when Kells crooned "I Believe I Can Fly."
– Sam Krowchenko
Prince at City Winery (August 26)
Announced mere hours before showtime and sold out before you could say, "Hey, Prince is playing tonight," I scored tickets to this sucker in a stroke of luck. Maybe it was fate or just a really good WiFi connection, but they went fast. This was a tiny show—not one of those arena blowouts—and it's one of those shows that usually only the "connected" people get to enjoy. But the line, which went for blocks, was full of people like me: lucky and with $75 to burn. Once we were in the door, there were two "Purple Rules": 1. No phones, period. 2. Dance. And when he came on with his 22-piece powerhouse New Power Generation, the stellar sound sent feet flying and rearranged my organs. A cramped room of shaking tail feathers, all with a sterling view of the skinny little guy with the high voice that should have cost thousands—with no phones or iPads to muck it up.
– Roy Ivy
The Replacements at Riot Fest (September 15) 
Twenty-two summers after breaking up on stage during their July Fourth show in Grant Park, double-birds implied if not explicitly flipped, Paul Westerberg and Tommy Stinson returned to Chicago in support of stricken former 'Mat Slim Dunlap. Although their motives were charitable on paper, once the band took the stage, it was impossible to deny a simple fact: these guys were having a great time. The little moments stand out. Some parts were funny ("We could have Bob Mould up here in an instant, buddy," Westerberg mock-threatened new guitarist David Minehan). Some parts were emotional (a stirring rendition of "Androgynous" that left at least three people in my section bawling). As the band blasted through "Left of the Dial," "Alex Chilton," and dozens of other songs from a catalog that's still as critically celebrated as it is popularly unheralded, all of those questions burned away. They were having a great time, and so were we.
– Tyler Clark
Fiona Apple with Blake Mills at Bank of America Theatre (October 15)
I've seen Ms. Apple before, and she's always known how to put on an energetic and emotional show. What has always struck me is that, for such a reclusive personality and scrupulous artist, she really caters to her crowd, playing the hits and delivering on arrangement expectations. This show was really different. With a sparser backing band, she performed newer music, unreleased songs, cover songs, and collaborations with her tourmate, Blake Mills. She also made a lot of jokes and interacted with the crowd more than I've seen before. Rather than a self-indulgent show where a successful performer does anything they want simply because they can (it was called the Anything We Want tour), it felt really intimate—like she was sharing her creative process with her fans.
– Courtney Ryan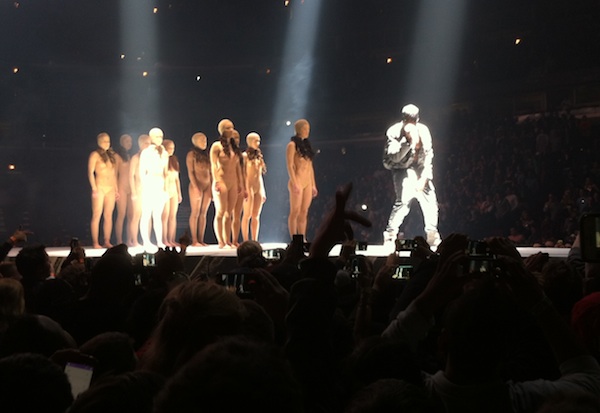 Kanye West at the United Center (December 17)
There have been countless think pieces written about why Kanye West is important, why he's a buffoon, why he's both, etc. However, none of that mattered to anyone at the United Center on December 17. Simply put: the dude knows how to put on a show. Furry monsters, sequined Leatherface masks, a mountain that explodes into a volcano, an iceberg that grew out of the arena floor—this was the
Yeezus
tour. All of the spectacle served a greater narrative: a loose story in which the lovingly hated/hatefully loved rapper rises to power, falls from grace, and is reborn after encountering our Lord and Savior. If it sounds silly (which I'm sure it does), well, you kind of had to be there. This wasn't ironic adoration. This was a mind blown from a concert/operetta packed with detached hedonism, electrifying special effects, and a performer's genuine quest for redemption.
– Dan Caffrey
Photos: Roy Ivy, Kelly MacDowell, Dan Caffrey