2014 Is the Year of the Mermaid
BY: Halley Lawrence |
Oct 17, 2022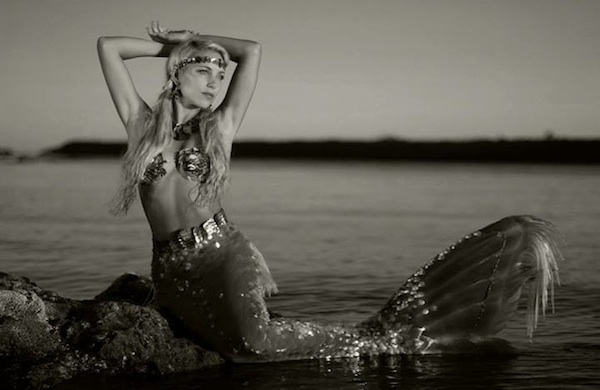 A mermaid-tail designer and a full-time mermaid model explain why the year's boldest swimwear trend is actually an environmentalist statement.
For countless kids, Disney's
The Little Mermaid
was just confusing.
Who would want to give up life as a mermaid?
they wondered. These kids soon realized the question was moot. Their dreams of accessing an underwater world—and of propelling themselves through it with a sinuous, scaly tail—were impossible. But for two such kids, the dream didn't end there. In 2014, designer Eric Ducharme and model and environmentalist Hannah Fraser (pictured above) are pioneering mermaid fashion, a movement that's just as healthy for the earth as it is for the imagination.
Eric Ducharme, Merman and Mer-Outfitter
Mertailor
CEO Eric Ducharme doesn't just believe in mermaids—he can help you become one. His shimmering tails are custom-made for clients and fully functional when it comes to navigating the briny deep. These tails and their
accessories
aren't toys, however. They're haute couture items, made in Ducharme's Florida Gulf Coast studio from
silicone
($600–$5,000+),
spandex
($185.50–$300+), and
real seashells
($37.10+). Their lifelike quality is responsible for Mertailor's reputation as one of the world's premier mermaid-tail designers. The company has drawn high-profile clients such as Lady Gaga, who unveiled a mermaid persona named Yuyi on French television show
Le Grand Journal
, and Flo Rida, who featured mermaids in the music video for "Can't Believe It."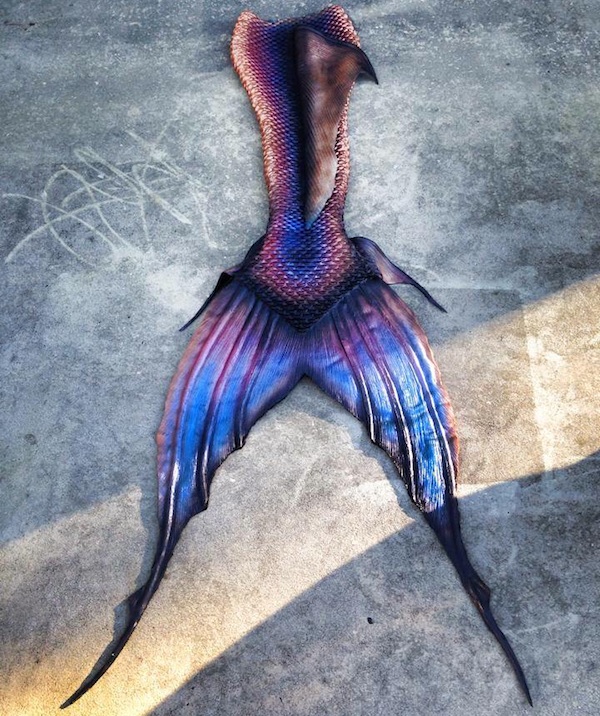 For Ducharme, mermaid tails are more than a statement piece. "[Wearing a tail] allows you to join in and feel that you're part of the water element," he said. And he should know—before he began Mertailor, he built tails of his own for swimming in Florida's springs, where he's felt at home since childhood. Today, he advocates for those springs. "[They're] where we get our water from. If we don't take care of it, we eventually destroy ourselves and our kids." With Mertailor, he aims to draw attention to environmental issues that affect marine life while simultaneously fulfilling some people's childhood dream. After all, "[making] something so beautiful definitely grabs people's attention."
Hannah Fraser, Mermaid and Activist
When asked about the growing popularity of mermaid culture, Ducharme named Hannah Fraser as one of its most influential stars. You may already know Fraser if you've seen the Oscar-winning documentary
The Cove
—she's the model and activist who protested the slaughter of dolphins in Japan alongside actress Hayden Panettiere. Fraser has made a full-time job out of mermaiding. She wears her tail to draw attention to environmental issues, including ocean pollution and marine-mammal captivity. During excursions to desolate parts of the sea, she holds her breath for minutes at a time as she swims alongside the local wildlife: giant whales, manta rays, and even sharks. Filmmakers and photographers record her dives, and she shares the resulting media on
her website
, hoping to raise appreciation for the intelligence and grace of sea creatures. Fraser agrees that mermaid-inspired styles—sea-colored ombre "mermaid hair," for example—are getting more and more mainstream. And, like Ducharme, she believes that there's an environmentalist heart beating within these trends. "[They're] rooted in a desire for humans to reconnect with nature," she said. "The ocean is the birthplace of all life on earth, and the mermaid is a visual representation of the bridge between humans and the sea." Wearing a tail might be the boldest way to show your environmentalist leanings, but it's not the only way. "I love companies who are trying out alternative fabrics like bamboo, recycled materials, [and] eco-friendly dyeing processes," Fraser said. In particular, she recommended
Susan Rockefeller
, an ecologically minded jewelry designer. Rockefeller's
cultured Ming pearl earrings
($190) and silver and topaz
sea-urchin rings
($575) share Fraser's foremost goal: to celebrate the beauty of marine life.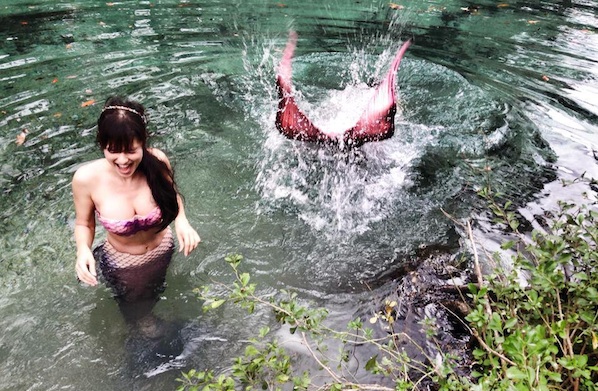 Photos: top, Hannah Fraser photographed by Stuart MacLeod; bottom two courtesy of Mertailor