$32,000 for 9 Liters of Wine at the Hart Davis Hart Wine Auction
BY: Kevin Moore |
Jul 23, 2013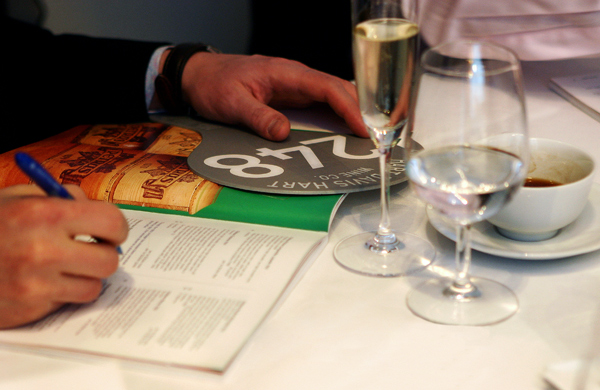 Up to this point in my life, I had never seen anyone spend $32,000 in one sitting. The auctioneer pauses for a heartbeat and waits to see if anyone is willing to raise the bid to $35,000, but no other paddles rise. With one thump of the gavel, one extraordinarily fortunate bidder becomes the proud owner of 12 bottles of 1982 Château Lafite Rothschild: a highly sought after first-growth bordeaux wine from a vintage that can best be described as legendary.
Graduating to the Big Leagues 
Virtually every job I've held has involved wine. I tended a vineyard in central Arizona; served tourists at a tasting room in Walla Walla, Washington; and even worked wine retail at a couple of places in Chicago. I have just enough knowledge and experience to recognize that, at this auction, I am way out of my league.
Hart Davis Hart Wine Company
specializes in tracking down fine and rare wines, auctioning them on consignment to the passionate niche community of collectors, connoisseurs, and industry professionals. These are the sorts of wines that don't usually pop up in stores. Some specialty shops may have a few high-end bottles tucked away, guarded within temperature- and humidity-controlled rooms under lock and key. I've been in some of those rooms, but I've never seen a selection that comes anywhere close to the caliber of the wines listed in Hart Davis Hart's 132-page auction catalog. Marc Smoler, Hart Davis Hart's marketing manager, explains how the company develops relationships with consignors across the world, seeking allocated collectibles, matured bottles, and generally hard-to-find wines. "We have a lot of wines that no one else has," he says. As I flip through the catalog and scan each page, I recognize the name of virtually every domaine and chateau. However, I've only been fortunate enough to taste a handful of these rare wines. By and large, I know just enough to understand exactly what I'm missing.
Wine Country in River North
Hart Davis Hart burst onto the scene in 2004, making the company a baby compared to other historic auction houses in places such as London and New York. Regardless, it has become a globally renowned company. There isn't a single grapevine within sight of
Tru
—Hart Davis Hart's chosen auction setting—but on June 28 and 29, Chicago becomes its own sort of wine country, as bidders from 38 states and countries as far away as China and Switzerland all turn their attention to the Windy City. Smoler tells me the first half of 2013 has been exceptionally kind to Hart Davis Hart, which currently holds the title of
the top-selling wine auction house in the United States
. "We're not trying to be the biggest auction house," he says. "Just the best." The crown jewels of the June 2013 auction are two collections of lots, which come directly from the cellars of Dom Pérignon and Château La Mission Haut-Brion. Smoler says it's an honor to work directly with these producers. And although he says that it's impossible to pick a favorite wine from the 1,658 lots being auctioned over the next two days, he sounds noticeably more excited when discussing the rarity of the wines in these two estate-direct collections.
The Usual Suspects
I'm one of the first people to arrive on the auction's first morning. I walk into the dining room of Tru and realize I don't know where to sit. Smoler steers me to a table near the back where I'll have a commanding view of the podium, the soon-to-be-full tables of bidders, and the banquette lined with Hart Davis Hart staff members setting up phones and laptops. Some people travel to Chicago for the event, Smoler tells me, though phone and Internet bidding allow clients to participate from across the world. I have no idea what to expect at this auction. I'm anticipating something that is formal and gravely serious, to the point of austerity. I wear the one suit I own and hope I blend into the background. But as it turns out, the suit almost makes me stand out even more. A handful of people do wear crisp suits with bold power ties, but there are almost as many in jeans or slacks and comfortable collared shirts. I immediately feel less devastated by the fact that I'm wearing two slightly different colored socks. After a few minutes, I realize I've squeezed my way into a very tight-knit community. The other attendees all seem perfectly comfortable in this environment, and I overhear several of them chatting with the Hart Davis Hart employees on a first-name basis. It isn't just the staff they recognize, though. Many of the groups seem to know each other. Some people even bring along a special bottle or two from their home cellars, intent on trading small tastes with a crowd that truly loves and appreciates wine—a crowd they might only see in person a few times a year. There is a sense of community that accompanies niche passions, and the community in the room is strong.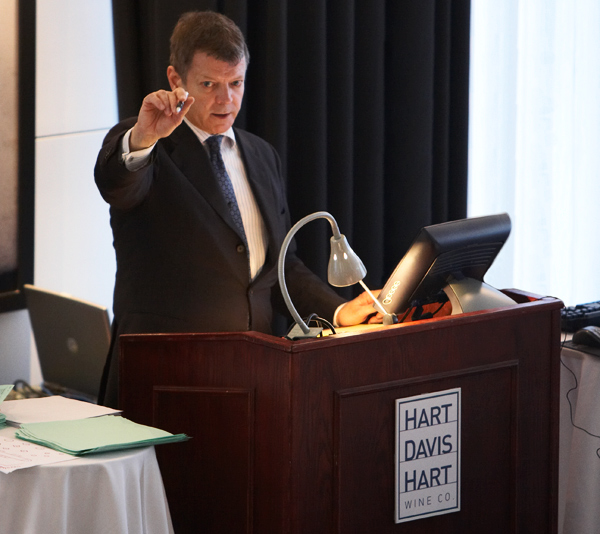 Do I Hear $450?
Throughout the course of two days, six different auctioneers take the podium, almost seamlessly replacing each other and ensuring a steady stream of bids. CEO Paul Hart begins the first morning with an impressive balance of speed and precision. According to Smoler, the auctioneers can typically sell 150 lots in an hour and, at times, the bidding becomes borderline furious. The price for 10 bottles of 1978 Giacomo Conterno Barolo Riserva starts at $12,000, then quickly shoots to $19,000. In a flurry of waving paddles, the bids for 11 bottles of 1980 Domaine Ponsot Clos de la Roche skyrocket from $22,000 to $28,000. Throughout all of this activity, the auctioneers rarely miss a syllable. Smoler told me beforehand that every auctioneer has a different style and personality at the podium. Much like Hart, vice chairman Michael Davis brings a sense of calm professionalism and practiced confidence that seems incongruous with how quickly he speaks. Ben Ferdinand, the vice president and senior consignment adviser, accepts bids with an animated energy, and he manages to get off more than a few of the days' best jokes. After a lot of Sine Qua Non's Poker Face syrah and Into the Dark's grenache sells for $8,500, he assures us that "it would make for some killer sangria." On Friday afternoon, Smoler stops by my table. He seems slightly nervous and admits that, later in the day, he'll be manning the podium for the first time. When he eventually takes the stage, his nerves still appear to be with him, but the cadence of calling bids and thumping the gavel proves to be infectious. He finds his rhythm almost instantly, even finding opportunities to banter with the tables nearest the front. He finishes his turn at the podium with Lot 666 (Coincidence? Inside joke? Sign of the end times?), and the crowd erupts into a round of congratulatory applause complete with some good-natured ribbing.
Wine's Natural Habitat 
Interestingly enough, one of the major things missing from this auction is the actual wine. The catalog features complete and exhaustively thorough descriptions of each lot—including notes from Hart Davis Hart's inspection team on which bottles have scuffed labels or nicked capsules—but none of the wines made the trip to the restaurant. Smoler says that all of the bottles being auctioned are stored in the company's temperature- and humidity-controlled cellar space, which spans three entire floors of Hart Davis Hart's River North headquarters. There is still plenty of wine in the room, though. In addition to the cellar gems that some of the bidders brought from home, Tru's waiters occasionally make the rounds and serve complimentary tastes to the attendees. When a server approaches me at 9 a.m. on Friday and offers a flute of 2003 Dom Pérignon, I almost crack and admit that I am just observing. Surely the wine is intended for people planning on purchasing something. But I really want it, so I say thank you, accept the glass, and desperately hope I haven't just started a bar tab. Throughout the next two days, I manage to leave behind this sense of guilt and savor each pour. Having the chance to taste everything from the powerful yet restrained tannins of a 1993 barolo to the delicately lingering finish of a 1999 red burgundy was too good of an opportunity.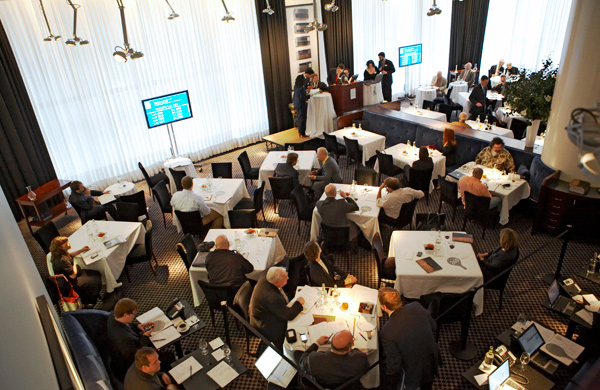 The Final Gavel 
As the auctioneers get to the final 50 lots of each day, the crowds thin as bidders who came looking for a handful of specific wines have left long ago. About 15 people remain to the bitter end on Saturday. Consignment adviser Moriah Spicer pauses on Lot 1658, telling everyone, "Just think about it. You're not going to be able to bid again until September." There's a small chuckle in the room but no more paddles, so Spicer brings down the final gavel, and a gentle round of applause echoes throughout the room. With 100% of the lots sold, the final sales figure is $4.75 million. It's a strong finish that comes in at the high end of Hart Davis Hart's initial estimate. I start packing my bag to leave, but not everyone seems willing to call it a day. With some Hart Davis Hart staff members, a few tables seem content to linger for a bit, chat, and finish the final sips of bottles brought from home. It's not a celebration as much as it's people enjoying one another's company. I don't have any wine or wine insight worth offering, though, so I gather my things, step out into the oppressive June heat, and walk to the nearest train station. On my way home, I can still taste that red burgundy, so I resist the temptation to drink some water until I'm there.
BY: Kevin Moore
Iowa-born, Arizona-raised, and Illinois-tax-paying writer who can answer any Trivial Pursuit question about wine or snakes.