5 Best Breakfast Tacos in Austin
BY: Melody Fury |
Aug 13, 2013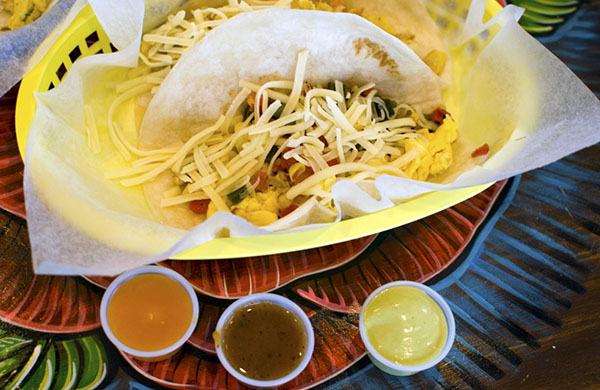 I'm not going to pretend that I've eaten every breakfast taco in Austin because that would take a lifetime.  However, with a bit of research and advice from other food lovers, I've narrowed down 5 of my current favorites.
Cenote
(1010 E Cesar Chavez St | (512) 524-1311) A good cup of coffee should go hand in hand with breakfast but that's rarely the case when it comes to most breakfast tacos joints.  Fortunately, the two worlds do collide at Cenote.  This East Austin coffee shop serves up fair trade, locally roasted Cuvee coffee and also has fantastic breakfast tacos. Bacon, chorizo, or potato top scrambled local Coyote Creek Farms eggs, all served on top of 2 corn tortillas.  $3.50 might sound like a lot for a breakfast taco but these babies are huge and are impossible to eat without the filling spilling out.  I've found that the best way to eat them is to make 2 tacos out of one.  Best yet, they're even gluten free for the gluten intolerant.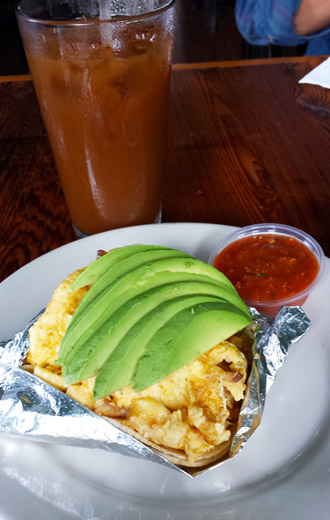 Taco Deli
(1500 Spyglass Dr | (512) 732-0303 | 12001 Burnet Rd | (512) 339-1700 | 4200 N Lamar Blvd | (512) 419-1900) The folks at Taco Deli fully embrace Austin's weirdness.  Their 3 restaurant locations are always upbeat and fun.  Their popular breakfast tacos fly off the shelves, especially on weekends when line-ups always form. What sets them apart is they only use organic eggs, which they scramble to fluffy perfection.  They have traditional migas and less conventional varieties like El Popeye (sautéed spinach and crumbled queso fresco).  The Otto, made with refried black beans, crispy bacon, creamy avocado and Monterrey Jack cheese is a must-have.  Slather on one of their salsas, from the mild rioja to the fiery habanero.  They offer flour, corn, and whole wheat tortillas for the health conscious.
Juan in a Million
(2300 E Cesar Chavez St | (512) 472-3872) I wouldn't call this breakfast taco royalty, the Don Juan, a taco, per se; it's more like 4 tacos.  After travelling for 3 weeks, the first thing I craved after landing in Austin was the Don Juan.  How strange. The Don Juan will be your best friend after a long night of partying.  It is a mountain of potatoes, eggs, bacon, and cheese, loaded onto a pliant flour tortilla.  It sounds simple but their secret combination is utterly addictive.  I recommend ordering a few extra tortillas to wrap the griddled goodness up.  For $4.50, this hefty "taco grande" is a meal and a half.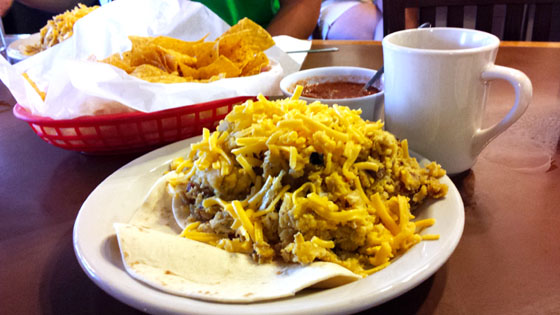 Paco's Taco
(1304 E 51st St | (512) 323-6206) If you have a big day ahead of you, head to Paco's to fuel up.  The Paco's Big Man is loaded with refried beans, cheese, peppers, potatoes, bacon, two eggs over easy, all rolled up in a 10" flour tortilla. For the everyday appetite, Paco's breakfast tacos are $1.75 for 2 toppings, ranging from eggs to meaty sausage, to hearty beans, to vegetables like mushrooms and peppers.  What makes their tacos special is they use a blended corn and flour tortilla that's soft, yet slightly sweet and flavorful.
Joe's Bakery
(2305 E 7th St | (512) 472-0017) Joe's Bakery, established in 1962, is by no means the new kid on the block and they take their breakfasts seriously.   Apart from their bountiful breakfast plates, they have a long list of tasty breakfast tacos with every combination that you'd want in the wee mornings. Apart from the typical egg and breakfast meat taco, you can simply add an egg to any of their tacos for $1.09.  So imagine having a barbacoa or chicharrone taco with an egg on top.  Yup, that's how they roll.  For something less meat forward, their popular Migas Taco con Todo contains a healthy mixture of eggs, tomatoes, onions, jalapeños and cheese.
BY: Melody Fury
Melody Fury is a cocktail and restaurant writer, and photographer that lives in East Austin.  When not wielding her camera, she can be found shaking up a mean drink or shucking a few oysters.