5 Great Spots for Craft Beer in Austin
BY: Melody Fury |
Dec 4, 2013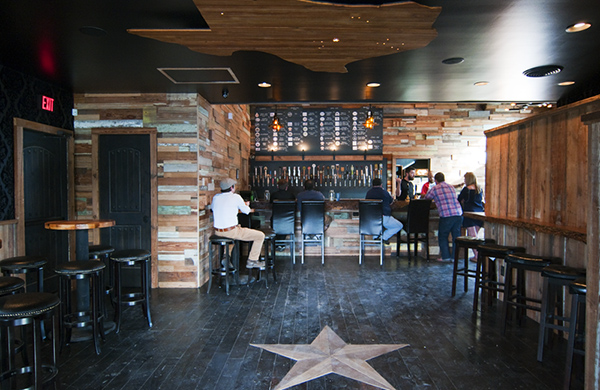 Austin's craft beer scene has been growing rapidly. From crisp ales to hoppy IPAs, and everything in between, the city boasts some noteworthy microbrews.  Naturally, we have our fair share of watering holes to enjoy a few cold ones.  Here are some of my top picks:
Bangers
This bustling Rainey Street establishment possesses an impressive wall with 86 taps, ranging from "wheaty & smooth" to "dark & roast".  Apart from their long bar, they also have an extensive outdoor beer garden and dining area.  Local bands dole out live music to create an upbeat ambiance.  Dogs can enjoy the laid-back vibe too in the designated play area.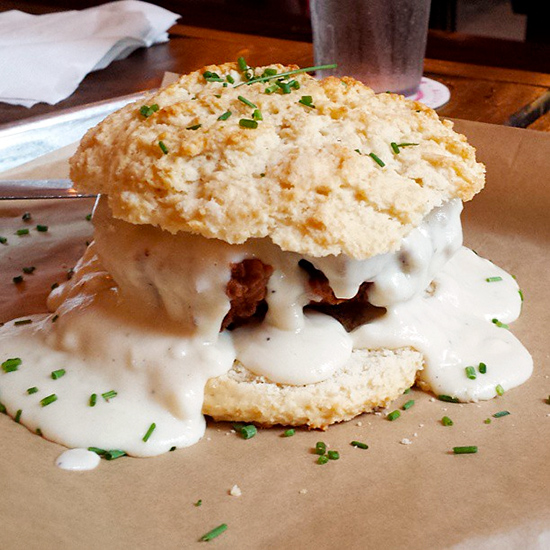 The kitchen dishes up Austin's largest sausage selection, from traditional bratwurst to the exotic duck, bacon & fig.  Their heart-stopping late night menu stands apart.  One prime example is The Stoner, a sausage wrapped in a bacon-studded pancake with a fried egg on top, slathered with Sriracha maple syrup and shoe-string fries.  Or what about the a chicken fried chicken sausage, sandwiched between crisp chicken skin and biscuits, all smothered in gravy?  Hey, when in Texas!
Craft Pride
A few doors down, Craft Pride is all Texas, all the time.  Owners and beer enthusiasts, Brandy and J.T. Egli, hand-selects Texas brews to rotate through their 54 taps and 2 casks.  Circle, Thirst Planet and Deep Ellum are a few to name.  Their retail shop also houses over 100 different bottles to-go. The space is divided into a cozy lounge area, buzzing bar, and welcoming outdoor patio.  The open-air space is also home to Via 313 pizza truck, turning out hearty Detroit style pies.  Live music entertains the beer-loving crowd.
Whip In
A craft beer haven is tucked away in an unassuming grocery store.  The fridges lining the back walls are filled with varieties from around the world.  Out front, the Dhaba Pub serves up Texas influenced Indian cuisine.  Casual dishes such as spicy goat sliders and South Asian Frito Pie made with Bastrop beef and a cilantro chutney are some highlights.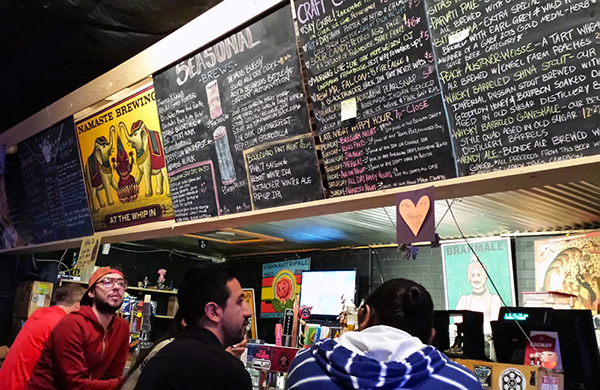 The pub features innovative, seasonal varieties from Kamala Brewing, formerly known as Namaste Brewing.  For example, The Ganeshale, a Belgian style quadruple made with bourbon soaked hibiscus flowers is ideal for the chilly weather.  The recently tapped Shakti Ale is a barrel aged sour wheat beer made with mango pulp.  Beside their house-brews, they also showcase the works for various microbreweries.
Easy Tiger
When craving a beer downtown, Easy Tiger's rollicking beer garden is a no-brainer.  Besides having over 30 drafts on tap and a dozen specialty bottles, the bar also offers an extensive whiskey list. The bartenders also concoct a handful of cocktails, ranging from hard-hitting to refreshing.  The Stout L'Orange, made with Left Hand Milk Stout, Jameson Irish Whiskey and Grand Marnier unites the beer and cocktail worlds. The on-site bake shop specializes in artisanal breads and pretzels to pair with their housemade sausage, corned beef, and other meaty goodness.  Their "Easy Boards" combines all of these hand-crafted items to pair seamlessly with cold brews.
Draught House Pub & Brewery
This long-standing establishment is a solid choice for beer aficionados. In fact, they recently celebrated their 45th anniversary - congrats!  With almost 70 unusual drafts on tap, it's sometimes a challenge to narrow down on what to order.  Fortunately, their highly knowledgable staff can lend a hand and a few samples. The interior is a no-frills pub with dark wood furniture and dart boards.  Outside, their spacious patio is a harbor for a rotating list of popular food trucks, including Best Wurst, Peached Tortilla, mmmpenadas, Seedling Truck.
BY: Melody Fury
Melody Fury is a cocktail and restaurant writer, and photographer that lives in East Austin.  When not wielding her camera, she can be found shaking up a mean drink or shucking a few oysters.