5 Spots for Cheap Eats in Decatur
BY: Broderick Smylie |
Jan 22, 2014
Just a few miles from downtown Atlanta lies the culinary destination of Decatur, GA that's gained a name for itself in the shadow of it's bigger brother. You'll find restaurants that run the gamut from mom & pop shops to restaurants that have graced the pages of
Food & Wine
and
Bon Appetit
. It's a great place to raise a family and also to belly up to the bar to get a great beer. Dining out doesn't need to break the bank and this list will give you a few ideas on places to eat on the cheap. 
(Explore all of our restaurant deals to find even more cheap eats.)
One won't find white tablecloths or even tables themselves walking into
Las Brasas
 near Decatur Square, however you will find some of the best chicken the city has to offer at solid prices. The restaurant offers Peruvian style rotisserie chicken packed with flavor. They also offer lomo saltado, a steak dish towards the end of the week on Thursdays and Fridays. A variety of sides are available and the bright yellow soda, Inca Kola is the perfect drink to accompany your meal.
Located at 310 E Howard Ave, Decatur, GA 30030
Your DeKalb Farmer's Market
 is a bit of a misnomer, as it is completely indoors, and goods for sale are flown in from around the globe, rather than a pickup truck from area farms, but it's a go-to grocery market for the area's chefs, gourmet home cooks, and transplants searching for food from their homeland. A favorite place to get lunch on the go is the buffet, where Southern dishes and samosas sit side by side. The lasagna is a personal favorite and a full salad bar is available. Items are priced by weight and can provide excellent fuel for the shopping adventures ahead.
Located at 3000 E Ponce De Leon Ave, Decatur, Georgia 30030
Eating locally and eating on the cheap aren't always synonymous, but in the case of lunch at
Farm Burger
, they go hand in hand. Farm Burger works with local farms whenever possible and offers menu items that change seasonally. Diners can get a grassfed, locally raised burger, fries and a drink during lunch hours for only $8.50. In addition to their Decatur location, they also have locations in Buckhead and Dunwoody.
Located at 410 W Ponce De Leon Ave, Decatur, GA 30030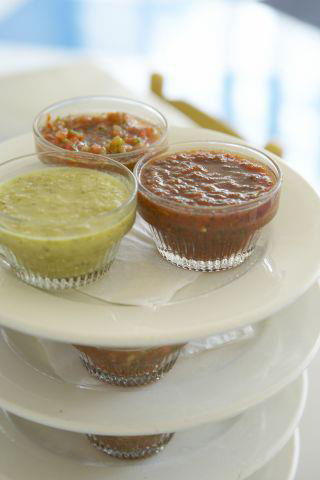 Taqueria del Sol
can be spotted rather easily while driving down Ponce de Leon as it typically has a line out the door. There's no need to worry as it typically moves quickly and is worth the wait. A variety of tacos and enchiladas form their regular menu but definitely keep a look out for the chef's specials. Personal favorites include the fried chicken and fish tacos.
Located at 359 W Ponce De Leon Ave, Decatur, GA 30030
A relative newcomer to the Decatur scene, at first glance
Kimball House
 wouldn't be considered a budget dining location, however if you've got a soft spot for oysters, you don't want to miss this restaurant located in an old train depot. Many restaurants have given this location a try, but the latest incarnation looks like it'll stay for quite a while. Their oyster happy hour happens every weekday from 5-7 pm with a full range of oysters that would make most area seafood restaurants blush, and they're offered at bargain basement prices starting at $1. We're not talking gulf oysters here, the guys at KH are offering prime east and west coast oysters, prepared by staff in a dedicated shucker station next to the bar.
Located at 303 E Howard Ave, Decatur, GA 30030
BY: Broderick Smylie
Broderick is an award-winning writer and photographer who loves delving into the food scene in Atlanta. He can be found at restaurants and food events around town, often with a camera in one hand and a tasty bite in the other. His popular blog Savory Exposure began in 2009 capturing images from a private tasting event and now documents the food and drink scene in Atlanta and beyond. Originally from Cleveland, Ohio, he's lived in the city for over 10 years and embraced the South and its food