A $5 Improv Education at The Mixer
BY: Emily Wachowiak |
Aug 19, 2013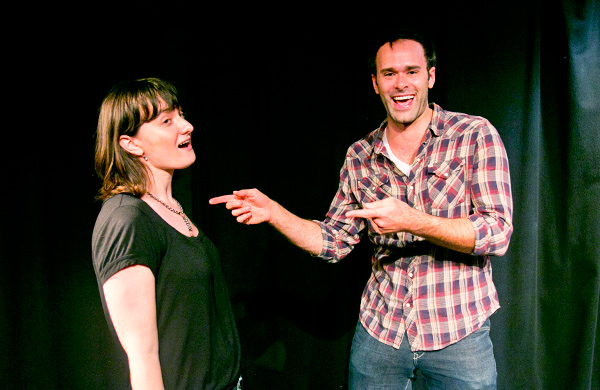 Every Monday night at 10 p.m., improv actors of all ages—some newbies, some veterans—converge at the
Playground Theater
for a two-hour improvisation class and performance known as
The Mixer
. For $5, you can participate in the 30-minute educational exercise, join a group for a long-form performance, or just sit and watch. Despite having no improv experience, I'd vowed to try both roles—actor and observer—when I entered the cozy, bare-bones theater space. Soon the crowd swelled to about 40 people, many of them chattering and trading bottles and cans of BYO brews. It felt more like a party than a workshop, but things quieted down when Tim Dunn of
ATV Comedy
took the stage and announced the topic of that night's lesson: listening. Listening is an easy enough concept, but in the context of improv comedy—where every word you speak hinges on what your partner dreamed up just seconds earlier—it seemed a bit daunting. Wasting no time, Tim called on pairs of volunteers for two-minute scenes set in a diner booth. The catch: the duo's chairs would be placed back-to-back. Despite never having met before, the first volunteers sat down and launched into a very funny scene about a brother and a sister. After that came a father and son, a doctor and patient, and a superhero pair: Deerman and Bambi Boy. There were a few stumbles, but each scene drew genuine laughs from the audience. In the comfortable dark of the theater, it was easy to get lost in the performance and forget that this was only a training exercise.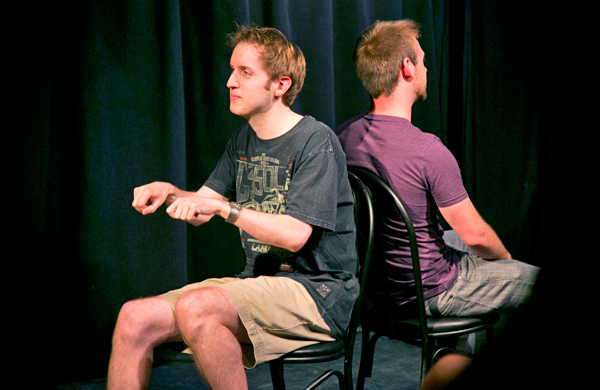 Three Simple Rules
After the exercise, it came time to break into four groups for the night's second act. The four coaches—Tim Dunn, Asher Pearlman, Ted Tremper, and Nick Hassebrock—came out to introduce The Mixer's three simple rules as the attendees shouted along: 1. Have fun 2. Don't be a douche bag 3. Have fun! ("The rule so nice, we say it more than once!") The four teams only received about five minutes of prep time, during which the coaches detailed their designated long-form structure. Each one was essentially a montage of two or three people performing short scenes based on an idea from the previous scene. My team's structure revolved around a Christopher Guest–style interview with two people followed by more free-form scenes. I immediately began trying to map out potential characters and lines in my head, forgetting the cardinal rule of improv—you can't plan anything in advance. In the lesson on listening, Tim explained how he learned the hard way that any jokes you've written in your head go out the window as soon as another actor speaks. It all comes down to trust. "If you're out there listening to your partner," Tim said, "you'll never get lost." But I was feeling pretty lost as my team took the stage. The lines and jokes flowed easily from the others as I tried hard to listen to the fast-flowing dialogue and latch on to an idea. When I was sure I had the perfect line, I jumped in...about two seconds too late, just as the lights were cut on the scene. So much for my big entrance. My first failure out of the way, I was relieved when our group leader pulled me into the final three-person scene. I tried my best to follow along, and even managed to spit out some lines before it was over. I knew I wasn't stellar, but I still had a great time and never felt judged by the group.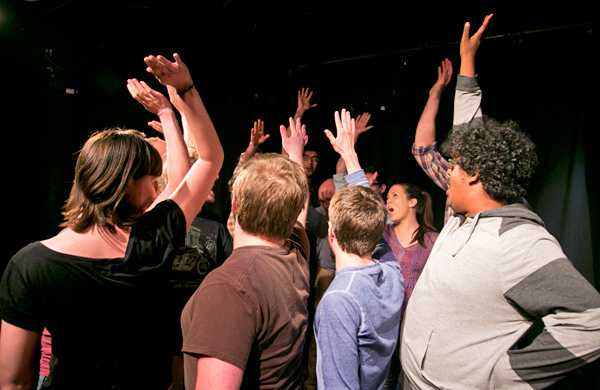 Good Laughs Come Cheap
I admit I was relieved when the exercise ended and I settled back into a role I knew: audience member. Without the tension of anticipation hanging over me, I was free to sit back and take in the comedy, which, despite the varied experience levels of the students, was well worth watching. At times raunchy, other times raw, the material was unfailingly funny—the entire theater laughed and cheered the show along, just as they would for any fine-tuned show at iO or Second City. If I were to dip my toes back into improv, I'd pursue a workshop with shorter, more structured games (a fellow student suggested the
free Thursday jams at Second City
). I'd definitely return to The Mixer, though, if only just to observe. I can't think of a better place to catch a two-hour BYOB comedy show on a Monday night with a $5 price tag to boot.
Photo: © Stephanie Bassos, Groupon