GROUPON GUIDE TO WASHINGTON-DC
A Barbecue Bucket List
BY: Shannon Jewitt |
May 30, 2014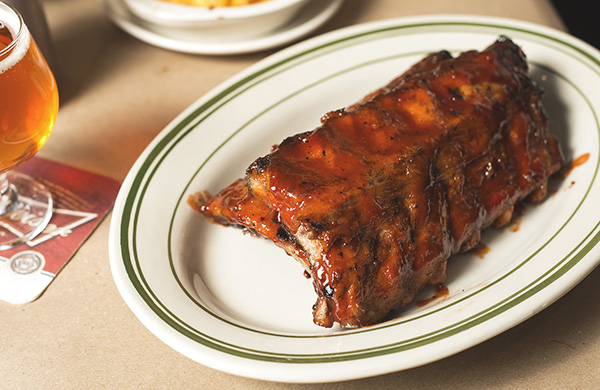 Love and barbecue go hand in hand. Witness the love on display when a barbecue chef spends five hours smoking a rack of ribs, 10 hours on a pork shoulder, or days on a Godzilla. Or look at my friend, who met her husband at a barbecue contest in Memphis. With "till death do us part" in mind, here are a handful of America's best BBQ restaurants that are worth a visit at least once in a lifetime.
Shop for deals at local BBQ restaurants in your city.
Although it may be located on the West Coast, Podnah's Pit isn't one to mess with Texas—at least, not its barbecue. Rodney Muirhead, the barbecue joint's owner and founder, wakes up at 5 every morning to fire up the pit with oak wood. Shortly thereafter, Podnah's begins serving housemade sausage and other breakfast items. For lunch and dinner, the restaurant adds pork spareribs, pulled pork, and brisket, smoked for no less than 12 hours. Although Podnah's crafts Texas-style barbecue, those on Muirhead's good side can request Carolina-style pulled pork.
12 Bones Smokehouse in Arden and Asheville, North Carolina
This smokehouse is a favorite of President Barack Obama's, who visited on the 2008 campaign trail and later while vacationing with the first lady. And the eatery treats all its diners in a presidential manner. Meals include plates of brisket, chicken, and baby back ribs in seasonal flavors, as well as speciality sandwiches, such as the Hogzilla—a mountain of meat, including strips of sugar-cured bacon, slices of bratwurst, and pulled pork, topped with pepper jack on a hoagie roll.
Dinosaur Bar-B-Que with locations in Connecticut, New Jersey, and New York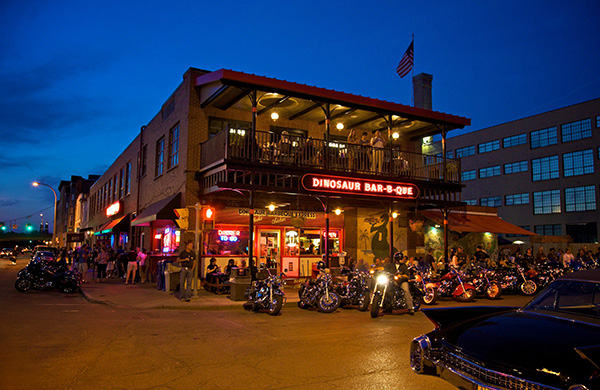 Everyone from Forbes to Good Morning America has declared Dinosaur Bar-B-Que one of the country's best barbecue locations. That's probably because its menu combines the best elements of barbecue. That includes St. Louis–style pork ribs, Kansas City–style barbecue sauce, and Texas-style brisket, as well as Carolina- and Cuban-style barbecue pork and churrasco chicken.
Allen & Son Bar-B-Que in Chapel Hill and Pittsboro, North Carolina
Keith Allen isn't one to take shortcuts, which is especially true at his restaurant, Allen & Son Bar-B-Que. It's one of the few, if not the only, places that still splits its barbecue-cooking hickory wood by hand. After Allen completes the wood chopping, he slow-smokes the eatery's meat, creating a rich, tangy flavor with smoky overtones. The meat isn't the only food for which Allen & Son avoids cutting corners: its desserts include housemade peach cobbler and vanilla ice cream.
This may be the most convenient barbecue joint in America. That's because the award-winning barbecue joint's original location is also a gas station. So settle in for the Hog Heaven or Z-Man sandwich, burnt ends, a barbecue dinner, or meat by the pound for take-out, all before filling up the gas tank.
The Salt Lick in Driftwood and Round Rock, Texas
Everything's bigger in Texas, and The Salt Lick is no different. Its Driftwood location seats more than 800, and both locations are well known for their family-style option, which provides diners with all the beef brisket, sausage, pork ribs, potato salad, coleslaw, and beans they can eat. Regardless of the kind of barbecue dish, all meats are smothered four times in the restaurant's signature sauce, which caramelizes over an open flame fed by oak wood.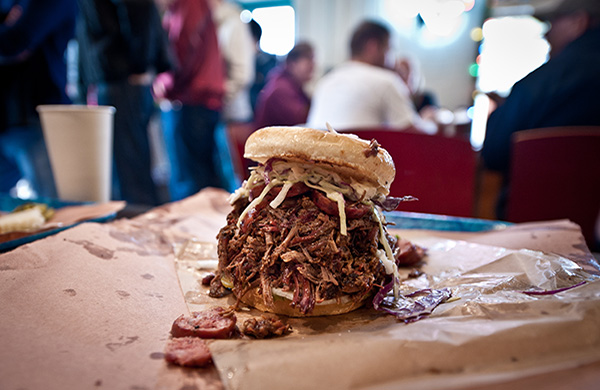 Since its opening in late 2009, Franklin Barbecue has sold out of its antibiotic- and hormone-free brisket every single day. Even after moving from a trailer to its current brick-and-mortar location, two- to three-hour waits for pork ribs, pulled pork, and beef-and-pork sausage are commonplace. The line is so long, it even has its own Twitter account. It's worth it, though, as Anthony Bourdain described the brisket as "supernatural."
Sometimes referred to as the barbecue capital of the world, it's no surprise that Memphians are serious about their barbecue. Charlie Vergos' Rendezvous may have the most notoriety, but Central BBQ has the locals' stamp of approval. In 2013, it was named best barbecue in the Memphis Flyer's readers' poll and won the gold medal for best barbecue from Memphis Magazine. Try Central's barbecue nachos or bite into one of its coleslaw-topped sandwiches, which include classics, such as pulled chicken and pork, and the more uncommon barbecue bologna.
As its website states, Jack's Bar-B-Que proudly caters to "world and local renowned dignitaries and to ordinary folks!" Although the eatery offers Tennessee pork shoulder, Texas beef brisket, smoked turkey, St. Louis–style ribs, and smoked chicken, it's the barbecue sauces that take center stage. Its original vinegar sauce recently took first place at the 2013 American Royal barbecue-sauce contest, with numerous other first-place finishes in recent years.
Top photo by Timothy Burkhart, Groupon; photos of Dinosaur Bar-B-Que and Franklin Barbecue courtesy of respective restaurants