A Beginner's Guide to the Chicago Jazz Festival
BY: Patrick Wisniewski |
Aug 28, 2013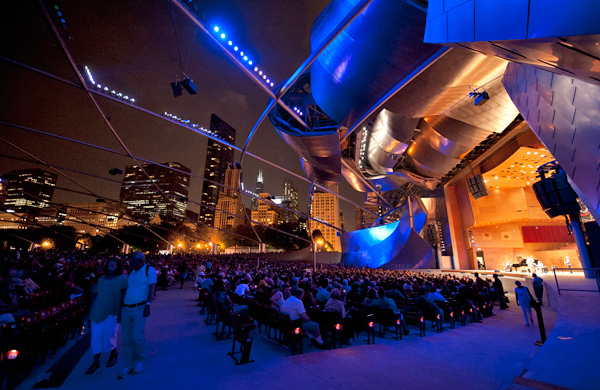 For most of the year, downtown Chicago's soundtrack is all rumbling L trains and honking bus traffic. But for at least one weekend in late summer, other sounds cut through the mix. The trill-accented blasts of a trumpet, the walking rhythms of an upright bass, plucked arpeggios as cool and clear as falling water—all of these take center stage at the
Chicago Jazz Festival
. From Thursday, August 29, to Sunday, September 1, some of the world's most celebrated musicians will descend upon Millennium Park for a weekend of improvised jams and standards. The festival is free to the public, and it's a good bet that the crowd will be packed with jazz fanatics from Chicago and beyond. But where does a relative newcomer find a foothold in this scene? According to two jazz aficionados, it's not as difficult as it may seem. "There's a drama to seeing what the artist comes up with," says Neil Tesser, a jazz critic whose reviews have appeared in
USA Today
and whose publications include
The Playboy Guide to Jazz
. Tesser is also the chairman of the festival's volunteer-run programming committee, which strives to include acts that appeal to a wider audience. He has been on the scene for 33 of the past 35 jazz festivals, and he was first attracted to the genre for what he calls its "living" quality. "Music created without improvisation doesn't have that. It's dangerous for the artists, but they do it with ease."
An Acquired Taste, Even for the Experts
Even experts like Tesser don't always fall in love with jazz immediately. In college, he was assigned to produce a jazz program for the campus radio station. Although he wasn't really feeling it at first, it wasn't long before he was hooked. This seems to be a common experience, and it's one that drummer
Ben Scholz
can relate to. Scholz has played in the Chicago Jazz Festival twice, and his band, the Elec Tet, just dropped a
new album
this year. Like Tesser, he took a while to fully embrace jazz. "It clicked when I started understanding the way the solo worked," he explains. "There's a system to it … a pattern." But even when you know that pattern, the sense of danger is palpable when you're playing in front of a crowd. Scholz now describes jazz as "exhilarating to play as a musician." Still, both men acknowledge a learning curve for newcomers—especially when it comes to free-form or avant-garde jazz. These improvised styles often lack structure, which is why Scholz sometimes refers to them as "music for musicians." But that doesn't mean a beginner should be discouraged. "There's artistry in it—like going to into the modern wing of the
Art Institute
." Tesser is quick to add that "modern avant-garde [jazz] can draw people in with its energy" and act as a bridge to "fans of metal and rock."
Accessible or Avant-Garde: Meeting in the Middle
So, where does the Chicago Jazz Festival sit on the spectrum between accessible and avant-garde? The programming committee "prides itself on the festival's wide range," Tesser says. "Anyone who comes for one act should stick around—they'll find a lot they like." Scholz agrees, crediting the festival for "straddling the line" between easy and challenging jazz styles. All the same, we asked both experts to give their recommendations for first-time festival attendees:
Which acts are most accessible to newcomers?
Tesser recommends
Randy Weston
, an "elder statesman of the music" with an "easy lyricism to his playing and his music." He also suggests keeping an eye out for
Chévere de Chicago
, a Latin jazz collage that mixes in rock and funk, and
Gregory Porter
, an up-and-comer who specializes in R & B–style lyrics. Scholtz is excited to see the
Charles Lloyd Quartet
with special guest
Bill Frisell
. Frisell's Grammy-winning guitar work is known for crisscrossing the boundaries between genres. It will add an interesting complement to Lloyd's tenor saxophone, which has been featured on recordings with the Beach Boys, the Doors, and the Grateful Dead.
Which acts are more technical but still worth checking out?
Tesser can't speak highly enough of
Jack DeJohnette
, who will be playing with legendary musicians Muhal Richard Abrams, Larry Gray, Roscoe Mitchell, and Henry Threadgill. This group helped found the Association for the Advancement of Creative Musicians in the 1960s, but they haven't played together in years. "They may never play together again," Tesser says, so take advantage of your chance to see them now. Scholz's pick is artist-in-residence
Hamid Drake
. Drake has played world music for decades, and he's a world-renowned percussionist known for his inspired improvisations. Scholz also recommends the
Harrison Bankhead Sextet
, which combines elements of composition with elements of free jazz.
Which acts are you most excited to see?
It's a good bet that you'll find Tesser in the crowd for
Satoko Fujii's Orchestra
. A remarkable pianist and composer, Fujii has handpicked an orchestra to help her perform a new composition. Scholtz says that he's probably most excited for the
Ben Paterson Organ Quartet
, which combines swinging grooves and improvisation with an instrument that transcends the genre.
A Final Piece of Advice
Scholz says that it shouldn't be hard for newcomers to have fun at the festival, provided they "try to get a good sample of everything." Tesser asks only that they "come with open ears. Jazz is … wide ranging. It takes from every form of music. If you hear something you don't like, go to another stage." What's there is bound to be different.
Check out the online schedule to plan your weekend at the Chicago Jazz Festival.
Photo courtesy of Chicago Department of Cultural Affairs and Special Events
BY: Patrick Wisniewski
Patrick Wisniewski was born in Michigan, traveled to Baltimore and Belize, and now lives with his fiancée in Chicago. He once touched lava on an active volcano with a stick.