A Beginner's Guide to Yoga from Megan Chappell, Owner of TruHarmony
BY: KATE ALBING | 6.18.2013 |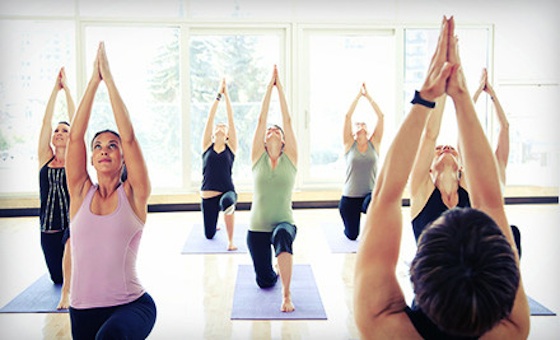 At TruHarmony Yoga, owner Megan Chappell leads classes that Time Out Chicago highlighted as some of the most intense workouts in the city. The challenging sessions might be due to Chappell's training—she cites Baron Baptiste, a pioneer of the power yoga movement, among her inspirations—or simply because she wants each individual to find their own strength. Here, she shares her recommendations for starting your own exploration of this ancient practice.
KEEP AN OPEN MIND
"People say, 'I can go to the gym and do that,'" Chappell says. "Those people have not taken their body to this place before. If they could try three classes in one week, in addition to the normal workout, their training would expand beyond their imagination. The other misconception is, 'Oh it's just a bunch of meditation, and I need a good workout.' For those who say that, I challenge them: if you don't think it's a workout, then your mind and body are not in the right space."
COME PREPARED
Chappell believes that getting ready for class is both an internal and external process: "Physically, [you] need to come hydrated and full of nutrients, so that [you're] ready to cleanse and get rid of things. You need to have water, especially for heated yoga, and cool clothes. Mentally, you need to come with open mindset, without judgment, and ready to receive the practice."
LOOK FOR KEY AMENITIES
"[A studio should be] aesthetically gorgeous: sunlight, clean, hardwood floors. But the most important thing to look for is community, a group of teachers, a team that welcomes anyone and everyone. That's fundamental to the practice."
FEEL THE HEAT
"Heat elongates all the muscles that are contracted," Chappell explains. "That means more blood is getting to those muscles, and when blood is circulating at a healthy level, muscles can expand. They get long and lean, and not only lighter, but stronger. And so joints have to support less weight."
KEEP GROWING
Yoga is more of a process than a skill to master: "One day a week or every day, it's a lifelong practice," Chappell says. "It will never ever be gone [from your life]. The sidewalk is the sidewalk, and you can run, run, run, but yoga can carry you through your whole life cycle. Think about what it can do for you in the long term."
BY: Kate Albing
Guide Staff Writer
Kate is a Chicago-based writer.