A Business-Casual Outfit Means … Head-to-Toe Tweed or Something?
BY: Mae Rice |
Oct 18, 2022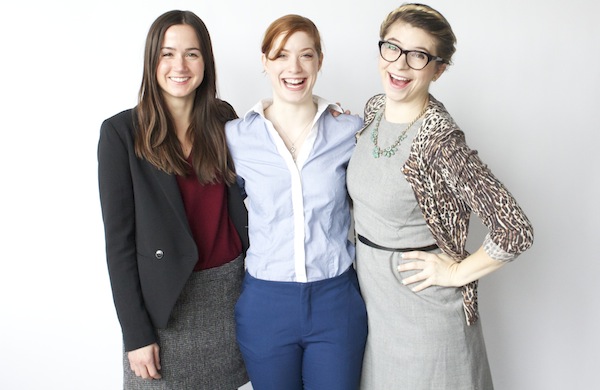 Three jeans-loving editors had their attempts at workwear critiqued by Cerato Boutique stylists and the head of a consulting office. Tip No. 1: easy on the leopard print.
Groupon's editorial employees wear a lot of jeans to work. It's fair to say we're more "casual" than "business casual." However, we know that for most people, dressing for work is a unique fashion challenge. To investigate the intricacies of "business casual," we performed a simple experiment: first, three editorial employees put together outfits they felt represented traditional workwear, each dressing for a common workplace scenario. Then we asked office-fashion experts to critique the outfits.
Our Panel of Experts:
The Boss:
An anonymous power player who runs an office of a large, international consulting firm
Tracey Glibowski:
Owner of
Cerato Boutique
(3451 N. Southport Ave.), a boutique CBS named
one of the best places in Chicago for office wear
Sarah Hinman:
 Assistant buyer at Cerato
Alyssa Petersen:
 Personal stylist and founder of 
Cashmere & Wit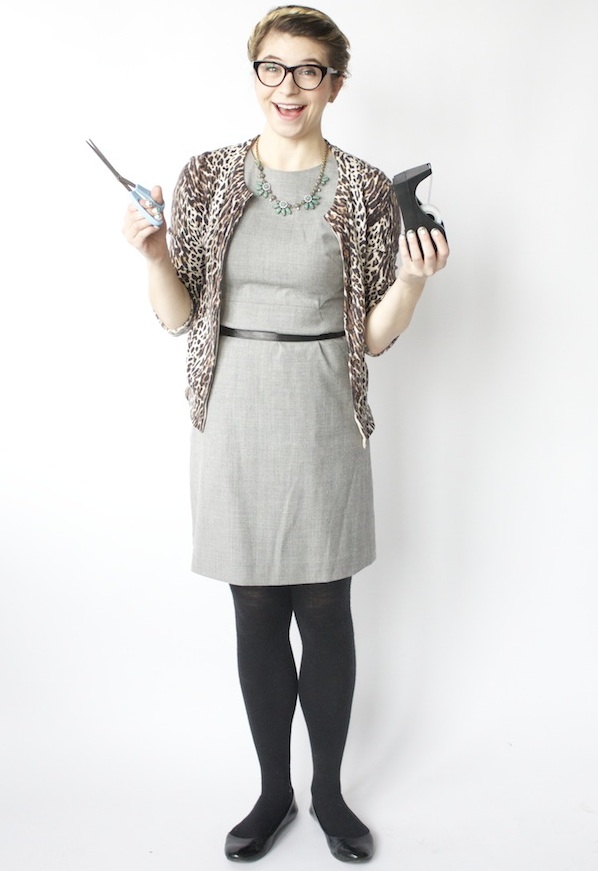 Amelia, Dressed for a Regular Workday of, Like, Eating Faxes in a Cubicle Fort
Amelia's outfit:
J.Crew cardigan and necklace; Banana Republic sheath dress; Payless flats; Kate Spade earrings; BonLook glasses.
Amelia:
"I have a box in my closet labeled 'alternate-universe business casual clothes.' ... This box is very small. It mostly just holds this gray dress." In general, Amelia recoils at the idea of businesswear. "Mostly because I hate ironing."
The Boss:
 "For my office, this would be a perfectly appropriate outfit for every day." Her only caveat: try to wear "real shoes, by which I mean not flats." Even a low heel adds polish, she says.
Sarah Hinman:
Sarah says pieces that mix and match easily, like Amelia's sheath, are the cornerstones of any work wardrobe. She thinks leopard print might be a bit too bold, though, and recommends a cardigan in a solid bright instead.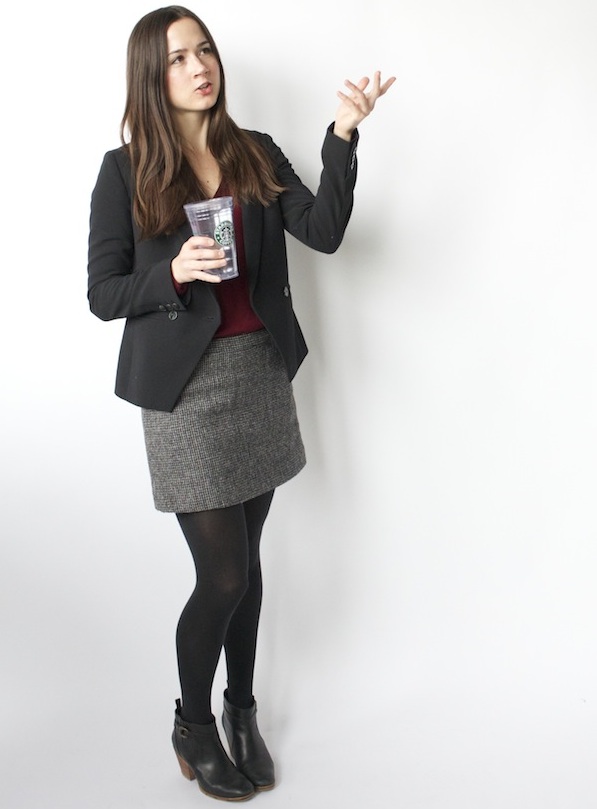 Amanda, Dressed for an Important Presentation about Business Things
Amanda's outfit:
Rachel Comey booties; A.P.C. skirt; Madewell sweater and jacket; her trusty water glass. "I overheat like an old laptop when I get nervous, so I always have water around in high-pressure situations," she explains.
Amanda:
"I genuinely like this skirt, even if it's a little out of my comfort zone." (She usually works in skinny jeans.) Also, she didn't blow-dry her hair. "I don't do that ever, not even for pretend business presentations."
The Boss:
Although this outfit is built from classic pieces, the Boss thinks the skirt looks stiff and a little too short, creating what she dubs a "schoolgirl-y" vibe. She suggests a skirt that's 2–3 inches longer, in a more flowing fabric. She also notes that "the stacked heel on her boots makes them more informal than boots with a matching [covered] heel."
Alyssa Petersen:
She agrees that the skirt could be longer but commends the blazer for its comfortable fit. To add visual interest, she recommends a not-too-sparkly pendant necklace, like those from local jewelry houses
Susan Elizabeth Designs
or
Ali's Collection
. (Both have pieces available at Cerato.)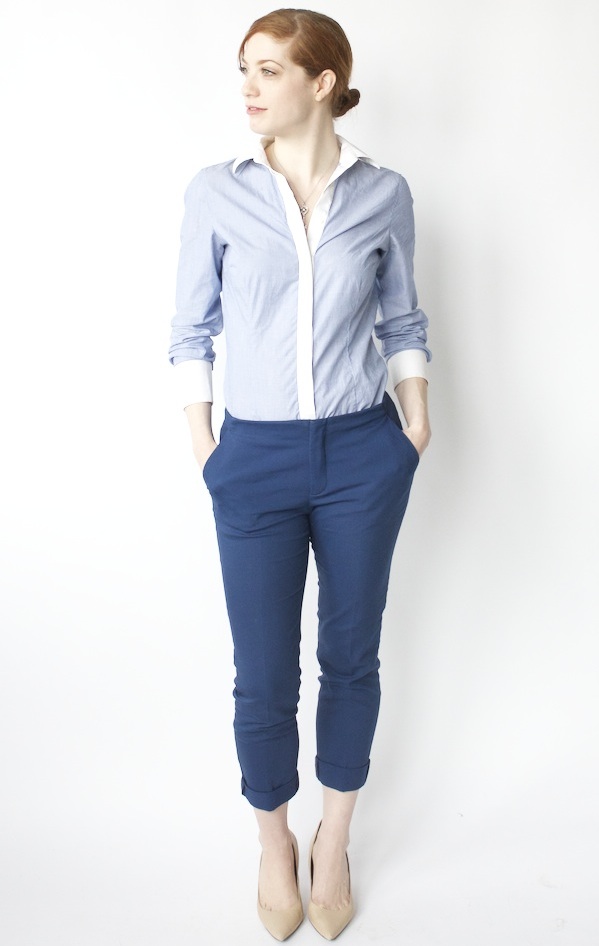 Michelle, Dressed for a Job Interview with an International Paper-Clip Holder Magnate
Michelle's outfit:
Zara pants and button-down; Guess pumps; necklace from Goods; vintage rings.
Michelle:
"I'm a creative, so I didn't want to walk into the interview looking like I'm going to a funeral or to court." She hopes the color-blocked button-down and pumps are enough to keep it professional.
The Boss:
She likes the shirt and shoes but recommends adding a blazer. "If in doubt, wear a suit," the Boss says. "You cannot go to a professional environment for a job interview (consulting firm, law firm, accounting firm, bank, large corporation, for example) without covering your hips. I don't know why." The pants, however, are a little too informal for her taste—she would prefer pants tailored to a cropped length, rather than cuffed.
Tracey Glibowski:
She agrees that a blazer might make this more appropriate (she recommends Cerato's selection of blazers by BB Dakota). She loves Michelle's pant color, though—"It's a beautiful blue that's refreshing to the typical black interview outfit"—as well as her simple jewelry.
A Few Final Pro Tips 
Keep it covered every day:
"You want to make sure your clothes cover your shoulders," the Boss says. "Neither your undergarments nor any lack of undergarments [should be] on display."
Minimalist jewelry is best:
Tracey loved Michelle's simple accessorizing but warned that something like a sleeve of bangles can result in "too much jingle."
Don't dress for anything other than work:
"You [shouldn't be] attired to participate in a sporting event, barn raising, or ballet recital," the Boss says.
Wrinkles are your nemesis:
"As a general rule of office attire, I would encourage everyone of all genders to purchase an iron and learn how to use it," says the Boss.
Photo: Mae Rice, Groupon