A Chicago Park to Fit Your Whimsy
BY: Aimee Algas Alker |
Jun 11, 2013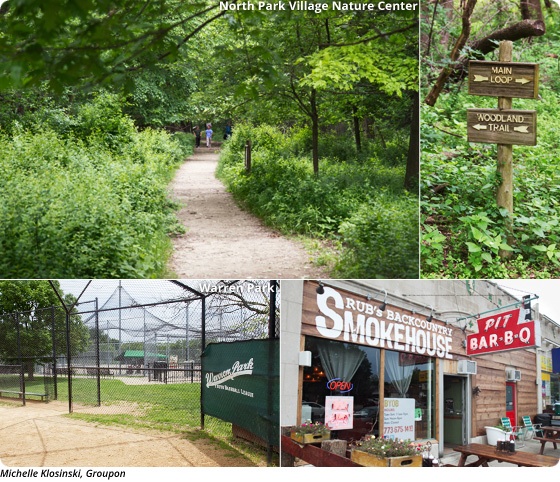 Chicago's parks are dear to its heart: the green spaces all the more valuable as the city gets denser. A park to take your dogs, your kids, or your Tamagotchi is easy to find. Here are some parks that satisfy specific itches and nearby eateries where you can stock your picnic basket.
If You're Wondering Whether a Goat Would Make a Good Pet:
Indian Boundary Park
(West Rogers Park | 2500 West Lunt Avenue) Although the Lincoln Park Zoo hogs the spotlight, this park houses one of the only two zoos within the city limits. It brings farm animals to the big city, showing kids that goats do exist.
Pack a picnic:
Grab pulled-pork paninis and sweet tea from
Rub's Backcountry Smokehouse
(6954 North Western Avenue).
If You Feel Like All Those Tall Buildings Are Following You:
North Park Village Nature Center
(North Park | 5801 North Pulaski Road) This 46-acre nature preserve and educational facility features woodlands, wetlands, prairies, and savannas, and provides a safe place to explore local flora and fauna.
Pack a picnic:
Munch on a bucket of chicken from
Martino's Italian Cuisine & Pizzeria
(3431 West Peterson Avenue) and pick up a dessert of ice cream and bubble tea from the Outdoor Cafe (3257 West Bryn Mawr Avenue).
If You Like to Slick Back Your Hair:
Foster Beach
(Edgewater | 5200 North Lake Shore Drive) Jim Jacobs cowrote
Grease
, the original, unsweetened play about his gang of high-school friends, and one of their favorite hangouts was Foster Beach.
Pack a picnic:
Savor banh mi or spring rolls from
Ba Le
(5014 North Broadway Street) or
Tank Noodle Restaurant
(4953–55 North Broadway Street).
If You've Never Gotten Out of the Batter's Box:
Horner Park
(Irving Park | 2741 West Montrose Avenue) The park's 55 acres include nine softball fields and two baseball diamonds, so you can add running
all
the bases to your workout regimen.
Pack a picnic:
Enjoy sandwiches from
Costello Sandwich and Side
s (4647 North Lincoln Avenue).
If You Ever Wanted to Play Golf with a Baseball:
Warren Park
(Rogers Park | 6601 North Western Avenue) People stroll around this almost 90-acre park as they play on the nine-hole golf course or keep their feet steady in five batting cages, which send balls flying at 30–70 miles per hour.
Pack a picnic:
Grab naan and tandoori chicken from
Hema's Kitchen
(2439 West Devon Avenue) or
Viceroy of India
(2520 West Devon Avenue).
If You Want a New Way to Eat Your Apples:
Hamilton Park
(Englewood | 513 West 72nd Street) At the archery range, bows stretch and go thwang as park-goers practice the classic sport and try to avoid getting their arrows snatched by passing birds.
Pack a picnic:
Snack on chicken and fish from Harold's Chicken Shack (7310 South Halsted Street) and wash down your meal with milk shakes from Fred & Jack's (7600 South Yale Avenue).
If You Have a Habit of Clicking Your Heels Together:
Oz Park
(Lincoln Park | 2021 North Burling Street) The park's entrances are flanked by Dorothy and her companions from her journey to the Emerald City. They're life-size too, so you can confirm whether or not you and the Cowardly Lion would have made a cute couple.
Pack a picnic:
Pick up sandwiches from the deli at
Gepperth's Market
(1964 North Halsted Street).
If You and the Sun Need Some Time Apart:
King Park
(Auburn Gresham | 1200 West 77th Street) Escape the heat and roll across the planks of the skating rink or send pins clattering at the bowling alley, both indoors.
Pack a picnic:
An onsite concessions stand serves pizza, nachos, and other snacks.