A CHIRP Playlist to Celebrate the Return of the NBA, the Bulls, and Derrick Rose
BY: Collin Brennan |
Oct 28, 2013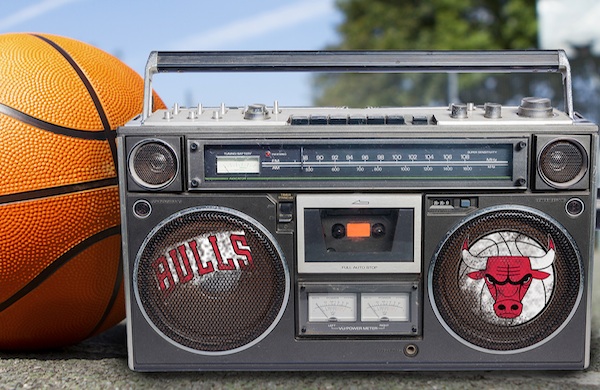 You've seen the numbers. In seven preseason games,
Derrick Rose
averaged 20.7 points and hit more than 40% of his three-pointers. It's safe to say the
Chicago Bulls'
superstar has returned to his MVP form after sitting out last season with a knee injury. Now that he's silenced his critics, we thought Rose might enjoy listening to something else. We've asked five
CHIRP Radio
DJs to compile a
Spotify
playlist to celebrate the Bulls' season opener against LeBron James and the Miami Heat on Tuesday, October 29.
1. Classixx – "All You're Waiting For"
Key Lyrics:
I'm gonna line it up, get on the way…and take it there again.
"We've been waiting for another Bulls championship since 1998. This year, there's actually a chance we'll see it. This nu-disco floor-packer from Classixx builds the anticipation and excitement until the chorus of
'I'm all you're waiting for'
explodes like Taj Gibson over Dwyane Wade." —
Dylan Peterson, CHIRP DJ and A.V. Club Music Writer
2. The Roots – "Here I Come"
Key Lyrics:
You better come out with your hands up…You boys get ready, cause here I come.
"Derrick Rose—here he comes. Have you seen him in preseason? He is TEARING. IT. UP. I like to imagine D in the locker room before game time, singing this song to himself…In the words of [former Bulls center] Stacey King, 'GET OUT THE WAY!'" —
Helean Lee, CHIRP DJ
3. MC5 – "Ramblin' Rose"
Key Lyrics:
Love is like a Ramblin' Rose…the more you feed it, the more it grows.
"This track [off the band's 1969 album
Kick Out the Jams
] kicks off with a little pregame speech, so Coach Thibs can take the night off." —
Andy Weber, CHIRP DJ
4. Slint – "Good Morning, Captain"
Key Lyrics:
Scattered remnants of the ship could be seen in the distance…Blood stained the icy wall of the shore.
"If I could sneak into AmericanAirlines Arena for the purposes of sabotaging King James and his merry men, I think I'd just pipe this song into their locker room on repeat. Filling LeBron's head with images of ghost ships and drowning mariners would leave little room for concentrating on basketball, let alone handling a revenge-minded Derrick Rose." —
Tyler Clark, CHIRP DJ and Groupon Arts & Leisure Editor
5. Big Sean – "Fire"
Key Lyrics:
It's been a long, long time…but it's never, never been too late.
"We know it's been a long, long time. But it's never, never been too late. And [the Bulls] are repping for the entire state." —
Megan Frestedt, CHIRP DJ and Pitchfork Office Manager
6. Serengeti – "Directions"
Key Lyrics:
You go right, you go right…You go left, you go right.
"Local underground rapper and CHIRP favorite Serengeti is a serious Chicago sports fan and so is his alter ego, Kenny Dennis. Halfway through "Directions," the song turns into the longest string of vocal directions you've ever heard. Or, it's the play-by-play of any given D. Rose drive." —
Dylan Peterson
7. Sleigh Bells – "Tell 'Em"
Key Lyrics:
Let me say, let me say…You could do your best today.
"This song was practically written for arena speakers and evokes that moment when a simmering crowd reaches a boil. The words to the song are practically unintelligible, but who cares? Can you hear the bass?" —
Helean Lee
8. The Babies – "Breakin the Law"
Key Lyrics:
Partner in crime, you were my partner in crime…We used to break the law.
"Sure, it's not about beating the Heat. But there's an outlaw style to what we're gonna do to them. And the song starts out chill and happy and speeds up, like a good pump-up [anthem] should." —
Megan Frestedt
9. Japandroids – "The Nights of Wine and Roses"
Key Lyrics:
We all want to know what nobody knows…What the nights of wine and roses hold.
"This is the best 'anthem' band of the past 10 years, and the title fits nicely into [the] theme." —
Andy Weber
10. J. Dilla – "So Far To Go (Inst.)"
"As their plane jets away South Beach after the first of many season-defining victories, I hope at least one Bull has the wherewithal to queue up this chilled-out beat from the late, great J. Dilla. Fans should get in on this, too; it's unwind-worthy music, something to help you savor wins and soothe away losses." —
Tyler Clark
Catch the Bulls' season opener against the Miami Heat on Tuesday, October 29, at 7 p.m. CST.
Photo Illustration: © Timothy Burkhart, Groupon