A Chocoholic's Dream: The Chocolate Bar at the Langham Boston Hotel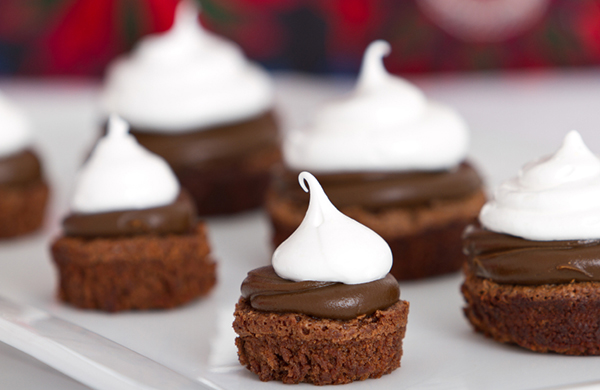 Everyone needs a little sweet indulgence from time to time. Or, overindulgence perhaps. Enter the Chocolate Bar at The Langham Boston Hotel, an annual display of decadence that Bostonians can practically set their watches by. The ten month-long event kicks into high gear in September, runs through the bitter winter and on through the earliest parts of summer. But it's not about knowing when the Chocolate Bar is happening, it's about getting a reservation. The sweets-focused event only happens on Saturdays from 11 a.m. to 3 p.m. inside The Langham Boston Hotel at the beautiful Café Fleuri. The all-you-can-indulge-in buffet is a dream for anyone with a sweet tooth, featuring all things chocolate from cupcakes and pudding to truffles and ice cream. Chocoholics can begin their afternoon with a sampling of small, dreamy portions of creatively (and artfully) designed confections, including petit fours, cookies, brownies, whoopie pies and mousse. Every sweet bite imaginable is on enormous, beautifully presented displays here, which fills the entire brightly lit dining room. There are even occasional healthy samplings of fruit to balance out the sugar overload. Just be sure to enjoy the chocolate paradise at a slow pace, so as not fill up too quickly from the rich assortment. Once you've got your bearings back, satisfy the secondary craving with a chocolate crêpe or chocolate crème brûlée over a hot cup of coffee – or, if you can, some hot chocolate – then head over to the fondue station. There's fruit and marshmallows for dipping, or you can splurge further at the heavenly chocolate fountain nearby. That is, if you can stomach any more. Little kids will love the cotton candy display and ice cream bar, while their parents may prefer the decadently rich Langham chocolate croissant bread pudding and a variety of dessert-themed adult beverages. Discerning adults may also partake of six or seven dessert-themed alcoholic beverages. And if you can't make it to the richly priced Chocolate bar, which runs $42 for adults and $29 for children aged five to twelve, Café Fleuri also hosts a weekly Sunday brunch where 20 to 30 of the chocolate confections are also enjoyed. Just don't expect the grandeur of Saturday's Chocolate Bar bacchanalia.
BY: Gayot
GAYOT.com serves as a leading worldwide authority on the good life. Millions of readers turn to Gayot's savvy, professional reviews on dining, travel and lifestyle. From "Best of" lists and travel guides, to a searchable restaurant and hotel database, Gayot provides dependable coverage while keeping up with the latest trends and news.