A City in Words: Talking Chicago with Local Publisher Curbside Splendor
BY: Collin Brennan |
Aug 12, 2013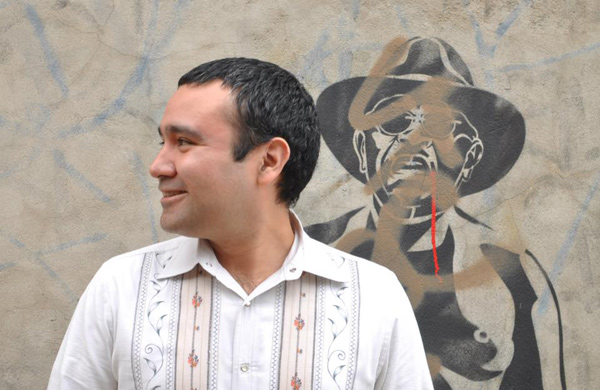 Victor David Giron calls himself a "true-blue Chicagoan," but his past is a bit more colorful than that. A first-generation Mexican American, Giron developed a taste for his city's peculiarities before he could even speak his country's language. His struggles to assimilate in the United States were still fresh in his mind when he sat down to write his first novel,
Sophomoric Philosophy
. Rather than shop this novel around to publishers in New York and Los Angeles, Giron created his own small press in Logan Square.
Curbside Splendor
surfaced in 2010, with
Sophomoric Philosophy
as its inaugural title. The publisher has since won accolades from national publications such as the
Atlantic
and the
Huffington Post
, but its focus remains largely on the city of Giron's youth. We sat down with him to talk about Chicago as backdrop for literature and life.
The following interview has been condensed and edited.
GROUPON: In Curbside Splendor's mission statement, you talk about wanting to explore "the delicate point where gritty urban life and art intersect." That's something you touch on in Sophomoric Philosophy. What attracted you to Chicago as an urban setting for that novel?
VICTOR DAVID GIRON: I chose Chicago as a setting because it was most familiar to me. After many failed attempts at writing, I discovered the truth behind that notion, "Write what you know." I'm a true-blue Chicagoan. I grew up in Logan Square in the '70s, before my parents and I moved out to Des Plaines in the suburbs. After college, I came back. I've always had an affinity for the city. I've traveled all over—New York, Los Angeles, Boston—but I love calling Chicago my home.
G: Your writing seems to owe a lot to the city you grew up in. 
VDG: Reading authors like Joe Meno and watching movies like [Richard Linklater's]
Dazed and Confused
, I realized that these guys were writing about their own lives and their own experiences growing up in specific locales. That kind of gave me the inspiration to write, so I just drew on my experience growing up here in Chicago. I had the vantage point of being a Mexican American whose parents came here illegally, so a big part of that experience was the struggle of becoming American.
G: Do you think there's something uniquely literary about Chicago—something that has to do with the immigrant's experience assimilating here?
VDG: For me, growing up in Chicagoland … was a fascinating experience. My friends ranged from Polish to Italian to Greek to African to Puerto Rican, and our parents all grew up in their respective countries. We as kids found ourselves in this awkward position of having cultures clash, and in that clashing we defined ourselves not just as boys but as Americans. [That's] an experience that only a diverse city like Chicago can provide.
G: Let's talk about another book that Curbside Splendor recently published: Chicago Stories by Michael Czyzniejewski.  By writing short stories in the voices of famous Chicagoans like Roger Ebert and Barack Obama, Czyzniejewski is trying to arrive at some conclusion about Chicago's identity. What made you want to publish that book?
VDG:
Chicago Stories
was fascinating to me for a number of reasons. For one, the author is a really interesting person. He's a beer vendor at Wrigley Field in the summer, and in the winter he's an English professor. He grew up here in Chicago, and I thought his take on exploring Chicago was really unique. There are some really great characters in there—even some I hadn't heard of myself.
G: That book seems to adopt this idea that Chicagoans have a shared history—these common cultural pillars like the Cubs or the Daleys or the Mrs. O'Learys. Growing up as the son of immigrants, has that been your experience?
VDG: At some level, there's a common culture that manifests itself through the arts and the books people are reading. But if you dig in deeper, you see how fragmented it really is. I grew up not speaking English until I went to school, and then we moved out to Des Plaines and suddenly I was surrounded with people who could only speak English. Personally, I crossed that barrier, but I think Chicago is definitely a hodgepodge of many diverse cultures and neighborhoods.
G: As the editor in chief of Curbside Splendor, do you make an effort to reflect that diversity in the books you publish? 
VDG: Looking at the books we publish, there's definitely an effort to make sure they are really diverse —not just from a racial or ethnic perspective, but also from an artistic perspective.
Everything Flows
by James Greer is superexperimental, but then there's this essay collection [
Meaty
] by Chicago writer Samantha Irby that's coming out in September. She's not really a writer at all, but she's in her 30s and she's already evolved this writing voice to deal with her health problems.
[Editor's note: Irby has Crohn's disease.]
G: Does your search for diversity extend to writers in other cities as well?
VDG: Going back to our mission statement, we're interested in urban exploration—not just in our city, but in cities in general. There are these very unique hodgepodges of different expressions and different voices seeking to be heard.
G: Chicago doesn't have the publishing reputation of a city like New York or Los Angeles. Do you think that puts you at a disadvantage in terms of attracting literary talent? 
VDG: I actually think we're in a good position right now. We and a few other publishers in the city are taking advantage of that void. Our upcoming roster features some really strong Chicago authors who, 10 years ago, might have been published by a New York publishing house. But they're Chicagoans like us, so as long as there's a platform to promote their work, they'll choose to stay here in Chicago. I don't want to consider us a Chicago-only publication, but about 50% of our authors are from Chicago. We'll naturally continue to draw from that.
G: Do you think Chicagoans staying put is going to be a trend going forward? 
VDG: I've been to many different cities in the US, and I think Chicago is a little different. It's a real working-class city, but there are also these artists who are creating art just for the sake of creating art. The trend has been that they develop a career out of it and end up moving to the West Coast or the East Coast, but that's changing. As the arts culture in Chicago solidifies, some of these authors are going to want to stay here.
G: What new developments can we expect from Curbside Splendor in the coming year?
VDG: We're on the verge of having 12 books come out this fall. I'm really excited about a new novel by Bill Hillmann that's coming out in April. It's an epic coming-of-age story—he basically grew up in Gangland and experienced lots of hardships, but he cleaned himself up, became a Golden Gloves boxing champ, and went on to get his MFA. His book is called
The Old Neighborhood
, and it's going to be a gigantic Chicago story.
For more Chicago stories, check out Curbside Splendor's Fall/Winter 2013 Catalog.
Photo: © Jacob S. Knabb
BY: Collin Brennan
Guide Staff Writer
Collin is a senior editor and a staff writer for Consequence of Sound. He self-publishes zines and moderates writing workshops for The Chicago Publishers Resource Center (CHI PRC).