A Classic Monster's Guide to Chicagoween
BY: Collin Brennan |
Oct 22, 2013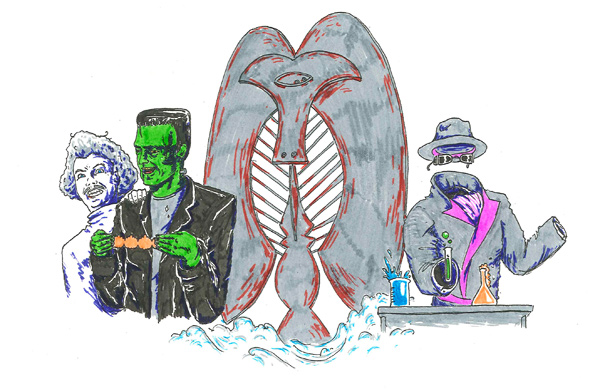 Pablo Picasso's iconic
sculpture
looms over Daley Plaza throughout the year, but its shadow takes on a more ominous hue for three days in late October. From Friday, October 25, to Sunday, October 27, ghosts and ghouls will descend on the freshly renamed Franken Plaza to take part in
Chicagoween
, the city's annual Halloween celebration. As the bubbling waters of the plaza's fountain turn blood orange, parents and their costumed children will partake in magic shows, hayrides, and a frantic trick-or-treat candy giveaway. But why should warm-blooded mortals have all the fun? We've created a Chicagoween guide for five classic monsters, in hopes of keeping them occupied and on their best behavior.
Midnight Circus | Friday at noon, 1:30 p.m., and 3 p.m.
Recommended for: Count Dracula
Even a shapeshifter like Count Dracula will be impressed by the performers of
Midnight Circus
, who rely on their bat-like reflexes to swing through the air above Franken Plaza. Although he'll spend much of his time searching the harvest market for bottles of sunscreen, the vampiric overlord should risk exposure to check out the spooky theatrics of The Demon Duo Show, which follows the third Midnight Circus performance at 4:30 p.m.
"Getting Excited About Science" with Steve Belliveau | Friday at 2:15 p.m.
Recommended for: the Invisible Man
The Invisible Man doesn't need his signature ability to blend in at a large outdoor festival such as Chicagoween, but he might want to share some of his insights with Chicago magician and sleight-of-hand artist
Steve Belliveau
. On Friday afternoon, Belliveau hosts "Getting Excited About Science," a half-hour showcase that blends science and magic to dazzle young onlookers. If Belliveau needs a closing act, he can ask the mad scientist to demonstrate the procedure that irreversibly altered his body's refractive index.
Costume Showcase and Contest | Saturday at 12:15 p.m. (line up at 11:30 a.m.)
Recommended for: the Mummy (and kids aged 12 or younger)
Wrapped from head to toe in linen bandages, the revived Egyptian priest would take home first prize in the kids' costume contest—if he were several thousand years younger. He may not be able to participate, but Imhotep should get a kick out of watching kids square off in categories that include "scariest," "funniest," and "most original." There's even a special contest for children younger than 24 months, and winners will be treated to prizes that include a pair of tickets to
Wicked
at the
Oriental Theatre
.
Wicked Sing-Along | Sunday at 1:30 p.m.
Recommended for: the Wolfman
Speaking of
Wicked
, Sunday's slate includes a sing-along rendition of the award-winning musical that cycles through hits such as "Defying Gravity" and "No One Mourns the Wicked." The latter song will surely strike a chord with the Wolfman, whose lycanthropic curse inspires a good amount of self-loathing. Although he'll likely be hiding out in human form, listen for the Wolfman's mournful howl as it cuts through the chorus of cheery voices.
Halloween Arts and Crafts | Friday from noon to 5:30 p.m.; Saturday and Sunday from 11 a.m. to 6 p.m.
Recommended for: Dr. Frankenstein and his Monster
Nothing brings together a doctor and his hellspawn quite like arts and crafts. He might regret what he created, but Dr. Frankenstein can at least play the part of father by showing his monster how to carve a pumpkin from construction paper. The odd couple will likely be flanked by parents and young children, but they shouldn't feel compelled to stick around if it gets too crowded. The arts-and-crafts table stays open throughout the day, so they can take a hayride and come back when things slow down.
Illustration: © Will Landon, Groupon
BY: Collin Brennan
Guide Staff Writer
Collin is a senior editor and a staff writer for Consequence of Sound. He self-publishes zines and moderates writing workshops for The Chicago Publishers Resource Center (CHI PRC).