A Closer Look at Chicago's Coolest Historic Buildings: Bronzeville
BY: Will Landon |
Oct 18, 2022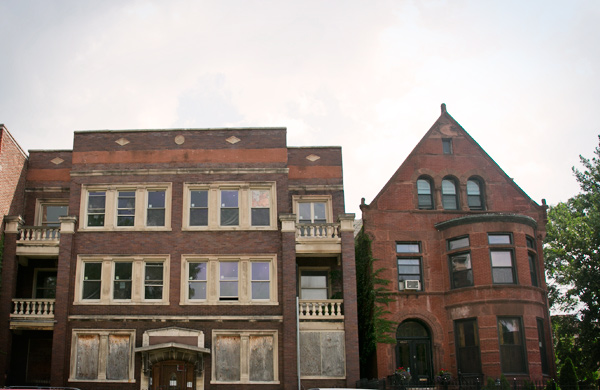 In
The Warmth of Other Suns
, author Isabel Wilkerson describes Chicago as a "receiving city." No neighborhood better embodies this description than Bronzeville, a South Side community that took root during the Great Migration of the early 20th century. With the legacy of the Civil War still looming, many black Southerners perceived Chicago as a city of opportunity—a place far removed from the discrimination they faced at home. "One of the reasons African Americans came to Chicago was that it was easy to get to," explains Susan Pappas, a
Chicago Architecture Foundation
docent. "The Illinois Central Railroad started in New Orleans and came straight north." It only helped that the
Chicago Defender
, a newspaper that railway porters distributed on the trains, was filled with ads promising jobs in the great northern city. Many African Americans stepped off the train and into a narrow community that ran along State and Dearborn Streets, just south of downtown. This was the beginnings of Bronzeville. World War I played another role in shaping the neighborhood's new identity. When the supply of European-immigrant labor was cut off by the conflict and droves of white Chicagoans left their homes to fight abroad, their black counterparts filtered into Bronzeville's newly opened jobs. After the war, mounting tensions led white families to essentially abandon Bronzeville's slice of the South Side. With plenty of city blocks now vacant, black residents were free to expand their community. They wasted little time in doing so, ushering in an era in which Bronzeville's population ballooned to more than 500,000. By the end of the 1920s, many had taken to calling Bronzeville a "city within a city." Like any new city, it struggled to accommodate its growing numbers. Then the Great Depression hit. Landlords bought up mansions originally owned by upper-middle-class white families and divided them into cramped one- or two-room units known as kitchenettes. Single-family homes become overcrowded dormitories, some of which housed more than 30 residents at any given time. Over the following decades, the local government's attempts to address Bronzeville's overpopulation resulted in clusters of poorly maintained public housing, the most infamous of which were the Robert Taylor Homes. Today, Susan and fellow docent Kathleen Carpenter say the tide appears to be changing. "When you go back down there today and see these lovely 1890s and 1900s brownstones, you see some real-estate prices that are pretty jaw-dropping—and these are good signs." Wealthier residents are gradually making their way back to the neighborhood, just as new developments around the Illinois Institute of Technology are transforming the landscape. CAF is playing a key role in reintroducing outsiders to Bronzeville. "When we do the Bronzeville tour," Susan says, "we're able to go to many of the buildings … that were associated with the people and things that were going on during the period of the Great Migration."
The Buildings 
Ebenezer Missionary Baptist Church
|
4501 S. Vincennes Ave. The last of Bronzeville's original German-Jewish synagogues, Ebenezer Missionary Baptist Church was the final commission of renowned architect Dankmar Adler. Named Isaiah Temple when it was built in 1901, the building was later purchased by an African American congregation and rechristened (the original name is still carved into the stone above the main door). Elements such as the blue domed ceilings and stained-glass windows remain intact, but the church is most remarkable for its near-perfect acoustics. These acoustics have attracted gospel musicians such as Thomas A. Dorsey, who once split his time between Ebenezer and
Pilgrim Baptist Church
as music director.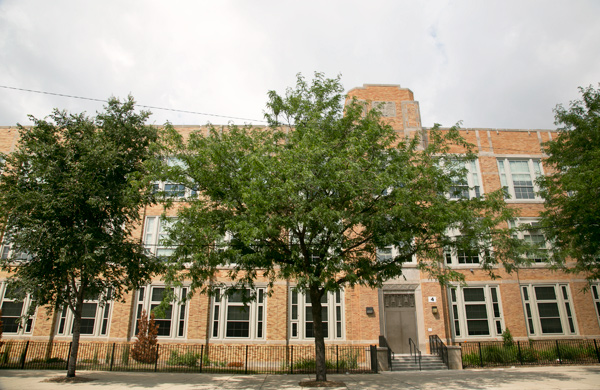 DuSable High School Building
|
4934 S. Wabash Ave. In the 1930s, a new high school was built to deal with the overcrowding at nearby Wendell Phillips High School. Named for Jean-Baptiste DuSable, an African American and the first permanent resident of Fort Dearborn, the school quickly became the pride of the community. The head of the music department, Captain Walter Dyett, had a lot to do with this. He inspired many of his students to take up a new instrument, including one boy by the name of Nat King Cole. Other notable students who passed through the school's halls include jazz pianist Dorothy Donegan, former mayor Harold Washington, and publisher John H. Johnson. Though now split into four different schools, the DuSable building's brick facade and art-deco design remain intact.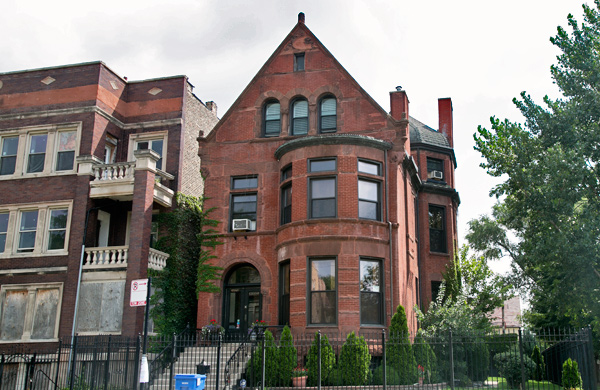 Welcome Inn Manor
|
4563 S. Michigan Ave. This 19th-century mansion on Michigan Avenue, Susan explains, was typical of the white upper-middle-class homes once broken down into so-called kitchenettes. Today, the brick Queen Anne Victorian is home to a bed and breakfast owned by Mell Monroe, an active community member and the organizer of the annual
Bronzeville Bike Tour
. Each of the mansion's suites is furnished in the antique style and named after an influential Chicagoan. The Rosenwald suite, for example, is a tribute to Julius Rosenwald, the philanthropist and former CEO of Sears, Roebuck & Company. One of his most notable achievements was the Rosenwald Apartments, a series of 400 buildings divided into three- and five-room apartments that were much more spacious than the standard kitchenettes.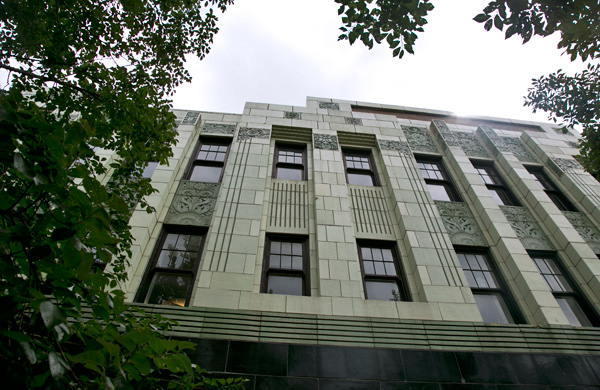 Chicago Bee Building
| 3647 S. State St. Established by African American entrepreneur Anthony Overton, the
Chicago Bee
was a newspaper originally intended to compete with the
Defender
. To house the paper's offices, Overton commissioned a two-story art deco building near State and 35th. Completed in 1920, the building still stands; today, however, a row of trees blocks the view from the street. Closer inspection reveals a black-and-green façade with panels of terra cotta and ornate gold accents. Though the
Chicago Bee
has long been out of print, the building carries on Overton's literary legacy as a branch of the Chicago Public Library.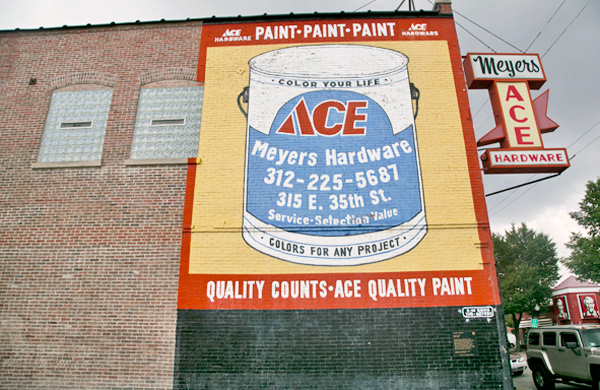 Meyers Ace Hardware
| 315 E. 35th St. This unassuming building served as a garage for years after its construction in 1900. In the 1920s, the garage was converted into the Sunset Cafe, a jazz nightclub that hosted legendary performances by the likes of Louis Armstrong, Earl Hines, and Bix Beiderbecke. In the 1950s, ownership transferred to a white hardware-store owner named Meyers. Today, it's owned by his son, David, who openly celebrates the building's musical history. "David will tell you that [jazz enthusiasts] from all over the world come and visit," Kathleen says. "This is like their pilgrimage." The stage's back wall is now located in David's office, but he's happy to invite visitors back for a look at the painted wooden backdrop. David's most popular items are plungers—a fact he attributes to the legend that Armstrong used the rubber cups as trumpet mutes.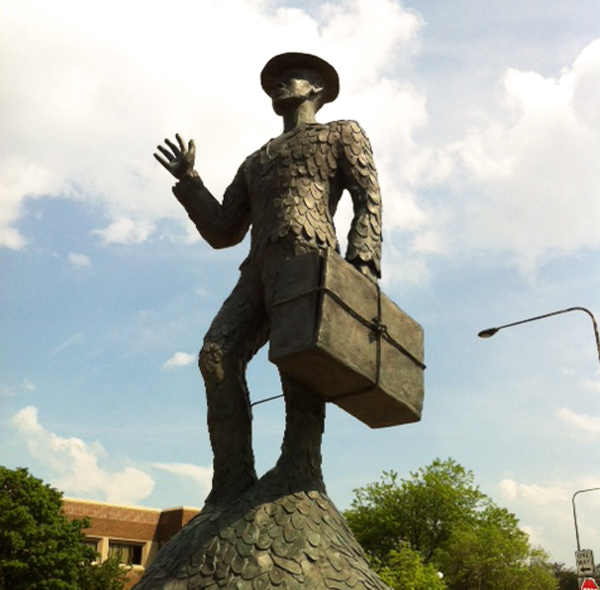 A Closer Look
Bronzeville is also home to several notable public artworks. These include what Susan and Kathleen claim is the only statue of Harold Washington—located at 47th Street and Martin Luther King Jr. Drive—and the
Monument to the Great Northern Migration
, just down the way at 26th Street. This bronze statue depicts a man headed north, carrying a suitcase wrapped in rope. To catch a glimpse of other historic Bronzeville buildings, join Kathleen and Susan for their
One Book, One Chicago
bus tour of Bronzeville. You can also take a closer look at the historic buildings on the Illinois Institute of Technology campus by checking out
Mies and Modernism: The IIT Campus Tour
.
Photo: © Stephanie Bassos, Groupon