A Closer Look at Chicago's Coolest Historic Buildings: Pilsen
BY: Will Landon |
May 30, 2013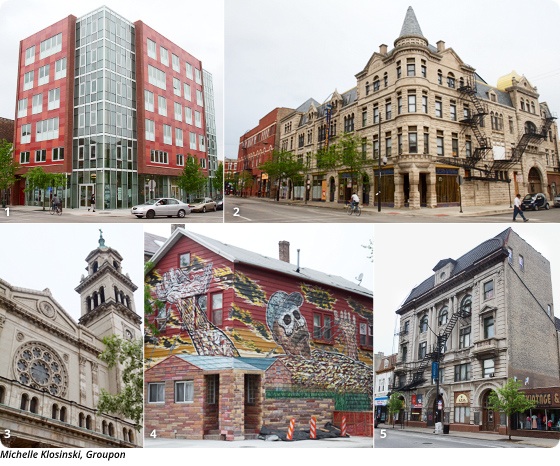 No matter where you are in Chicago, chances are you're right near an intriguing piece of architecture. All you have to do is look up. We spoke to Mark Warner, a docent with the Chicago Architecture Foundation, to get his top five buildings in one of his favorite neighborhoods: Pilsen.
Pilsen has always been a working-class community. In the 19th century, Irish immigrants who helped construct the Illinois and Michigan Canal—which ran through the Bridgeport neighborhood—began to settle just north of their job site. In the 1840s and '50s, the neighborhood welcomed Czech immigrants who took the railroad from the East Coast as they fled the Austro-Hungarian Empire's "Germanization" program—a social movement that mandated every citizen of the Empire speak and behave like a German. When the Great Fire ravaged the Loop in 1871, Pilsen became one of the hot new destinations for Chicagoans who refused to spend the extra money for brick and stone building materials.
Decades later, during World War II, a labor shortage attracted a huge population of Mexican immigrants, who diversified the neighborhood even further. Mark Warner sums it up: "Nothing is static in Pilsen, that's for sure." As a result of the cultural influx, most of the area's older buildings showcase a layering of architecture. Old Czech retail stores are characterized by the traditional Dutch roof gable line. But they also shine with brightly colored paint—a hallmark of Mexican immigrant architecture. Pilsen's citizens are also great at adapting—not just to an ever-shifting mix of cultures, but to Chicago at large.
With its location atop a former swamp, the early Windy City flooded often, turning the streets into a churning mess of mud. At the time, officials didn't have the technology or the money to dig new drainage pipes into the streets, so throughout many areas, workers simply laid pipe on the existing pavement and built a new layer on top. Homeowners were responsible for raising their own properties to the new street level. In Pilsen, they just added stairs in their front yards. This working-class culture is a huge part of this diverse neighborhood's identity.
As the University of Illinois at Chicago expands its campus ever further south, the people of Pilsen fight to preserve their way of life. Whether they will succeed or not remains to be seen, but regardless of what happens, anyone can view the cultural past in some of Mark's favorite Pilsen buildings.
The Buildings
1. La Casa Student Housing | 1818 S. Paulina Ave. Chicago architect Patricia Natke, a member of the UrbanWorks firm, created this towering brick and glass building as an off-campus housing complex for students from several Chicago universities. In early 2012, Patricia also took up another local design project in Pilsen—turning an abandoned rail line into a center for fashion and retail.
2. Thalia Hall | 1215 W. 18th St. Originally constructed in 1892 as a mixed-use building, Thalia Hall once housed retail spaces, a restaurant, apartments, and an auditorium. For the Czech inhabitants of the late 19th and early 20th centuries, the civic space provided a gathering place and an alternative to trips downtown. The building is now empty, but looks essentially the same as it did after its construction. Built in the Romanesque Revival style, it stands proud with several ornate turrets and a mansard roof.
3. St. Adalbert's Church | 1650 W. 17th St. This Polish-baroque style cathedral was once the heart of Pilsen's Polish community. Designed in 1914 by architect Henry Schlacks, the structure's layout is based on the Roman Basilica of Saint Paul Outside the Walls, originally constructed around 380 AD. Some of the church's most interesting architectural features are the columns lining the inner sanctuary, which are made from scagliola—a form of concrete made to look like the more expensive marble. The ornate building, Mark says, may have been built partially on "sweat equity"—the money that poorer Polish citizens contributed from their own pockets as a matter of national and religious pride.
4. Hector Duarte's House and Gulliver in Wonderland Mural | 1900 W. Cullerton St. Mark tells me that Pilsen is known for its colorful murals because they're such an important part of the community life, serving as an outlet for political and social commentary (areas in which Pilsen's primarily Latino and Hispanic community have always been active). Renowned local artist Hector Duarte has contributed to the movement by covering his entire house in a sweeping, 3,500-square-foot tableau of Latino and Chicago imagery. His masterpiece depicts the migratory experience in Chicago, most notably through reimagining Lemuel Gulliver as a skull-faced Mexican immigrant tied down by barbed wire instead of rope. Despite the hard-hitting subject matter, Hector is quite gregarious, often chatting with visitors and answering questions at his home.
5. A.P.O. Building | 1436-8 W. 18th St. Designed by an unknown architect and completed in 1890, this Czech building's name translates into English as the "Association for Workers' Rights." A Sokol community center, it served as a haven for the Czech "free-thinkers" who had cut themselves off from the social life of the Catholic Church. Today, the Romanesque Revival hall is a protected Czech site, but houses studio and gallery space for the local Latino artists' community. Like Thalia Hall, Mark loves this building for its emphasis on both aesthetics and functionality. He's amazed, he says, by the fact that people were designing mixed-use buildings more than 110 years ago, always thinking about how to make "real space that worked, and still be beautiful."
An Even Closer Look
Though some of these buildings have fallen into disuse, visitors can still take a peek inside several of them. The A.P.O. Building's galleries are open to the public, and Hector Duarte's house always attracts admirers. St. Adalbert's is open for services, and to the public for most of the weekend. During the week, curious visitors may be able to call the church's main office and request to take a look inside. But the best way to get a taste of Pilsen is to follow Mark on one of his tours through the neighborhood he loves: the next is on Sunday, June 9, at 10 a.m., meeting at the 18th Street station and ending at the Damen station on the Pink Line.
BY: Will Landon
Will Landon is a Chicago-based writer who sings punk rock songs with the Blue Ribbon Glee Club and occasionally works for free as an assistant stage director.