GROUPON GUIDE TO WASHINGTON-DC
A Drinking Game for Every Series of the NBA Playoffs: Round 1
BY: Collin Brennan |
Oct 18, 2022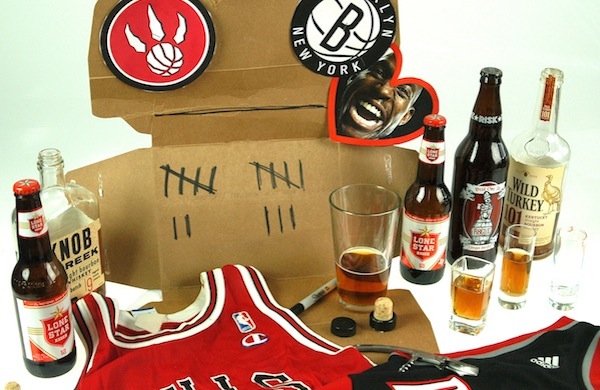 The NBA's playoffs are the most predictable of the four major American sports. In all likelihood, Gregg Popovich and the Spurs will storm their way to yet another conference final, and LeBron James will keep doing incredible (and, by now, incredibly ho-hum) LeBron James things. We can't sit idly by while the usual suspects sap all the fun out of this year's playoffs, so we invented a drinking game to make every first-round series a little more exciting.
If this goes well (i.e. if we're still alive/coherent), maybe we'll even write a follow-up for Round 2.
THE EASTERN CONFERENCE
Indiana Pacers (1) vs. Atlanta Hawks (8)
We can't remember any team that makes us want to drink more than this year's slow, methodical Pacers. Lance Stephenson may play like he's hopped up on 20 vodka Red Bulls, but you'll have to meet him on his level to get through this one awake.
The Drink:
Vodka Red Bull.
The Rules:
The Pacers came on strong this year and petered out as the season wore on. Mimic their trajectory by chugging your drink for the entirety of the first half (minus timeouts and commercial breaks, of course). In the second half, just kind of sit around and see what happens.
Miami Heat (2) vs. Charlotte Bobcats (7)
The defending champions take on a team that's made the playoffs exactly twice. Sounds like a laugher, but there are some interesting storylines here. Will Michael Jordan come down from the owner's box to school LeBron one-on-one? Will the Heat have an answer for Al Jefferson? How many people could you realistically fit on Al Jefferson's $23,000 bed?
The Drink:
Sailor Jerry
spiced rum.
The Rules:
Each player must have a filled shot glass. Every time the broadcast announcer mentions something about Chris Andersen's tattoos, drink. Bonus: any player who says "Wait a second, Greg Oden is still playing basketball?" must drink twice.
Toronto Raptors (3) vs. Brooklyn Nets (6)
Remember when Nets coach Jason Kidd was fined for
intentionally spilling his soda on the court
? With the way his season was going at that point, we're pretty sure that was something stronger than soda. Also, we have to toast the Nets' Russian owner Mikhail Prokhorov for spending more than $30 million on the artists formerly known as D-Will and KG.
The Drink:
Moscow mule.
The Rules:
This one is simple, though to do it right you'll also need a confetti cannon. Every time Kevin Garnett scores a basket, chug your entire moscow mule. The first person to finish must slam their glass on the table and scream the following: The confetti is just for effect.
Chicago Bulls (4) vs. Washington Wizards (5)
Everyone has that friend who seems to get better at everything after a few drinks. As soon as he starts slurring his words, he'll pick up some darts and casually nail five bull's-eyes. Chicagoans know that friend as Joakim Noah. The Bulls' unexpected MVP candidate sometimes looks like he wouldn't be able to find his car keys, but his general lack of grace belies an all-around game that's currently unmatched in the league. Australian artist
Chris Edser
recently created a series of GIFs that hammer this point home: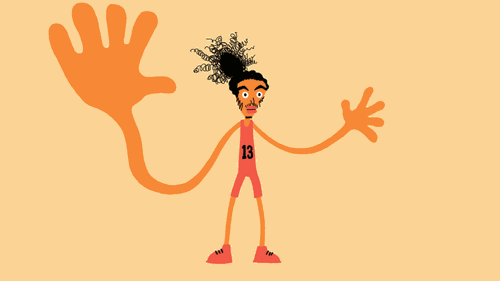 The Drink:
One glass of expensive scotch and one glass of
Jeppson's Malört
.
The Rules:
Here's a fun game called Swish & Foul. Every time the ball
swishes
through the basket, swish some of that scotch around in your mouth. But if at any point a player
fouls
out, you have to pour your glass of Malört into your glass of scotch, essentially ruining your day (and possibly your entire week).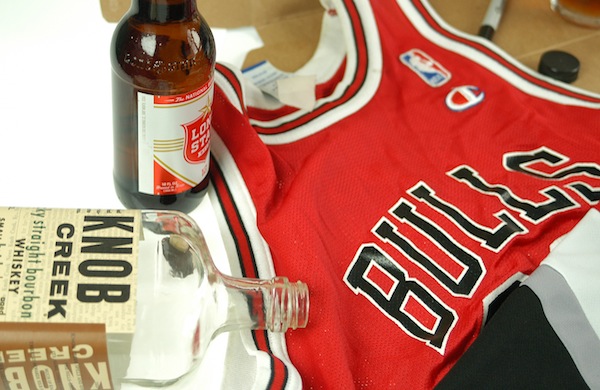 THE WESTERN CONFERENCE
San Antonio Spurs (1) vs. Dallas Mavericks (8)
Oh, look, the San Antonio Spurs won 60 games and are a title favorite! This reminds us of something…wait…thinking about it…oh yeah, the last 15 years. Tim Duncan is 37 and still playing at an All-Star level, meaning he probably doesn't drink much. Let's pick up his slack.
The Drink:
Lone Star beer
.
The Rules:
This one's a good old-fashioned power hour (like we said, we have to pick up Timmy's slack here). For every minute that passes in the game, take a 5-second swig of beer. Once you're done, take your empty cans and recreate the Spurs' starting five as little aluminum men, à la Matthew McConaughey in
True Detective
.
Oklahoma City Thunder (2) vs. Memphis Grizzlies (7)
The Thunder are a title favorite again this year, which is a good thing, because they occupy the 1–257 slots on the "Things to Do in Oklahoma City" list.
The Drink:
A 40-ounce bottle of
Silver Thunder malt liquor
.
The Rules:
This game requires two players. One player chooses current MVP Kevin Durant, the other chooses mercurial OKC guard Russell Westbrook. Every time your guy scores, take a drink. By the way, Durant recently ended a 41-game streak where he scored at least 25 points a night. Hope you called dibs on Westbrook.
Los Angeles Clippers (3) vs. Golden State Warriors (6)
When he's not
pretending that he drives a Kia
, multimillionaire Blake Griffin enjoys dunking on Jermaine O'Neal and getting under Draymond Green's skin. With Blake looking better than ever, Warriors fans might quickly find plenty of reasons to toss one back.
The Drink:
A pint glass of
Anchor California Lager
with a rubber band around it.
The Rules:
Every time Blake stares down the ref or does something equally annoying, all players must chug their beer. Whoever finishes first gets to slap each of their opponents on the arm with the rubber band. Don't be alarmed if the night devolves into something like this:
Houston Rockets (4) vs. Portland Trail Blazers (5)
On one side, the Trail Blazers, cheered on by some of the best fans in the league. On the other, the Rockets, led by the
$5 millon beard
of James "Basketball Samson" Harden. You get the feeling that Portland's just happy to be here, and so will you be, if you play by the rules listed below.
The Drink:
A bottle of
Rogue
craft beer, proudly brewed in Oregon.
The Rules:
Both of these teams rely heavily on 3-point shooting. Every time someone hits a three, take three quick swigs of your beer. As with the 4–5 matchup, it's anyone's call who survives this one.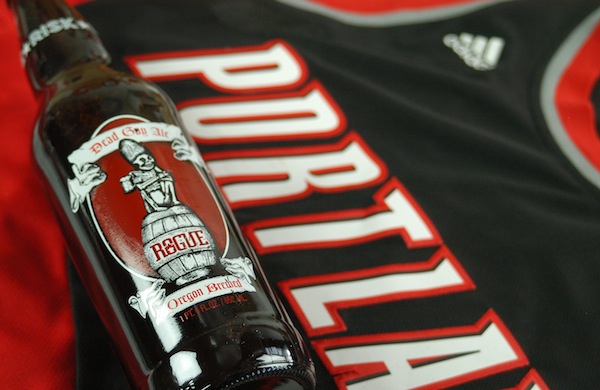 The NBA playoffs start on Saturday, April 19. Stay tuned for our buzzed coverage of Round 2.
Photos: Collin Brennan