A Fall Road Trip
BY: Natalie Chassaigne Kurtzman |
Nov 3, 2013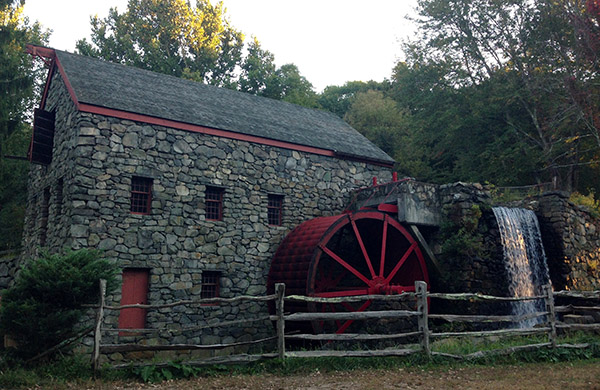 Between the back-to-school rush and hurried craze of the holiday season, late fall is always an unexpected surprise. The short days invite us to take time to slow down and retreat before the winter arrives in full form. Although the city has so much to offer, there's nothing quite like getting out of town to only be greeted by the astonishment of its rural beauty. Just twenty miles northwest of Boston, the town of Concord is home to countless activities that are especially enjoyable this time of year. For example, a tour of Louisa May Alcott's Orchard House offers a glimpse into nineteenth century Concord. In addition to daily tours, the museum hosts special events, such as the upcoming "New England Soldier's Christmas". If you're in the leaf peeping mood, there's still time to catch the fall foliage in action. Take a walk through the Minute Man National Historic Park, sweeping views of Folly Pond and the famed North Bridge. This landmark is not only beautiful, but also historic; this spot is where the first battle of the Revolutionary War took place. If you're looking to spend more time in the great outdoors, continue on to the Concord River, where you can pick up a canoe at the South Bridge Boat House. Pack a picnic and warm hat! A few miles South of Concord, you'll find yourself in the quaint town of Sudbury. On the well-known Wayside Inn Road lies the Longfellow Wayside Inn, the oldest operating inn in the United States. Warm up in the dark Old Bar room with a delicious baked Indian Pudding, a sweet molasses dessert. Take a few moments to tour the inn's museum rooms, where you'll certainly learn some interesting morsels of American history. Before you head out, don't forget a quick stop at the old-fashioned candy shop, where you can pick up some treats for the road. Just a stone's throw down the road sits the Wayside Grist Mill, which was built by Henry Ford in the 1920's. The mill is certainly worthy of a photo or two, but I especially enjoy walking along the path that sits behind the mill. It will take you through trees and boulders until you reach the peaceful Grist Mill Pond. After a day of fresh air and adventure west of Boston, head back into the city for a toasty drink. A personal favorite is
L.A. Burdick's
drinking chocolate, which comes in dark, milk, and white variations. A delightful end to the perfect fall day.
BY: Natalie Chassaigne Kurtzman
Natalie highlights events, boutiques, and people that make Boston such a great place to live on The Boston Day Book. Born and raised in Boston, Natalie adores every corner of this city, from the cobblestoned streets of Beacon Hill to practicing her chopstick skills in Chinatown. She can often be found snapping photos around the city or taking sunrise walks with her husband and Portuguese Water Dog, Weber.