A First-Timer's Guide to Eyelash Extensions
BY: MAE RICE | 9.10.2015 |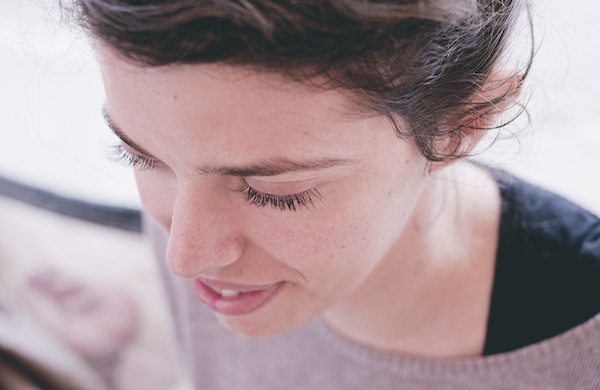 When makeup artist Olivia Black first discovered eyelash extensions, she was backstage at a fashion event, about to put mascara on a model.
"They were like, 'No! Don't put it on! They're extensions!' And I was like, 'Why on earth would I put mascara in people's hair?'"
When she discovered that the model had lash extensions—not strips, but individual strands applied to the natural lashes—she was immediately intrigued. Before long, she was positively hooked. "It's such a feminine thing," she said. "It allows us to have this just-rolled-out-of-bed, glamour-girl look without having to cake all the makeup on."
Olivia has been "lashing," as she calls it, since 2004. In 2010, when extensions started to really become mainstream, she opened her own salon, Chicago Lash Lounge (1913 W. Belmont Ave.). She views applying extensions as not just a skill but an art form, since it requires, in her words, "figuring out, for each person, the texture, the length, [and] the curl [that will] give them their ideal look." Over the years, she has solved this puzzle for clients such as actress Jenna Dewan-Tatum, as well as for people who have lost their lashes to alopecia or chemotherapy.
"I've had so many women over the years literally start bawling [out] of happiness," she said.
To help me understand the magic of extensions, Olivia gave me a set of mink ones just in time for Groupon's holiday party. It was a big departure from my day-to-day beauty routine, which usually consists of wearing chapstick (though I am 90% sure there's mascara somewhere under my bed). But to my surprise, the extensions were also really fun. Based on my own experience and my chat with Olivia, I've compiled some tips for anyone else trying lash extensions for the first time.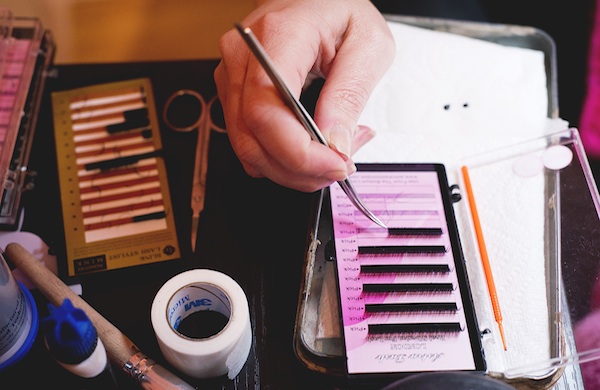 Extensions come in many different materials
You can choose from extensions made of synthetic human hair, synthetic mink, or real (cruelty-free) mink. Olivia describes them as the Hyundai, the Benz, and the Bentley of extensions, respectively—an analogy that applies to both price and quality. Synthetic human hair is the cheapest and most widely available type, but it looks perceptibly fake. Mink, meanwhile, is "un-freaking-detectable," Olivia said.
She notes that some people prefer synthetic mink to real mink, though. It's less realistic, but it's also the shiniest, blackest option. They're also less likely to confuse any actual minks you hang out with.
Block out two hours of your day
This is not like gluing on a strip of lashes—my appointment took roughly two hours. Olivia applied more than 100 extensions one at a time, swiping each one through glue before placing it on the natural lash with tweezers. The results last way longer than the appointment, though, staying put for two to four weeks.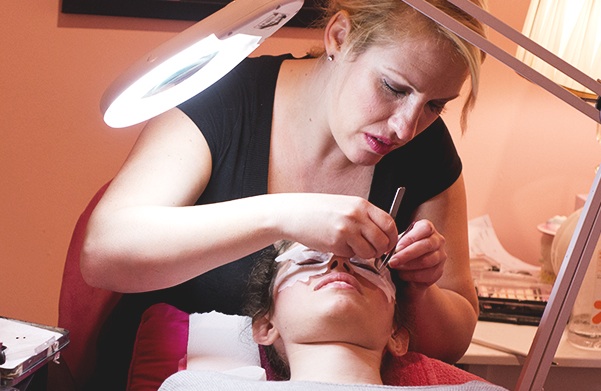 You won't know what's happening
I don't know firsthand how my lashes were applied because my eyes were taped shut with two layers of tape. The first held down my bottom lashes, separating them from my top ones. The second layer held down my top lashes, so glue didn't get on my eyeball.
To be fair to the glue, it isn't horribly toxic or smelly. It's probably the best glue I've ever been trapped in an enclosed space with. However, glue plus eyeballs is not a recipe for success, so don't try this at home unless you're gluing googly eyes to the back of your head. Then no one will mug you—ever.
Be a guilt-free slob for a day
For 12 hours after your eyelash extensions are applied, you can't expose them to water. That means no showering, no sweaty workouts, and no washing your face. It's great. Sit in bed and watch TV. Ignore your daily personal-hygiene GCal alerts.
Life as you know it will change ... slightly
First of all, you will receive compliments on your eyelashes. All you have to say is thanks, though you can also reveal that they're fake if you want. I did, and it was fine. My friend did touch my eyelashes in the middle of a Starbucks, but she asked first.
Another change: You might have to sleep slightly differently. It's best for your extensions if you sleep on your back, but I like to sleep on my stomach, so every night, I worried I was hurting my lashes. It was sort of like having puppies glued to my face.
Get answers to your burning eyelash extensions in our FAQ.
Photos: © Tim Burkhart, Groupon
BY: Mae Rice
Guide Staff Writer
Mae Rice is a Groupon Guide staff writer who writes about eyelash extensions, French food, what "business casual" even means, and other style and food topics.