A Global Tour of the Best Hard Cider in Chicago
BY: Stephanie McDaniel |
Oct 18, 2022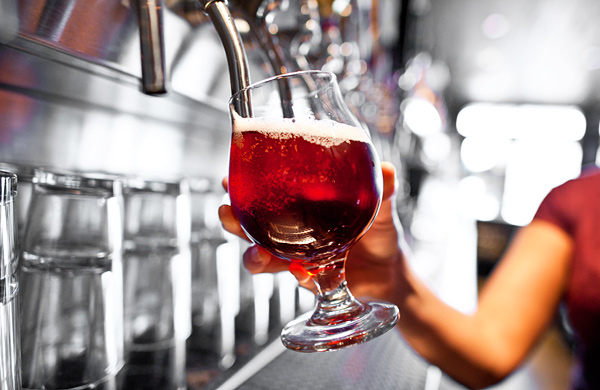 As autumn descends upon the Midwest, the harvest comes in and the apple crop ripens. Apple-cider season is approaching, but it is not the traditional unfiltered juice drink that will be filling mugs this fall. Rather, apple enthusiasts will be imbibing hard cider, a sparkling beer made from fermented apples. Europe has long held hard cider in high esteem, and Chicago is beginning to witness cider's emergence. In February, a team of artisans held the very first
Cider Summit Chicago at Navy Pier
, where patrons tasted more than 60 ciders from the United States, Europe, and New Zealand. Now, you can get a glass of the sparkling stuff at a number of taverns and restaurants across the city. These six locations represent a veritable world tour of cider, from Normandy's dry brews to Scotland's hearty pints to Michigan's tart sips.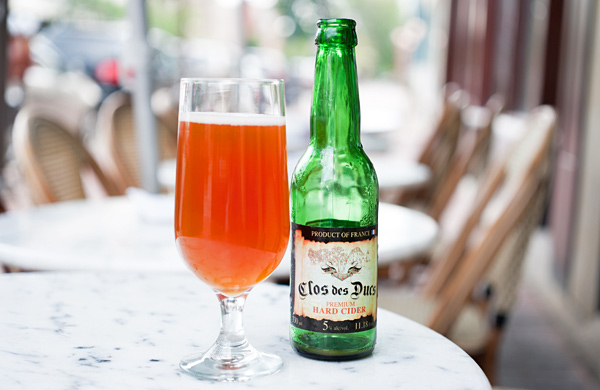 Creperie Saint Germain (Evanston | 1512 Sherman Ave.)
The first stop explores the vineyards of Normandy, where French crepes were born. Owner Pascal Berthoumieux has assembled a dozen different "cidres" to pair with his crepe menu, including imports from England, Spain, and France such as
Julien Frémont
, which is a dark golden cider with a dry taste and hints of barnyard. Berthoumieux's favorite cider is 
Clos des Ducs
from Brittany, which he explains is "a great crossover between New-World and Old-World ciders" because of its sweet apple taste and simplicity. A traditional part of French cuisine, the ciders pair well with the galettes de sarrasin—savory crepes made with 100% organic buckwheat and wheat flour and stuffed with duck confit, coq au vin, or ratatouille.
Fatpour Tap Works (Wicker Park | 2005 W. Division St.)
When you need a break from apples, cider satisfies with the apple's sweet second cousin: pears. Pear cider is also made by breaking down the yeast in fresh pears, but it results in a sweeter flavor. Fatpour carries two pear ciders from the West Coast: Fox Barrel's
Pacific pear cider
and
blackberry-pear cider
. These ciders are "definitely a departure from the norm," says Drew Daly, the bar's assistant general manager. An overall smooth, delicate drink, Fox Barrel's pear cider presents a strong pear taste hidden under a burst of fizzy carbonation. The sweetness is matched with a tart tinge and spiciness to remind the palate that this drink is no mere juice. In addition to these pear flavors, the multilevel bar serves two other fruity ciders on tap, Washington state's
Tieton Cider Works's cherry-apple cider
and Michigan's
Vander Mill blueberry-apple cider
. But fans of the cherry and blueberry should hurry—these ciders regularly rotate as part of the bar's quest, as Daly says, to "find some really cool offerings from different cider makers."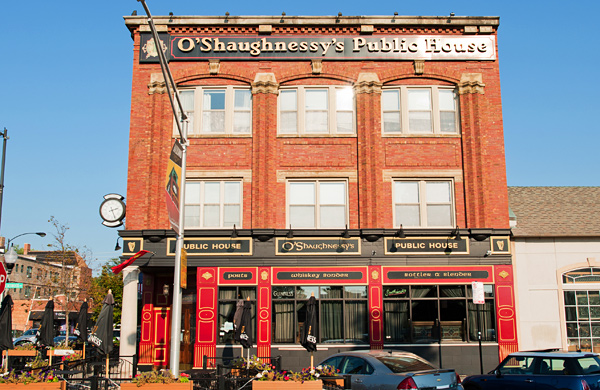 O'Shaughnessy's Public House (Lincoln Square | 4557 N. Ravenswood Ave.)
Pub lovers can settle into the cozy ambiance of O'Shaughnessy's, where Celtic tastes remain strong. Wood paneling, live music sessions, and bartenders with lilting accents help locals forget they are in Chicago. On tap, the pub has
Magners
, which is fermented using Irish apples in original oak vats from Dowds Lane in Tipperary. The Irish cider's appeal is twofold, according to O'Shaughnessy's owner Liz Finan. First, the cider is a gluten-free alternative for people "who don't like the taste of beer." And second, "it's always been a favorite with the Irish guys who frequent the pub," she said. Also available are cans or bottles of Magners pear cider, as well as the English cider
Strongbow
.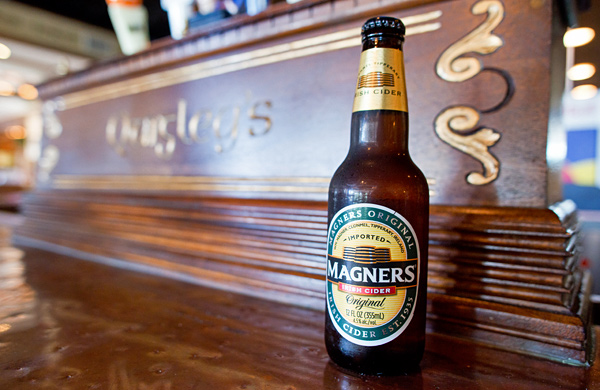 Quigley's Irish Pub & Craft Beer Bar (Oak Lawn | 4010 W. 111th St.)
Chicago is known for its Irish contingent, and pride for the Emerald Isle really soars on the South Side. Settled in Oak Lawn, Quigley's Irish Pub & Craft Beer Bar encapsulates that pride with a wealth of Irish beers, ciders, and celebrations—the staff even puts up a Saint Patrick's Day tree complete with shamrock lights and green baubles. With Magners apple and pear ciders, Quigley's satisfies with cider's duo of sweet and tart flavors.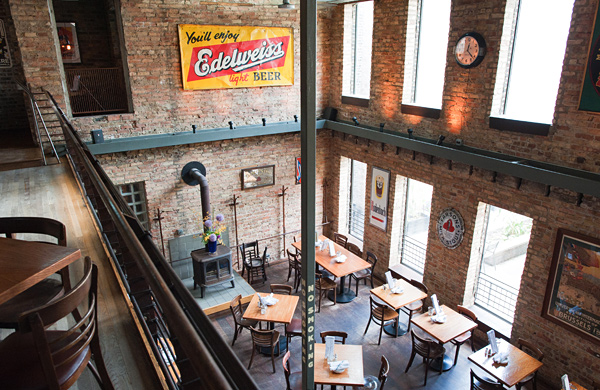 Hopleaf  (Andersonville | 5148 N. Clark St.)
Not shy of international alternatives, Hopleaf owner Michael Roper carries French Normandy ciders, British ciders, and ciders from the Pacific Northwest. But what he really loves are the Midwest ciders.
Virtue Cider
varieties and
Vander Mill
and
Uncle John's
ciders from Chicago and Michigan are among the constantly rotating drinks on tap. "Just as local beer is gaining traction, there is a locovore movement in cider," where people favor ciders with locally grown ingredients, Roper notes. Uncle John's
Cider House Baldwin
uses apples grown steps from the cidery for a crisp, barrel-aged flavor;
B. Nektar Meadery's Zombie Killer
blends Michigan tart-cherry juice with cider and star-thistle honey for a sweet and sour finish. Many of Roper's customers also make trips to the cider mills in Michigan once they find a taste they like.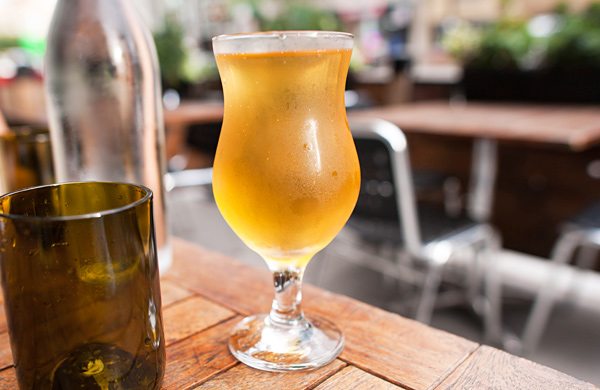 Farmhouse Tavern (Near North Side | 228 W. Chicago Ave.)
Here, the taps pour cider straight from the Midwest—but with flavors from afar. Following the course of our world tour in one location, Farmhouse carries a trio of brews with the styles of English, Norman, and Michigan ciders. General manager Michael Sutton says his goal is to "source as much of the products we bring in from the four states surrounding Lake Michigan," so he looks at cider houses in the region and picks out the best flavors. Michigan-based Vander Mill hard apple cider blends Michigan apples into a semisweet liquid, and Virtue Cider's Lapinette produces cider in French oak barrels in the Norman style, resulting in a rough, unfiltered drink with a mild flavor and tart overtones. Borrowing from Britain, Virtue's RedStreak Cider uses apples that were first discovered in Herefordshire in the 1630s that create a hazy lemon hue with a crisp finish—a cider Virtue's website proclaims is
"so delicious it was deemed to be 'fit for kings.'"
Photo: © Andrew Nawrocki, Groupon; Quigley's photo: © Timothy Burkhart, Groupon