A Guide to Conquering Chicago's Table-Tennis Scene
BY: Raf Miastkowski |
May 21, 2013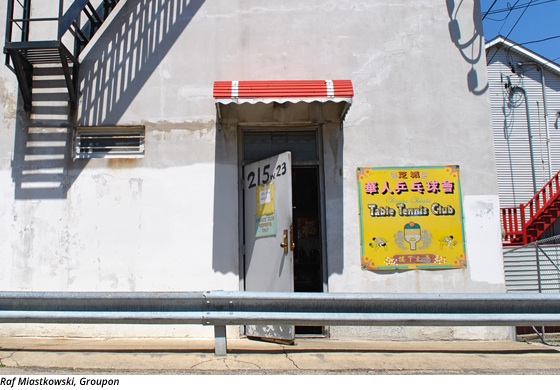 Once an after-dinner parlor game enjoyed by England's upper class, table tennis still retains much of its backroom rep. But instead of frequenting public gyms and outdoor fields, you'll find the sport's most dedicated players swinging away in murky basements, neighborhood bars, and hidden, competitive clubs. Find out where you can get in on the action and become one of the hardest-repping table-tennis players in town.
Beginners
The local bar scene is where beginners should cut their teeth. The competition usually ranges from decent to tipsy, and you might have to deal with less than ideal conditions, such as crowds. A good place to play during the summer is
Ada Street
in Noble Square, where the patio is covered in astroturf and a decent selection of bourbon creates a fiery setting for pickup games. Over at the Near North Side's
Streeter's Tavern
, the table is often booked for games of beer pong, but once the cups are cleared off, challengers line up for some playing time. Up the street in Lakeview,
Keenan O'Reilly's Pub
, an unassuming watering hole with a Special Export sign hanging outside, hides a backroom where you can showcase your backhand at a safe distance from the workin' joes downing cold ones at the bar. However, the hub of the beginners table-tennis scene remains
Happy Village
in Ukrainian Village. The corner tap features a separate room equipped with two tables and a chalkboard on which players sign up for games. The crowd here still knows how to let loose, but you won't find better competition at another bar.
Seasoned Players
Hidden in a nondescript building in Ukrainian Village,
Chi-Slam Table Tennis Club
is a destination spot for anybody looking for a challenge, whatever their skill level. Open every day of the week, the club brims with kinetic life and the relentless clacking of drawn-out rallies. In addition to facing off against practiced players, you can rent your own table, take private lessons, or even train with a ball-hurling Newgy robot.
Racket Masters
There's no messing around at the Chinese Table Tennis Club, located in the heart of Chinatown. The competition here is serious, and the club usually offers memberships once you've proven your mettle at Chi-Slam Table Tennis Club. The club's entrance makes it a bit difficult to find (you walk down a narrow passage next to a storefront before slipping through an ajar door in the alley), but those who do and successfully obtain a membership get 24-hour access. It's a tight space, but that doesn't seem to restrict the veteran players who wield their rackets in a hypnotic flurry of graceful lobs and violent smashes.
BY: Raf Miastkowski
Raf is a Chicago-based writer, alley explorer, and Baratheon loyalist.