GROUPON GUIDE TO WASHINGTON-DC
The Restaurants Serving the Hottest Peppers in the World, and the Customers Crazy Enough to Eat Them
BY: Shannon Grilli |
May 8, 2015
In November of 2013, the Carolina Reaper pepper was declared the "World's Hottest Chili" by the Guinness Book of World Records. Nearly two years later, it continues to hold the title—an admirable feat in an industry filled with record chasers in constant competition to breed hotter and hotter chilies.
None have managed to captivate the world quite like the Reaper, however, which has inspired countless videos of weepy-eyed men, women, and children brave (or boneheaded?) enough to try and eat one. One Bon Appétit writer went so far as to consume three whole peppers in just under 22 seconds, then documented the 14 hours of misery that ensued.
At more than 1.5 million Scoville heat units (the official measurement used to judge a chili pepper's spiciness), the Carolina Reaper is roughly 300 times hotter than the average jalapeño. With such intense heat, it hasn't exactly been popping up on menus across the globe—but some of its (only slightly) less spicy brethren have been torturing tongues for years.
Below, we highlighted some of the spiciest chilis available for consumption, in case you want to gradually build your tolerance to Reaper-ready levels.
Trinidad Scorpion 'Butch T'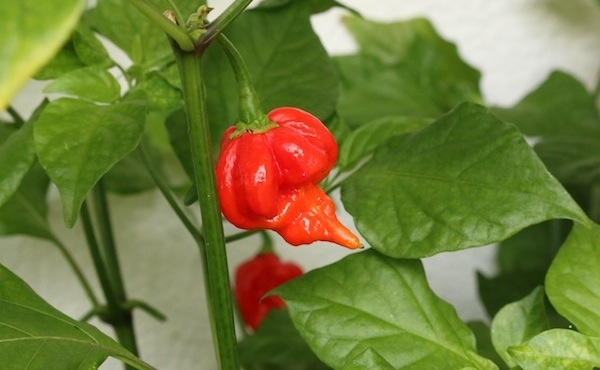 Heat Level: 1.4 million Scoville heat units (280 times hotter than a jalapeño)

Country of Origin: Trinidad and Tobago

Fast Fact: Gets its name from its pointed tip, which is said to resemble a scorpion stinger.

Where to try it: Jake Melnick's Corner Tap in Chicago, IL

Jake Melnick's XXX wings are ignited with a hot sauce made from Trinidad scorpion peppers, ghost peppers, and habaneros. Guests tempted to try them must sign a waiver, and anyone who's able to finish an order gets their photo on Jake's Wall of Flame.
Naga Viper
Heat Level: 1.3 million SHU (260 times hotter than a jalapeño)

Country of Origin: Great Britain

Fast Fact: A cross between a Naga Morich, Bhut Jolokia, and Trinidad scorpion, the Naga Viper is considered an "unstable three-way hybrid," meaning the peppers cannot produce offspring that are exactly like it.

Where to Try It: Red Dog Saloon in London

Red Dog's hot-wing challenge presents chicken doused with fresh Naga chili sauce. Like the XXX wings at Jake's, the Naga wings require diners to sign a liability waiver (the last line of which reads, "I am a damned fool") before digging in. Challengers must consume 6 of the wings in 10 minutes and resist eating or drinking anything for at least 5 minutes afterward in order to get their picture on the saloon wall—a feat that has a mere 5% success rate.
Ghost Pepper (aka Bhut Jolokia)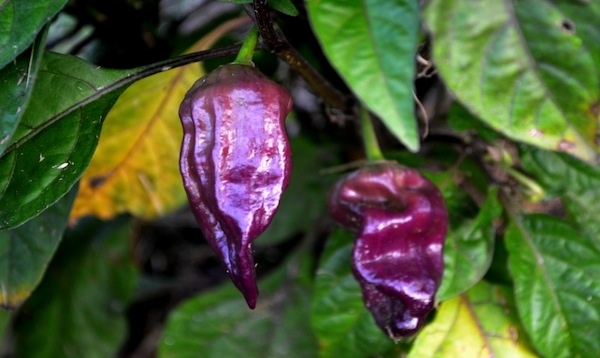 Heat Level: 1 million SHU (200 times hotter than a jalapeño)

Country of Origin: Bangladesh

Fast Fact: In some parts of India, ghost peppers (which can be many different colors, including red, chocolate brown, purple, and yes, white) are reportedly used in smoke bombs designed to keep wild elephants at bay.

Where to Try It: Brick Lane Curry House in New York, NY

Often referred to as the "hottest curry in the world," BLCH's phaal curry features ghost peppers along with nine (!) other types of chilies. The fumes produced by the cooking process are so incendiary, the chef has to wear a gas mask—a process documented on Man v. Food, when host Adam Richman compared the smell's effect to "swallowing a porcupine."
Red Savina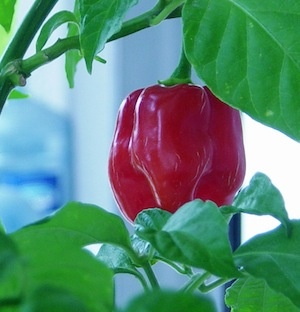 Heat Level: 500,000 SHU (100 times hotter than a jalapeño)

Country of Origin: USA

Fast Fact: Held the world record for the hottest chilli for 12 years (1994–2006).

Where to Try It: Lafayette Brewing Company in Lafayette, IN

Lafayette Brewing's hickory-smoked wings come with four dipping sauces, one of which is a barbecue sauce made with Red Savinas. These don't come with a waiver, just a warning and an excuse to drink a lot of Lafayette's award-winning oatmeal stout.
Scotch Bonnet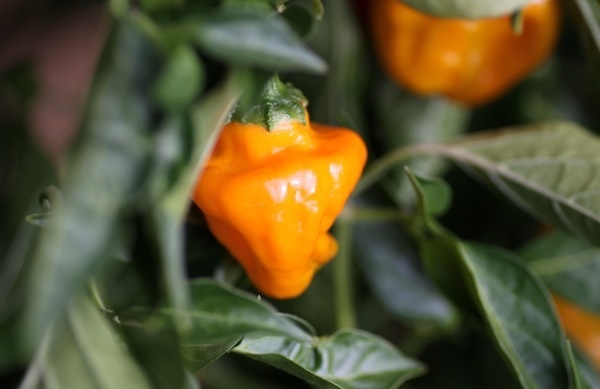 Heat Level: 100,000 SHU (20 times hotter than a jalapeño)

Country of Origin: Not Scotland, actually. The Scotch Bonnet is found in many Caribbean Islands, as well as in Guyana, the Maldives, and West Africa.

Fast Fact: The pepper's name comes from its resemblance to a traditional tam o' shanter hat.

Where to Try It: The Rookery in Brooklyn, NY

The Rookery's Yellow Bonnet bloody mary is unusually spicy—it gets its kick from a healthy dose of Scotch Bonnet peppers. It also has an unusual golden hue, thanks to an infusion of yellow tomatoes.
Scotch Bonnet photo: Back yard plants by Jeff Vier under CC by 2.0

Check out our guides to other food categories: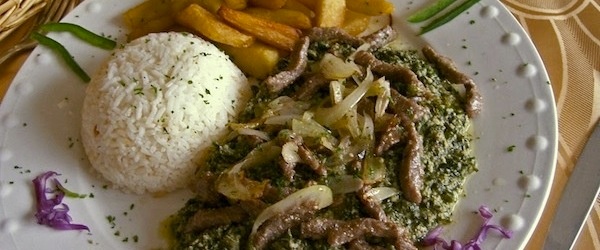 You've probably had injera, but what about n'dolé, bobotie, or fufu?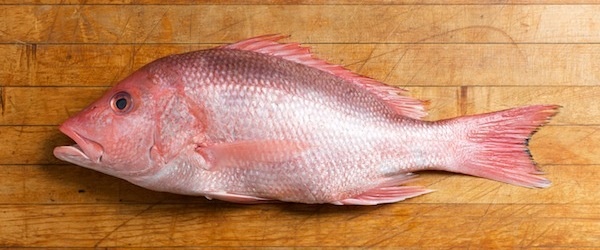 Don't know the difference between snapper and cod? Allow a fishmonger to explain.