GROUPON GUIDE TO SAN FRANCISCO
A Guide to Winter in San Francisco
BY: Anjali Shah |
Oct 18, 2022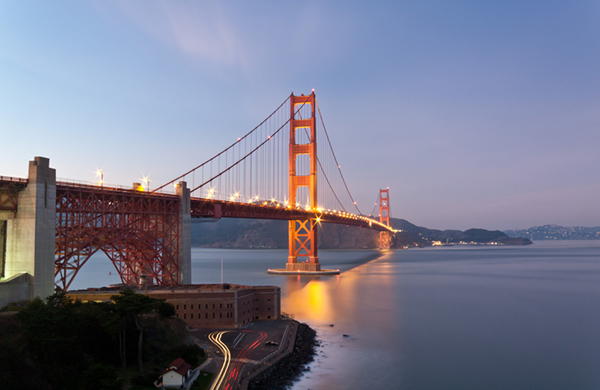 Since it is wintertime, it's quite obvious that it will be cold in San Francisco. But temperatures can actually vary quite a bit during the winter - anywhere from the mid-high 30s to the low 60s on a warmer winter day. One thing is guaranteed: the weather in SF is completely unpredictable and will vary throughout the day. In the city itself, the different districts and neighborhoods also have their own micro climates. During the same hour on a given day, one end of the city to the other (a distance of just 7 miles) can bring banks of thick fog, patches of sun, wind tunnels, and areas of rain, which means that it helps to be prepared for anything.
Tips for what to wear during the winter in San Francisco:
Layers are key - both lightweight and heavier layers: warm sweaters, t-shirts, scarves, hoodies (anything that is easy to remove if the sun peeks out and it becomes warm suddenly, but easy to carry and put back on when the clouds roll in)
A warm coat, especially for walking around the city.
Comfortable closed toed shoes & socks - flip flops are for the August/September/October months.
Casual for all seasons: San Francisco is one of the more casual cities out there - even during the winter when it's easier to dress up. Jeans, khakis, etc. are all acceptable - even at nicer restaurants. Comfortable and casual (with layers) is the way to go.
Tips for what to do during the winter (on a nicer day):
San Francisco will be cold, but will definitely have a good number of days in the winter where there isn't any rain - so outdoor activities are still doable!
Outdoor Ice Skating: Yerba Buena Gardens and the Embarcadero Center both have great ice rinks in the winter.
City Lights Cruise: The Red and White Fleet offers cruises around the Golden Gate Bridge, Alcatraz, and more during the winter season, dubbed the City Lights Cruise. This two-hour cruise offers views of the city skyline at night, while a hearty buffet, drinks, and live music keep the ambiance enjoyable.
Point Reyes Whale Watching: Dress warmly and grab some comfortable shoes for some of the best whale watching in the Bay Area. During the winter, the clear views at Point Reyes around Chimney Rock and the Lighthouse are hot spots for whale watching.
Visit Alcatraz: Tours to the island are offered year-round, and entrance to Alcatraz is free (although the ferry to get to Alcatraz requires a ticket, best bought in advance).
Tips for what to do during the winter (on a rainy day):
Museums are great places to hide out on a rainy day - the MOMA and Exploratorium are open daily during the winter and offer hours of enjoyment.
Take a factory tour: TCHO chocolate offers tours of their factory daily, and just across the Bay Bridge in Berkeley, you can learn how sake is made at Takara Sake. A drive north takes you to the Jelly Belly Factory.
Mission Cliffs Climbing and Fitness: Looking for something active even in bad weather? Mission Cliffs offers indoor climbing (from beginner to expert levels), regardless of the winter weather outside.
Go Shopping: San Francisco has some of the best shopping around. The hot spots are in the Union Square / Westfield Mall area (which has the largest selection of brands, stores, and clothing items, Chestnut Street (lined with a mix of boutique, sophisticated shops, beauty outlets and restaurants alongside brand name retailers), and Hayes Valley (which is full of art galleries, contemporary boutiques, interior design studios, outdoor cafes and wine bars).
For more ideas, explore all our deals for things to do in SF.