A History of #FoodPorn
BY: Halley Lawrence |
Jan 8, 2014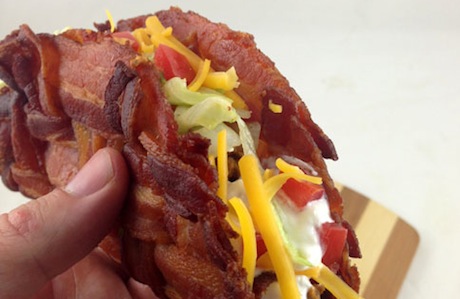 Nick Chipman, the blogger behind DudeFoods.com, spent $143 buying everything on McDonald's menu and assembling a giant tower of fast food. Many people see him as a product of modern American excess—but he's just the latest in a long line of indulgence.
People tend to love or hate Nick Chipman's food. Chipman, the blogger behind DudeFoods.com, is OK with that; he doesn't expect everyone to appreciate creations such as the bacon-weave taco or the 100% Cheese grilled cheese sandwich, which cradles melted american cheese between slices of chewy Carr Valley Cheese Company bread cheese. He's definitely playing to a specific audience—one that likes their familiar comfort food with a flair of decadence.
But still, Chipman is sometimes shocked by people's reactions.
He was especially surprised after posting about the McEverything—a behemoth stack of 42 Mcdonald's sandwiches held together with bamboo skewers. The monstrous sandwich contained 18,922 calories—enough to derail an elephant's weight-loss goal—and the post went viral.
"People either loved it," he said, "or just absolutely hated it."
A sampling of the McEverything's polarizing Internet responses:
"Nick is brilliant." – DudeFoods commenter
"I hate everything about this." – Gawker
"American (could only be an American)." – CNN
"RIP Nick Chipman. My thoughts are with your family and friends, as well as the zoo of animals that gave their lives for that massive, massive heart attack." – Buzzfeed
Many critics seemed to view the McEverything as a symbol of modern American excess. To some extent, they've got a point: with the help of #foodporn hashtags and shareable imagery, food bloggers such as Chipman have taken classic American foods to an extreme. But in Chipman's defense, there's absolutely nothing new about overindulgence.
In fact, his indulgences seem mild compared to those of his predecessors. In 44 BC, while famine starved Roman households to the bone, aptly named emperor "Augustus the Tormentor" decided it was high time to pig out. He threw a feast dubbed Supper of the 12 Gods, during which he and his guests devoured all of Rome's available stores of corn and grain. Just over a century later, Roman emperor Vitellius demanded a feast of extremely difficult-to-obtain offal, including flamingoes' tongues and peacocks' brains.
The Roman and American empires may have shared a penchant for gluttony—among other similarities—but overindulgence has occurred across the world and throughout the eras.
Here are some notable highlights: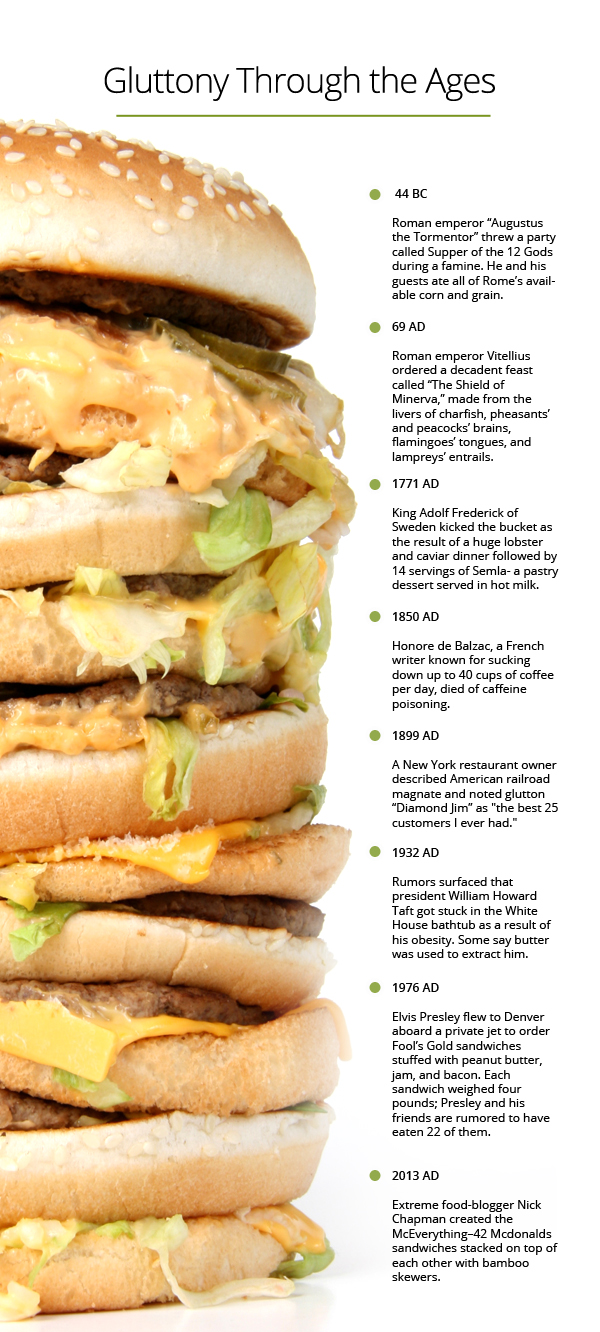 Illustration by Dav Yendler, Groupon