A Logan Square Garden Party's Guest of Honor? Revolution Brewing's Rosa Beer
BY: Lisa Ladehoff |
May 8, 2013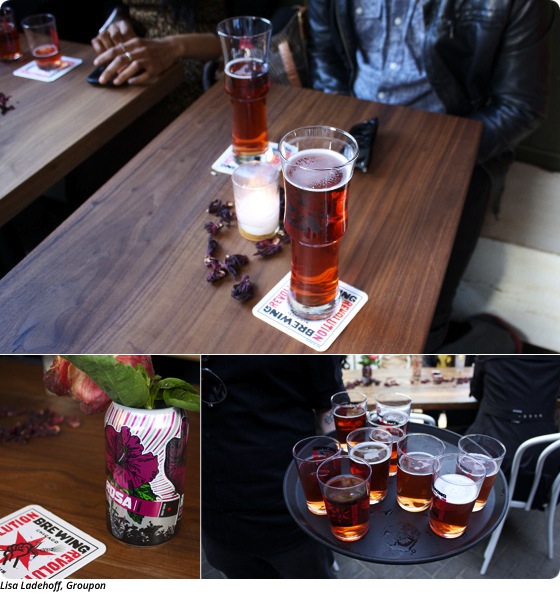 The back patio of
Longman & Eagle
(2657 N. Kedzie Ave.) has been transformed for one night. Along the normally rugged wooden tables, clusters of dried hibiscus flowers are gathered around candles. In one corner, an old whiskey barrel serves as a pedestal for a fresh-cut red hibiscus, standing in a can of
Revolution Brewing
's summer seasonal ale:
Rosa
. Inside the OSB—or Off Site Bar—at Longman, a keg of the beer has been tapped, and two of Revolution's reps are handing out samples of the pink-hued brew to a small crowd. This is the first in a series of garden parties, a new effort by Revolution designed to highlight both outdoor drinking spaces and the products that give the hibiscus beer its lovely color. Previously, the Logan Square brewery has done tap takeovers or events to promote its handcrafted beers, but this is the first time it has done an event in this fashion. That is, promoting both product and venue and pouring little juice cups of free beer for those in attendance. And who doesn't love a tiny cup of free beer? Full pours are pulled from a black-fisted tap and served in custom glasses emblazoned with the image of a hibiscus. "ROSA" hovers just below the flower, stamped in the bold letters that are the brewery's signature. For the first time, Rosa is now available in cans, as well as at the brewery's restaurant and bar and a handful of places around Illinois. It's a wonderfully refreshing beer, not too sweet, and, as the website states, "highly drinkable." Boy, are they right about that. At 5.8% ABV, you can have a few—and you'll likely want to, especially as the Chicago weather continues to warm. Revolution rep Brad Dessy says the events will take place over the next couple of months at bars with patios, beer gardens, and rooftops. The inside scoop is that the next garden party will likely be next week at Logan Square's
Small Bar
. Check Revolution's
event page
or follow it on
Facebook
for updates on events around the city.
BY: Lisa Ladehoff
Guide Staff Writer
A native of the city of big shoulders, Lisa is a small-shouldered books and booze enthusiast living on Chicago's Northwest side with a large cat, a tiny bar, and a medium-sized library.