A Midnight Visit to Fantasy Costumes
BY: Mel Kassel |
Oct 19, 2022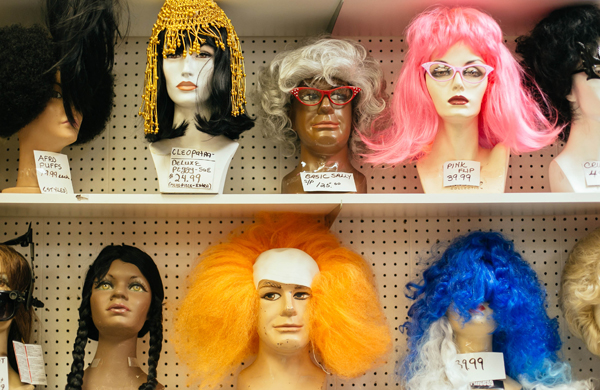 Just before midnight on October 25, the last Friday before Halloween,
Fantasy Costumes
 (4065 N. Milwaukee Ave.) in Portage Park is still swarming with customers. Wandering a store that's more than a city block long, they shuttle past walls of hanging masks, shelves of superhero spandex, and model heads sporting fantastically colored wigs. Some pause occasionally to duck into the black spaceship escape pods that are the store's pop-up changing rooms. The store is open 24 hours a day from October 24 through 31, and the late shift is by no means the quiet one. Still, manager Cathy Bunger considers the crowd more than manageable. "It's quieted down," she says. "It was like a madhouse." To learn more about the midnight demographic, we spoke to shoppers about their costume choices and the movies that give them chills.
Mark Davis, owner of Git Boned Dog Treats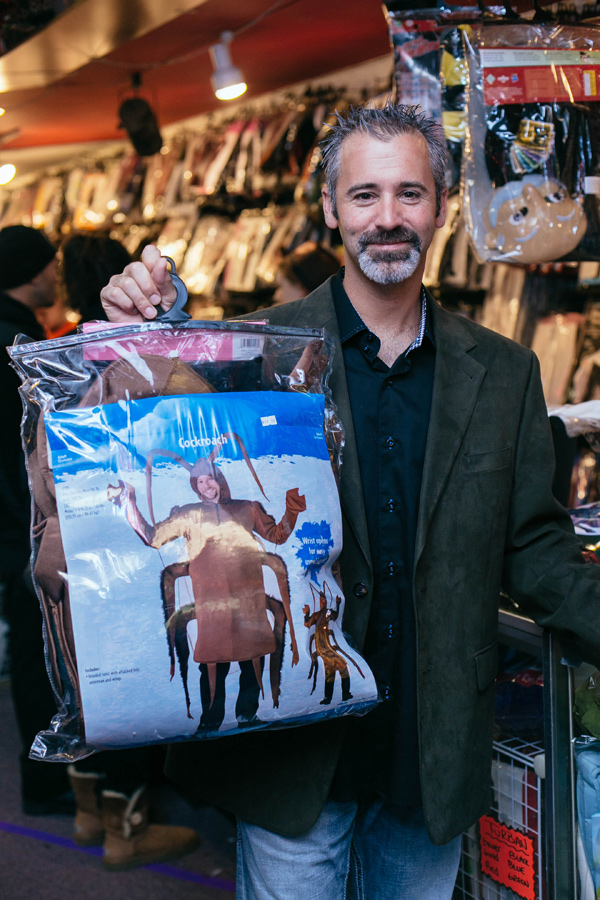 Why he's here around midnight:
Last-minute shopping for a costume to wear in the Halloween parade at his daughter's school.
Costume of choice:
"[My daughter] wanted me to be a bug … so I'm going to be a cockroach."
Favorite scary movie:
The Shining.
"That's an old favorite."
Ray Lechuga and Carla Ferreiras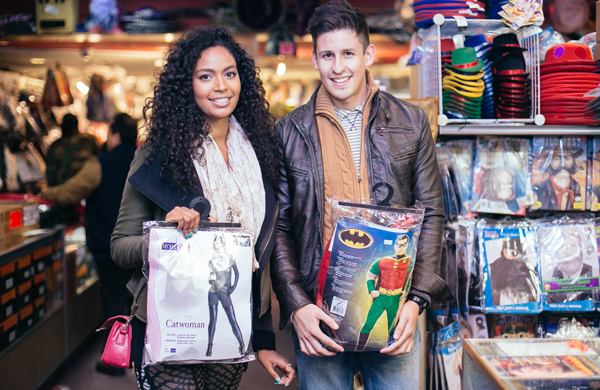 Why they're here around midnight:
They're trying to find costumes for the following night. "Maybe tonight if we're feeling really spontaneous," Ray says.
Ray's costume of choice:
Robin, though he's keeping an eye out for an old-school Batman costume.
Carla's costume of choice:
Catwoman.
Favorite scary movie:
Ray enjoys
The Exorcist
, which he recently saw for the first time. "It was ridiculous, kinda scary, and the effects were hilarious." Carla just saw
The Devil Inside
. "I've been trying to get him to watch it, but he's too scared."
Navi Cathey and Jerika Whitfield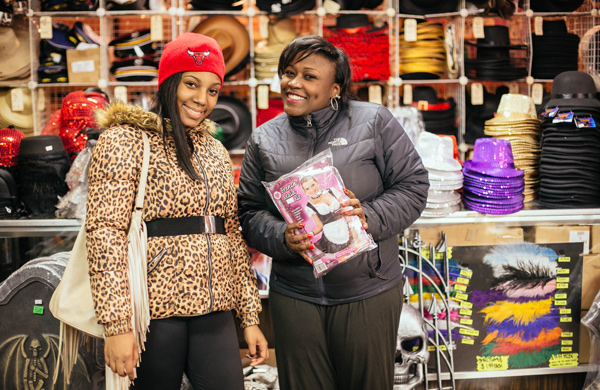 Why they're here around midnight:
Both need a costume for a Halloween bar crawl the next night. Navi adds, "I always like coming later!"
Navi's costume of choice:
A french maid for the bar crawl, but she's still looking for a second costume for the day of Halloween.
Jerika's costume of choice:
Undecided.
Favorite scary movie:
Navi: "I would say
Saw
." Jerika: "
The Strangers
. That movie still scares me." Navi: "My eyes were closed. [During]
Saw
I actually kept my eyes open." Jerika: "There's too many of those to be scary!"
Duebwa Loving, costume-shop clerk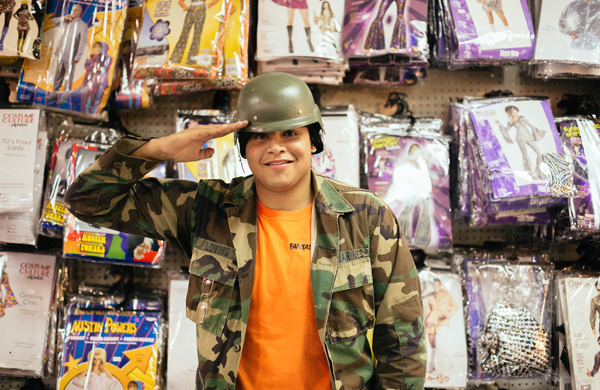 Why he's here around midnight:
"I work here."
Costume of choice:
"I'm just wearing this [army jacket] because it's my uncle's. I saw the hat, so I put it on and got into character. … I'm probably going to be a zombie high priestess [on Halloween]."
Favorite scary movie:
A Nightmare on Elm Street
.
Heather Blazek, employee at a wholesale wig company ("They sell some of our wigs here"), and Patrick Neal, cook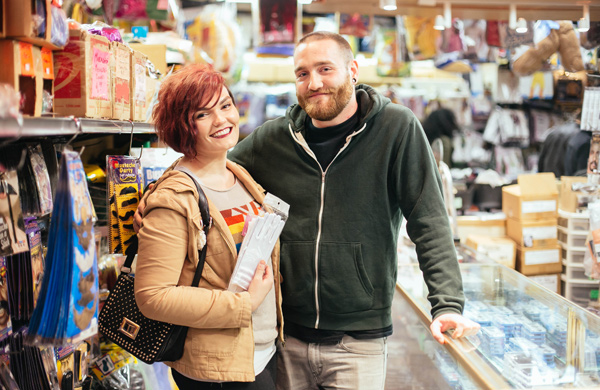 Why they're here around midnight:
They came after a work party of Patrick's, knowing the shop was open 24 hours.
Heather's costume of choice:
She has two—a vampire for a Vampires vs. Zombies pub crawl, and a bird-attack victim from Alfred Hitchcock's
The Birds
for going out with friends.
Patrick's costume of choice:
He hasn't figured his out yet, so he plans to "thrift it up real quick."
Favorite scary movie:
Heather watches
Halloween
every year, and says that they like to watch
Insidious
, too. Patrick says, "The only movie I can think of that ever scared me was
Candyman
. I watched it as a kid, and I swear, I never wanted to go to the bathroom again."
Giovanni Lopez, Menards employee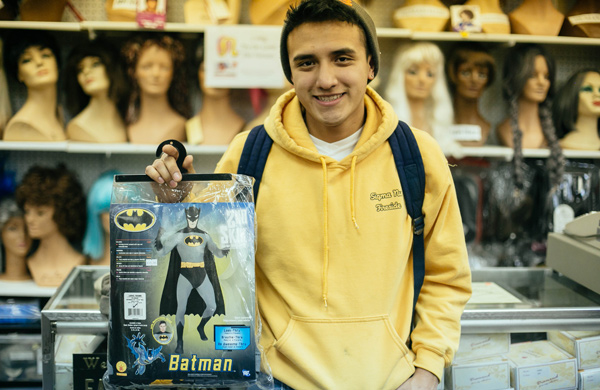 Why he's here around midnight:
He has party plans with his friends the next night, and "it's the only one open this late. And they have a variety, it's huge."
Costume of choice:
Classic Batman. "We have one friend going as Joker, another one going as Harley Quinn, another one as Bane, might as well complete the theme."
Favorite scary movie:
The new
and
the original
Evil Dead
. "The original one's a little better, [but] the new one's caught up with the graphics."
Photo: © Stephanie Bassos, Groupon