A Neighborhood Treasure for Kids: Storytime at Women & Children First Bookstore
BY: Danielle Carlson |
Oct 19, 2022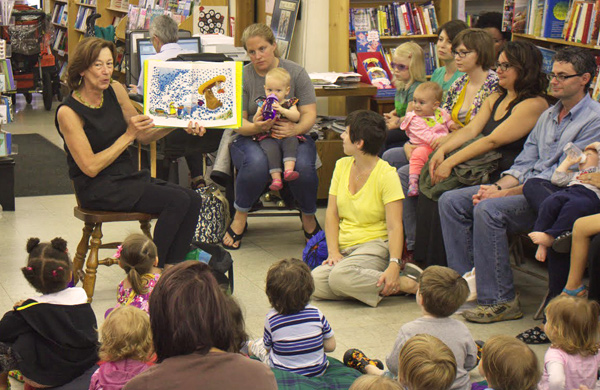 It's Wednesday morning at
Women & Children First
and nearly 50 children are sitting quietly on the floor, enraptured by the story unfolding before them. Refreshingly, they're not staring at a TV. The story in question is brought to life by the bookstore's co-owner, Linda Bubon, who has welcomed neighborhood children to storytime for nearly 30 years. The free event is in keeping with the feminist bookstore's philosophy, as is the store's expansive collection of 30,000 books written by, for, and about women and children.
Fighting Sexism with Storytelling
Women & Children First opened in 1979, when the global feminist movement was catching its second wind. More than three decades and several winds later, it's one of the last remaining feminist bookstores in the country. The "species" appears all but extinct—there were 100 self-described feminist bookstores in the early 1990s, but fewer than 15 continue to operate today.
Bubon started storytime in the bookstore's fourth or fifth year, and she explains that it has always reinforced the values upon which the store was founded. "I have hundreds of books in my [children's] collection…but one of the things I always try to do is make sure there is a balance between male and female characters." Whereas feminist bookstores have suffered decline in recent years, sexism seems to have survived in the trenches. "It's so easy, even with a collection like mine, to pull six books off the shelf and they're all [about] little boys, or little boy badgers, or little boy pigs," Bubon reflects. "It's amazing—the sexism is so inbred in even contemporary children's literature."
Fortunately, Bubon has developed a tactic for dealing with this. When she can't find enough female protagonists in her stories, she simply changes the pronouns. For example, her version of the very hungry caterpillar has always been a "she." In her mind—as well as in the kids' minds—"it doesn't make the story one whit less interesting."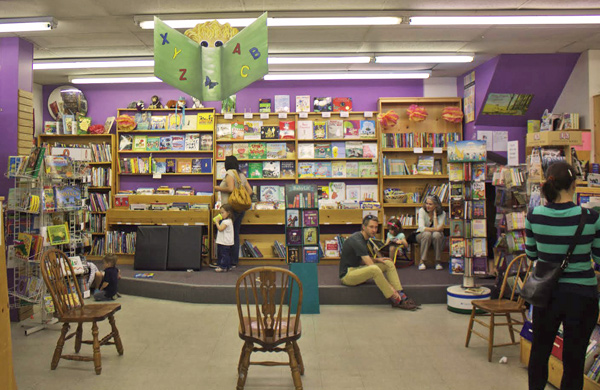 Life Lessons, Minus the Lecture
The protagonist's gender isn't all that concerns Bubon when she's selecting a story. "I look for empowering stories," she explains, "stories in which authority is questioned." One such story is the immensely popular Don't Let the Pigeon Drive the Bus by Mo Willems. In this role-reversing tale, children are asked to respond to the same questions they might ask their own parents. This makes it "a good way to learn without being overly didactic," Bubon explains. "They see themselves reflected, but they can laugh about it."
Bubon also strives to choose books that normalize every aspect of the parent/child relationship, rather than those that merely depict fairytale happiness. "I like stories in which parents occasionally lose their tempers...it happens in very few children's stories, but it happens to most parents on a daily basis." Though she still embraces books about life's warmer moments, these are only part of her reading lineup. "I want to reassure [children] and make them feel safe and feel loved, but I also want to normalize their wild emotions—their angry emotions—and let them know that's ok." Above all, she says, "I want parents and children to feel comfortable in their relationships with each other."
The Movement is Growing
To be sure, children aren't the only ones learning at storytime. With her trademark dancing and singing, Bubon aims to inspire any parents in attendance to read more—and read more theatrically—to their children. "I try to be as big as I can be...to show parents they can read like that, too. Take that risk—try a funny voice, cackle like a witch, crow like a crow. You can do it, too."
All of Bubon's effort and enthusiasm has not gone unnoticed. When she began storytime more than 30 years ago, she had maybe a dozen kids each week. This number stayed consistent for 20 years, but the last decade has seen attendance balloon to nearly 50 children a week. Bubon largely attributes this to more families putting down roots in Andersonville, the store's home since the 1990s. 
Now, parents and babysitters gather outside the store with their strollers before the doors even open. Sometimes older children tag along, knowing they've outgrown the intended audience but anxious to participate anyway. "There isn't enough free quality entertainment for children," Bubon reflects. With storytime, she's doing her part to rectify that.
Storytime for children aged 2–5 is held every Wednesday morning from 10:30 a.m. to 11 a.m. The event is free to the public, although a $1 donation is suggested. Women & Children First is located at 5233 North Clark Street in Chicago.