GROUPON GUIDE TO WASHINGTON-DC
A Haunted House Actor Explains the Scares
BY: Stephanie McDaniel |
Oct 18, 2013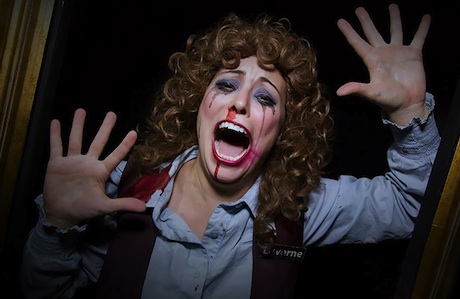 Stephen Buckner's commute can be a nightmare. Huddled in an "El" train that's draped with corpses, he hurtles into the depths of a post-apocalyptic Chicago overrun by zombies, bloodied nurses, and top-hat wearing skulls. But you won't find him complaining. As a so-called "fright actor" at
Fear City
, these are his people. A haunted house in Morton Grove, Illinois, Fear City explores the dark, nightmarish underbelly of a Chicago that's recognizable only by its deformed landmarks. The attraction spans 30 rooms with movie-quality sets that represent the city, from O'Hare International Airport to a newsstand in the Loop. We spoke with Buckner for an actor's perspective on
haunted houses
.

Getting into Character 
Despite its strange nature, Buckner takes his work seriously. He believes that the actor's job is to "put some thought behind the walls of Fear City," and he's aided by a rigorous training process that involves "improvisations, vocals, physicality, and thinking on your feet." Fortunately, on the "stage" of a haunted house, there's never a shortage of these opportunities. Up to 1,000 visitors may pass through a haunted house the size of Fear City on any given night. This means that the actors routinely end up doing 100 mini-performances a night, each requiring "far more improvisation and timing than most people think." With such a high volume of one-on-one interactions, the level of "intensity and investment need to be high to put on a performance that is worthwhile." And these are just some of the mental requirements. To
physically
become his character, Buckner goes in an hour and a half early for makeup and airbrushing. The process is extensive: "You get detailed—put latex on to create scars, cuts, and burns, get bloodied, and put on a costume that can be three layers," Buckner says. Such effects have to last the next five hours.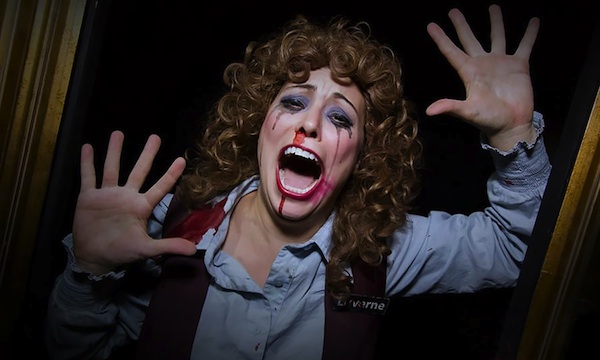 Staying in Character
After all this work, it can be hard to let go of the character at the end of the night. "If you're a performance person at heart, you love all opportunities to act. You never want it to end," Buckner says. "People take the train with their makeup on and pump gas in character," he claims. The haunted house itself can also get inside the actors' heads. "When there's not people there, there's a creepiness to the place," Buckner says. Like any haunted house worth its salt, Fear City is large, dark, and rendered with a morbid attention to detail. Everywhere you look, splatters of blood and frightening messages cover the walls. With so many twists, turns, and hidden alcoves, one gets the impression that anything could happen. "If you have any sense of imagination," Buckner reflects," the rooms come alive."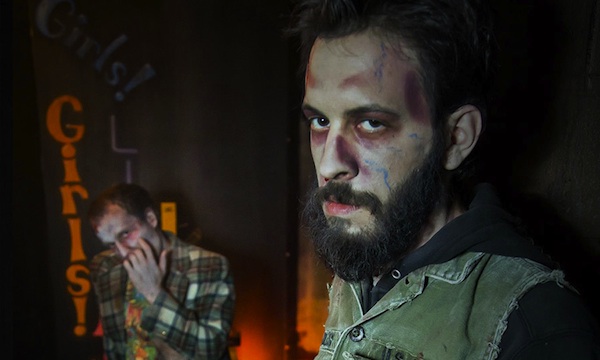 Scaring in Character
It's easy to pick out the people most susceptible to scares. Inevitably, they're the ones who are "holding hands, holding onto others' shirts, or hiding behind people." For Buckner, it's more fun to find the tough ones. "Getting them freaked out is the most challenging," he says. "If you can get them, you can get all the rest." Some of Buckner's best tricks for scaring people are also his simplest: "You get close to somebody and keep eye contact with them. People don't like to be stared at, so the face-to-face makes them uncomfortable." And if you happen to know somebody in the cast, don't expect (much) special treatment. Once, Buckner saw his own mother wandering through his section of the haunted house. He did put quite a fright into her, but insists that it was the "lightweight, junior version. She was being a trooper just to go."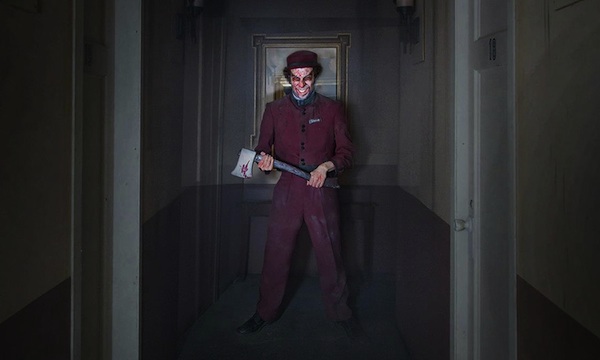 Check Groupon for haunted house deals in your city.
Photos courtesy of Fear City.
BY: Stephanie McDaniel
Stephanie McDaniel is a political theorist-turned-novelist from South Carolina. On the rare occasion she's not writing, she spends her time folk dancing, singing, and adding sea salt to Lake Michigan.