GROUPON GUIDE TO NEW YORK
A Peek Inside the Home of Anthropologie's Cate Geiger
BY: Sarah Gouda |
Oct 19, 2022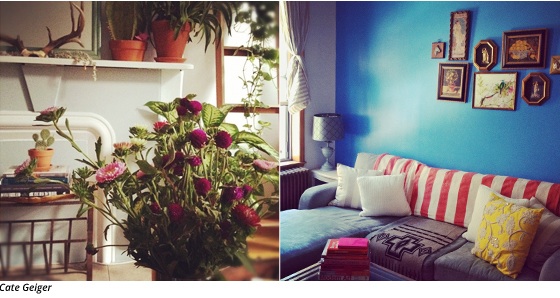 Cate Geiger is one of the lucky few who get to work from home. Well, sort of. As the home merchandiser for
Anthropologie
's visual team based in Manhattan, she spends her days putting together kitchen, bedroom, and living-room spaces dreamy enough to grace the pages of the Anthropologie catalog. Anthropologie's romantic, bohemian style has influenced Cate's personal aesthetic, but at her Williamsburg apartment, comfort comes first. Below she shares a few pictures from her home as well as where she draws inspiration from.
GROUPON: How does the way you dress overlap with the way you've decorated your home?
CATE GEIGER: My job is often messy and I am constantly finding paint splotches on my shirts or tears in my denim. I prefer my style to be simple, comfortable, and [with] a less structured silhouette so I am able to move around [...] throughout the day. My home is very similar. I make art in my living room, and have a dog who loves to jump up on the furniture with his dirty paws. I like my home to feel comfortable and liveable. Texture also plays a big role; I like to wear materials that actually feel nice on the skin, and [I like to] have similar materials in my home.
G: How would you describe your home aesthetic?
CG: My home aesthetic is based upon a few basic commodities: comfort, color, and light. I like my home to be a place where I can relax after a long day of work and paint, cook, and entertain in my free time. It has to feel comfortable and liveable to do all of those things. I also like to create a more muted and cooler color palette throughout my home, with pops of color; like the bright blue wall in [my] living room and my colorful Turkish rug in the office. Natural light is very important to me as well. I've moved once every year for the past 4 years, [and] natural light has been a must for each home.
G: What is your favorite room in the house and why?
CG: I am torn between the kitchen and the living room. We bought a nice big couch for the living room, painted the walls to make it feel happy, and it gets great light during the day. The kitchen is also great as it is filled with plants. A fire escape overlook[s] our back patio, and [the kitchen] usually smells of garlic and herbs as [my] boyfriend and I are often cooking up something delicious.
G: Where can you save and where should you splurge on home goods?
CG: It depends on what you are looking for. For a while, I was looking for a new dresser. I checked all of my favorite home-decor shops and then I ended up finding one on the side of the street that was in great condition. I will say, however, something that is worth splurging on is good bedding. [...] It's something you'll have for a while and that you'll use every day.
G: Any tips for updating the bedroom?
CG: Have two sets of bedding that you change out from time to time. I like to keep an extra set of bedding for when guests are visiting anyways. From time to time (often when I am doing laundry) I use the second set of bedding, and it's like hopping into a brand-new bed! A while back, I also decided to invest in a nice reclaimed wooden headboard. You can also make a DIY project out of it and [...] paint a faux headboard onto the wall. [...] Many design blogs will go that extra step and actually show you how to DIY. Try the
Design Sponge
blog or
Sweet Paul Magazine
for exciting and inspiring ideas. Add an interesting chair into the corner of the bedroom —like my neon-yellow wire-mesh chair —and you've got some unexpected and exciting things happening in there!
G: How can someone add personal touches to their home?
CG: Scour the flea markets, make a hobby out of it, and find objects that have some history to them. It doesn't have to be a collection. Find things that make you happy and put them in different places throughout your home. And buy some plants! Plant them yourself in simple little terra-cotta pots and line your window sills with them. They will bring a smile to your face—as long as you can keep them healthy.