A Playlist About Underwear Inspired by 5 Seconds of Summer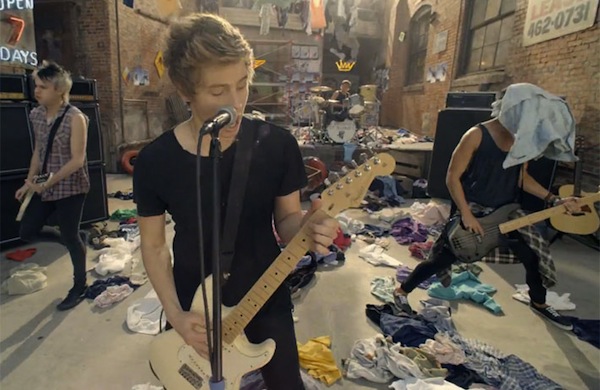 Underwear factors largely into 5 Seconds of Summer's hit single "She Looks So Perfect," so we made a playlist celebrating all manner of skivvies.
5 Seconds of Summer
is not a boy band. Yes, they're boys in a band, but their polished sound is more evocative of pop-punk royals All Time Low and Good Charlotte than the likes of One Direction, even if they did open for them on a worldwide tour last year. A debut album is forthcoming, and to whet appetites the band has released the warmhearted (NSFW) video for
"She Looks So Perfect,"
which surpassed 7 million views in just a few weeks. The song's hook, "You look so perfect standing there / in my American Apparel underwear" is sultry, amusing, and irresistible, as most songs about underwear tend to be. The band's April 17 show at
The Riv
is sold out, so we're giving you the next best thing to seeing them live: a playlist of songs about—what else?—underwear. How many songs can there be about underwear? You'd be surprised.
The Magnetic Fields – "Underwear"
Stephin Merritt superfans will kill me for saying this, but this boozy cut from
69 Love Songs
could be a spiritual cousin to 5SOS's hit single. Both convey the simple joys that accompany seeing the one you love (or at least really
like
) in their underduds.
Weezer – "Undone (The Sweater Song)"
If 1994 Rivers Cuomo had known that 2014 Rivers Cuomo would still be getting beaned by Superman skivvies at live shows, would he have left them out of this song? We'll never know.
Sisqo – "Thong Song"
C'mon, like this
wouldn't
make the list. You know you love it. "Think to sing it agaaain."
Ember Swift – "The Underwear Song"
Canadian chanteuse Ember Swift doesn't do laundry often, and the sight of her final pair of underwear sends her into an existential tizzy. You're not alone, girl.
Tom Petty and the Heartbreakers – "Mary Jane's Last Dance"
Petty's enunciation of "underwear" resonated all the more creepily once we saw Kim Basinger as the song's (un)dead heroine in the music video.
Barenaked Ladies – "Pinch Me"
You could ask the same question about these lyrics ("I could hide out under there / I just made you say 'underwear'") as you could about the band. Were they funny or were they lame? Jury's still out.
Dolly Parton – "Backwoods Barbie"
A lovely, autobiographical song from Parton's 2008 record of the same name confirms that, yes, that is most definitely a pushup bra.
Bryan Adams – "(I Wanna Be) Your Underwear"
The opening
wa-wow
of the guitar says it all: this thing's gonna be
nasty
.
Dismemberment Plan – "Bra"
The image of D-Plan frontman Travis Morrison riding down the Amazon River in a pink pushup bra is the least weird thing about this song.
Say Anything – "Wow, I Can Get Sexual Too"
Firebrand frontman Max Bemis envisions hell as such: lying in bed in nothing but a pair of boxers, chatting on the internet, and repeatedly dialing a phone-sex line. Sounds about right.