A Q&A with Gerrit Lewis of Pipeworks Brewing Company
BY: Nathalie Lagerfeld |
Apr 8, 2013
Most breweries focus on perfecting four or five signature brews. Not so at Bucktown's
Pipeworks Brewing Company
, recently named
the world's best new brewery
. Pipeworks eschews stable, year-round offerings in favor of creative limited-edition beers, brewed in small batches of about 200 gallons each. That's about average for a brewpub but a tiny amount for a commercial brewery. Starting with the unfiltered double IPA
Ninja vs. Unicorn
, it's put a whopping 39 beers on the market since it opened a year ago. That's roughly one new brew each week.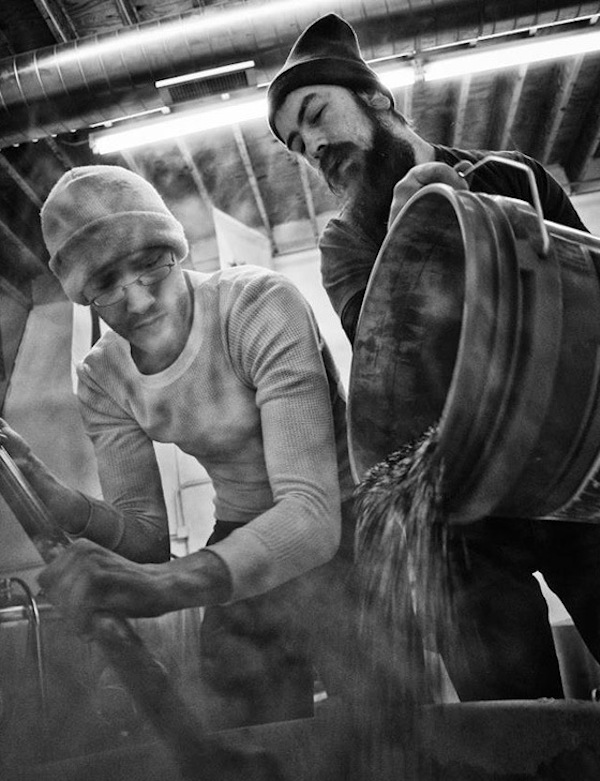 Cofounder Gerrit Lewis chats about Pipeworks' homebrewed philosophy and its plans for a bigger, hoppier future.
GROUPON: Why put out so many beers? Why not concentrate on a few different types?
GERRIT LEWIS: I think it's a lot of the home-brewer spirit. There are so many different styles of beer—there are thousands on the market—and they all taste a little different. It's neat we can explore that at our own pace. Sometimes [a beer] is not exactly what we want, but we just trash it and start over.
G: How do you come up with ideas for new beers?
GL: Ideas come really organically. It's not like we sit down and come up with them; we just keep a running list. You'll think of something when you're on a walk, or you'll be at dinner, and something on the menu will inspire you. Desserts, especially. We were talking today about marshmallow fluff. [Cofounder] Beejay [Oslon] said, "Oh, what if we did a fluffernutter beer?"
G: What's an example of a beer you've already put out that was food-inspired?
GL: We did
End of Days
, the milk stout. It's made with cinnamon, vanilla, ancho chiles, and cacao nibs. That was inspired by cinnamon Red Hot candies, covered in chocolate, and it was also inspired by mexican hot chocolate.
G: Tell me a little about the history of Pipeworks. How did you and Beejay meet? How did you come up with the idea to start a brewery?
GL: We met at
West Lakeview Liquors
, which is a well-known beer boutique. They'd always stocked the hard-to-find stuff, and
since we are both beer lovers,
we both gravitated there. We started working there within two weeks of each other. We got to become friends, drinking beer together. And so we decided to open a brewery.
G: Sounds like a natural progression, then. But neither of you guys had brewed beer commercially before. Besides applying your homebrewing experience, did you do anything else to get up to speed?
GL: The liquor store we worked at, West Lakeview Liquors, is always voted one of the top 10 beer stores in the world, and the owner is really involved in the world of beer, whiskey, and wine. We reached out to one of her brewer friends, who runs De Struise brewery in Belgium, which had just been named the number-one brewery in the world [in 2008, by Ratebeer.com]. In the winter, we called them up, and for two-and-a-half months we did an internship with them in Belgium. That was January–March 2009.
G: What did you guys do there? What was the most important thing you learned?
GL: We learned that we could do it! We did a couple of our own beers that were a collaboration, but mostly we worked the bottling line, worked labeling the bottles, distributing the beer. Right before I got there, Beejay had driven up to the Netherlands to deliver beer. The guy who ran the brewery was a one-man show. That's why he really liked the help. He was doing it all himself—the brewing, the marketing.
G: Do you keep in touch?
GL: He's been blowing up still in Europe and around the world. We talk to him two to three times a year. These higher-echelon brewers all know each other, and they're always talking to each other, flying around and visiting, doing collaborations. [De Struise has] a spring festival and a fall festival. [We couldn't make the spring festival,] so hopefully we'll be doing the fall festival this year.
G: Are there any upcoming brews you're especially excited about?
GL: With our new barrel program, we're also going to start barrel-aging about 20 percent of our beer—in bourbon, wine, and other barrels. That's exciting because before, when we were starting out, we couldn't age the beers—we had to sell them. We couldn't afford to let them sit in the basement.
WHERE TO BUY:
You can pick up Pipeworks brews at many
Chicago restaurants, bars, and liquor stores
, including:
Green Eye Lounge
 (Bucktown | 2403 W. Homer St.)
The Map Room
 (Bucktown | 1949 N. Hoyne Ave.)
Hopleaf
 (Andersonville | 5148 N. Clark St.)
The Monkey's Paw
 (2524 N. Southport Ave. | Lakeview)
Maria's Packaged Goods and Community Bar
 (960 W. 31st St. | Bridgeport)
Table, Donkey and Stick
 (2728 W. Armitage Ave. | Logan Square)
Photo courtesy of Pipeworks Brewing Company
BY: Nathalie Lagerfeld
Guide Staff Writer
Nathalie is a writer and editor on the Guide's food team. Originally from Virginia, she now lives in Chicago, where she regularly indulges her love of tortas, bibimbap, and Cheez-Its. Follow her on Twitter @maviswillsaveus.