GROUPON GUIDE TO NEW YORK
A Q&A with Rich Castagna of Bridge & Tunnel Brewery
BY: Nathalie Lagerfeld |
Apr 17, 2013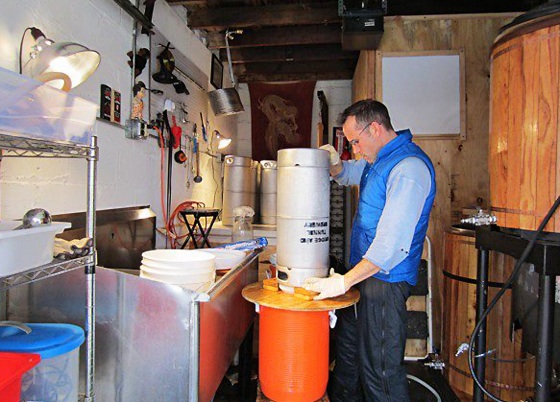 New York's past is just as important as its present; at least, that's what Rich Castagna believes. The Queens native names each beer produced at his 1.5-barrel Maspeth nanobrewery,
Bridge and Tunnel Brewery
, after a story or memory about the city. "Beer has that kind of personality where you can dedicate it to anyone or anything," he says. "Each name has its own story, so each beer comes to have its own story, separate from the beer itself."
Since receiving his brewing license in September, Rich has put four beers in regular rotation, starting with Ol Gilmartin—a milk stout named for a relative. More recently, his Tiger Eyes brown ale was a hit at New York City Beer Week—it "blew the doors off," he says—with its combination of sweet, malty backbone and hazelnut flavors and aroma. Other brews include the Angry Amel dunkelweizen, a dark German wheat beer, and his newest, the Slaughter House Stampede, a black-rye IPA. We caught up with him to chat about New York's homegrown brewing culture as well as the tales behind some of his brews.
GROUPON: You grew up in Queens, and you've said that you consider your business a tribute to the borough. How do your beers or brewing style reflect your neighborhood? I hear there's a good story behind your Angry Amel dunkelweizen.
RICH CASTAGNA: Angry Amel—that was a neighbor that we had. He had these beautifully manicured hedges and he lived on a corner street. Nowadays, there's so much traffic here...Back when I was a kid, the streets were a lot clearer. We played stickball and football on the streets every day. One of the challenges we had to deal with was our stuff flying into this guy's hedges and not being able to get it out.
That's becoming kind of a lost thing—you don't see kids playing on their own street anymore, with all of the congestion. By talking about Angry Amel, it brings back sort of the stickball era of New York.
Another beer that's coming out now is the Slaughter House Stampede. At first you're like, "What kind of a name is that?" But it's based on a story that a family member used to tell when I was a kid. He was an old guy, born 1916, [who] grew up near the Brooklyn Navy Yard. They used to bring, at that time, cattle on the vessels and offload the cattle in Brooklyn. [Onboard the ships,] the cattle were cooped up in vessels...When they came off and were being brought down the streets of Brooklyn, they were wild! People had to run off the street, go up their stoops and into their doorways. My relative, he remembered how he was [frightened at those times.]
You can't find stories like that anymore; they aren't in the history books. 
[I name my beers for them because] maybe the name gets people interested. They might find out a little about the back-roads history of New York.
G: I hear that a lot from people who've lived in New York for a long time—how everything's changed so much.
RC: It's changing in totally positive directions! There was a time when I would no way consider raising my kids here, considering what I grew up with...The streets were dangerous. The streets were divided. And now I'm raising three little girls here. Now I couldn't see raising them anywhere else...[But] the sense of being in New York and being a New Yorker is not only to embrace the present but also to embrace the past.
G: SingleCut Beersmiths and Rockaway Brewing Company opened in your borough recently, too. Is Queens having a beer moment? Why?
RC: It's definitely a revival of beer here in Queens, but I don't know what the mechanism was. None of us really knew each other. As far as I know, we were all a surprise to each other that we'd been doing the same thing at the same time. A very interesting coincidence. I think that's how a lot of things happen. There's a tipping point, you know? And a lot of the time you're not the only one on the edge of the tipping point.
G: Is there a strong community of small brewers in New York City? How do you keep in touch?
RC: With me being a one-man operation, I spend most of my time with my nose to the grind, working, trying to get the product out. I have a full-time job, too. There's just trying to fit in as much as I can in the space of one day. There definitely is a really strong community that really has embraced my brewery. And whatever I have been a part of so far has been a result of word of mouth and people trying to pull me into new venues.
G: Do you want to expand further?
RC: I definitely would. Not for the reason that I wanna be bigger than a nanobrewery. Because the beauty of a nanobrewery is that you can be hands-on. It forces you to, out of necessity, because the margins are not wide. You have to do everything yourself. You come to know every aspect of your process...Keep it pure, that's my goal. I want to keep it hands-on as much as possible. Once you step away from the process, things can become problematic.
Because Bridge and Tunnel brews in small batches, bars run out of its beer quickly. Check its Facebook page for the latest updates on where Rich is dropping off kegs. In the meantime, here are a few bars, stores, and restaurants where you might be able to get his brews on tap—if you get there before they run out.
d.b.a. Brooklyn
| Williamsburg
Malt & Mold
| Lower East Side
Sunswick 35/35
| Astoria
The Queens Kickshaw
| Astoria
Astoria Bier and Cheese
| Astoria
The Quays
| Astoria
Pachanga Patterson
| Astoria
Inwood Local
| Inwood
Brouwerij Lane
| Greenpoint
Breukelen Bier Merchants
| Williamsburg
Beer Street
| Williamsburg
BY: Nathalie Lagerfeld
Guide Staff Writer
Nathalie is a writer and editor on the Guide's food team. Originally from Virginia, she now lives in Chicago, where she regularly indulges her love of tortas, bibimbap, and Cheez-Its. Follow her on Twitter @maviswillsaveus.