A Quest for Chicago's Most Perfect Apple Pie
BY: Jasmine Feldmann |
Sep 20, 2013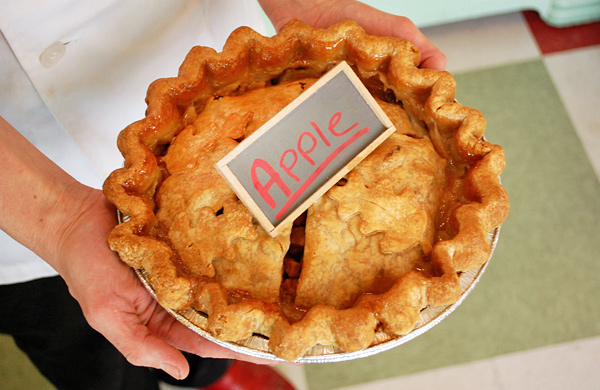 Until recently, for small-town Midwesterners moving to Chicago, the most stressful challenge wasn't adjusting to public transit, avoiding vertigo when looking at skyscrapers, or refraining from shouting hello to everyone on the street. It was finding a quality slice of pie. Though a staple of heartland diners, grandmothers' homes, and country-style restaurants, in city bakeries pies are often eclipsed by other dessert crazes (mojito cupcakes, maple-bacon donuts, etc.).
Hoosier Mama Pie Company
(1618 ½ W. Chicago Ave.), though, is solidly rooted in Midwestern tradition. Paula Haney, an Indiana native, a past judge at the
Bucktown Apple Pie Contest
(this year at 2 p.m. on October 20 at Holstein Park), and author of the brand-new
The Hoosier Mama Book of Pie
talks about the pie revival in Chicago and her tips for creating the perfect slice of apple pie. "Pie is huge at my house and in Indiana," she says. "It was the first thing I learned how to bake." Haney still believes in sticking to traditional recipes, and draws inspiration from Indiana picnics and the old pie companies of Chicago. For her, the most important thing when thinking about an apple pie is to master the basics first. "A mistake that a lot of people make," she says, "is that they don't get a good pie down before they start inventing. We have some variation in what we make here, and apple goes with so many flavors that there is so much you can do. But it's best to get the basics and understand what makes that good before adding in all sorts of crazy ingredients."
THE CRUST
The most important aspect of an apple pie is always the crust. Though the Bucktown Apple Pie Contest requires pies to have both top and bottom crusts, contestants are free to make their pastry dough however they choose. "We use butter [at Hoosier Mama], but I've had really good pie crusts with lard as well," Haney says. "I don't use it because I feel like it has less flavor." She believes crusts should be flaky and just a little bit salty. Though she uses traditional flour for the base, it's possible to make a healthier version too. "People like to add in whole-wheat flour, which can be nice, but they need to remember that it turns rancid very quickly. So they need to be sure to buy somewhere where it turns over quickly, and then store it in their freezer to keep it fresh."
THE APPLES
Baking an apple pie isn't a quick thing. "I've eaten a lot of raw pies," Haney says. "Most apple pies should take at least an hour and twenty minutes to bake." The choice of apple makes a big difference as well. "You need something that isn't going to disintegrate. I use granny smiths, but before they're ready I use a mix of a few varieties. It's important to have that tartness to balance out that sweetness. That's a mistake people make, where it is too one-note and flavors hit the same notes. A good pie should hit every spot in your mouth, with sweet, salty, and tart notes." Hoosier Mama gets its apples in season from
Ellis Family Farms
in Benton Harbor, Michigan. "Last year," she says, "all the granny smiths froze early in spring, so we ended up using prairie spy apples. It was actually really good, so we're going to do more of a mix of apples this year." There's only one problem with this mix: the unusual shape of the prairie spies. "We have this floor-mounted hand-crank apple peeler," she says. "This one guy in upstate New York makes them. But the prairie spy apples aren't round so we end up having to do them by hand."
THE ADD-INS
Once you've mastered the crust and nailed down the baking time for gooey yet slightly resistant apples, you can venture into less traditional apple-pie territory. "It's really important that your spices are fresh and good," she says. "It's great that we can get ours locally from
The Spice House
(1512 N. Wells St.). It makes an incredible difference, and is a way to improve pies by 100% with no other skills necessary." At her own shop, Haney experiments with whatever is in season to add a bit of novelty to her pies. "We do apple and raspberry with rosewater, apple with buckwheat honey, and apple crumb pies with whatever is seasonal. Apple is so great in that it really carries whatever flavor you put with it." For those with three hours to spare and the desire to become a pie master, Haney's new book,
The Hoosier Mama Book of Pie
, is an excellent starting point. Everyone else can stop by for a slice or the infamous Friday Night Pie Flights at Haney's shops at 1618 West Chicago Avenue in Chicago or the soon-to-be-opened shop at 749 Chicago Avenue in Evanston. The Bucktown Apple Pie Contest returns for its ninth pie-tasting smorgasbord this year on October 20 in Holstein Park.
Check back later this month for a special apple-pie recipe.
Photo: © Brian M. Heiser