A Saturday in Harvard Square
BY: Natalie Chassaigne Kurtzman |
Oct 19, 2022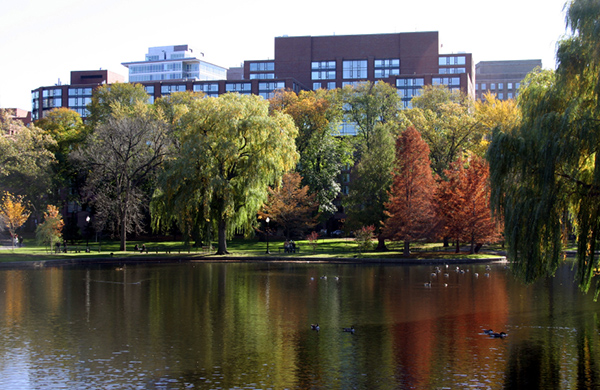 From the funk of Brattle Street to the charm of Harvard Yard, spending an afternoon in Harvard Square is always welcome. Grab a book from the Coop and spend some time solo - or meet up with friends for a fun afternoon in Cambridge. Harvard Square is a mecca of vintage goodness, taverns and coffee shops, and bookstores. The beauty of Harvard Yard spills throughout the Square - brick, cascading trees, and street art. Here are a few of my favorite things to do while in Harvard Square. Drink and eat. There's no shortage of restaurants and bars in Harvard Square. It can be tricky to decide where to go! If you're looking for upscale dining, nothing compares to Rialto, a restaurant by Chef Jody Adams tucked into the Charles Hotel. The menu is developed around seasonal foods and the dishes are always delicious and unique. Just down the road, the newly opened Beat Hotel features a stage for live music and a varied menu - with choices ranging from the earth bowl to the tandoori spiced halibut. By the same owners as The Beehive, the bar is expansive and invites you to stay for a drink - or two. If you're looking for a quick meal on the go Clover Food Lab fits the bill. Personal favorites include the chickpea fritter and rosemary fries. Naturally, you'll want to top off a meal with a little sweet.
L.A. Burdick's
is a favorite winter spot - from the drinking chocolate to perfect chocolate truffles, you'll want to cozy up for hours. You may have to wait for a seat, but it's well worth it. Shop around. Whether you're looking for a perfect pair of well-loved vintage cowboy boots or a funky lace top, Oona's has you covered. Along Massachusetts Ave., you'll find this quaint shop set back from the street. It's on the smaller side and may stretch the budget - but the carefully curated collection features some incredible finds.  A few blocks away, you'll find yourself at Forty Winks, a beautifully appointed lingerie boutique featuring silky robes to lacey bras and little things in between. If you've had your fill of clothing, you will want to pop over to to Harvard Book Store, where you can browse for the newest non-fiction or a journal to take to a coffee shop. If you feel overwhelmed by the large selection, you may want to stop over at Raven Used Books for quieter experience. End it on a high note. It would be too bad to leave Harvard Square without a dose of music. My absolute favorite spot is Club Passim. The intimate space means every seat feels like the front row. Club Passim is where many big names get their start, including legendary performers Joan Baez and Bob Dylan. Finally, take some time to stroll through the beautiful Harvard campus. The grassy lawn and historic buildings are gorgeous - you'll want to bring your camera.
Explore even further with deals on things to do in Boston.