A Travel Guide to Eataly
BY: Editors |
Sep 18, 2015
Although the nation of Eataly only gained statehood a week ago, it's already become a popular destination for tourists. Here are our tips and tricks for enjoying your visit to Chicago's only independent food kingdom.
GETTING THERE AND AWAY
Use the CTA, unless you're on the O'Hare branch of the Blue Line, in which case it's probably now faster to walk.
QUICK FACTS
History
Legend has it that Eataly was cofounded by mythical chef Mario Batali, whose spirit can be summoned by chanting "al dente" three times in front of a mirror.
Police
Eataly has no dedicated police force, so it's every man for himself. Keep a close eye on your $35-per-pound black garlic and other valuables.
Money
American currency can easily be changed at Eataly. Here are some typical rates: $1 = 1/100 of a magnum bottle of Baladin beer $1 = 1/20 of the average dry salami $1 = 1/8 pound of squid-ink fettuccine $1 = 1/6 of an average bag of dry pasta $1 = 1 smallish clove of garlic
TOP DESTINATIONS
Lavazza: to practice your Eatalian
Use caution when ordering one of the 22 coffee drinks available at Lavazza—it's especially easy to muddle the language of Eataly in calling out the name of your hot or cold selection at the massive espresso counter. Fortunately, the baristas at the register are exceedingly friendly, even though it's a bit chaotic to pick up your drink at the end of the bar. The golden-brown pastries beneath glass cases would be much more tempting if 62,000 more square feet of food didn't lie just beyond.
Nutella: to start your day off sweet
For an Italian-style sweet breakfast, veer to the left of Lavazza and head to the Nutella bar. There, you can add the hazelnut-and-chocolate spread to all manner of carb bases, including housemade bread, croissants, and brioche. Crepes are made to order, cooked in front of you on a searing-hot plate and spread with Nutella; this station alone runs through roughly 14 pounds of the stuff every day. Of course, should you arrive after breakfast, the Nutella bar is just as enticing later in the day, serving up hazelnut tarts, Nutella-stuffed cookies, and warm flatbreads known as piadini. Resist the temptation to shoulder other visitors out of your way—there's enough Nutella to go around.
Gelato: to expand your knowledge of soft serve
Step up to the freezer and you'll find dozens of flavors of standard gelato under shiny silver lids, but the main attraction here is Lait Gelato, the only soft-serve gelato of its kind in North America. Made using milk from Piedmontese cows, the classic sweet milk variety is creamy and light while still retaining gelato's buttery finish.
Seafood: for international flavor
Fishmongers here oversee dozens of offerings from all over the world: rows of whole branzino from Turkey, stuffed with lemon, thyme, and rosemary; piles of sought-after Kumamoto and Beausoleil oysters; shiny black tiger prawns and wild rock shrimp. If an entire wild octopus from Spain seems a little too ambitious, go with a smaller portion that's already been cooked and marinated in vinegar and ready to be sliced thin and eaten cold with some extra balsamic.
Olive oil: for a taste of the great outdoors
Find shade under a 9-foot Frantoio tree, an olive varietal that's native to Tuscany. The 10-year-old Georgia-born tree anchors an area that offers more than 100 different olive oils. Track the origins of different oils using their accompanying maps, which also detail flavor profiles and pairing suggestions. Try the De Carlo from Apulia ("the heel of the boot") drizzled on Eataly's hand-pulled mozzarella.
Pasta: to gawk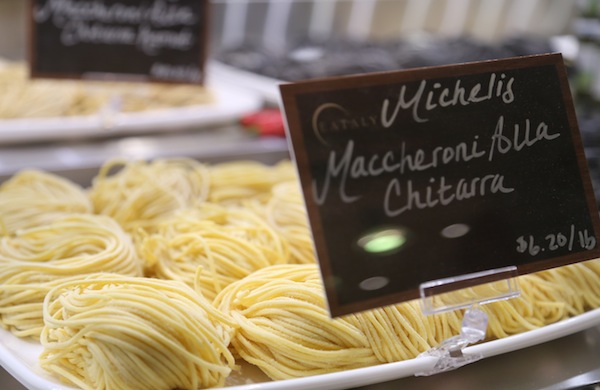 It's OK to look like a tourist in the pasta section of Eataly. Even the dry pastas, a staple of any grocery store, are from Italian brands that may be unfamiliar. They also appear in shapes that many travelers haven't seen: twisted casarecci, ruffled gigli, and calamari ring–shaped calamarata. Take your time here. It's also important not to be too proud to press your face against the glass cases of fresh pasta. Behind the clerk at the counter, there will almost always be a gaggle of chefs making more pastas. They're usually happy to discuss their work, whether they're cutting wide ribbons of dough into fettuccine or roasting potatoes for gnocchi in massive beds of salt so they cook evenly. If you're buying fresh pasta, it's also wise to consult these experts on how long to cook it. Cooking fresh pasta is a very precise science, and you don't want to turn $20 worth of squid-ink fettuccine into a tasteless gray paste by cooking it for four minutes instead of two.
Wine: to shop in an urban canyon
With its high rises of glittering tinted glass, this sector of Eataly might seem intimidating at first. However, all is not as it seems: extensive signage helps out-of-towners navigate the skyscraperesque shelves. Amid the Piedmontese vintages at the the eastern end, crane your neck to spot the $100-plus barolos at each rack's peak. (More affordable dolcettos and barberas populate many lower shelves.) A word of caution: as they enjoy the view, pedestrians should watch out for the neighborhood's notoriously aggressive shopping-cart drivers, who do not use a signal.
Beer: for when you're tired of beer tasting like beer all the time
Besides Eataly's in-house offerings, which are brewed in collaboration with Dogfish Head, this area boasts a carefully curated selection of local and imported craft beers. Check out the selection from Italian microbrewery Baladin, which creates its "beer for wine drinkers" by adding champagne yeast and whispering words such as "bouquet" and "tannin" to the unfermented mash. For local loyalists, there's also a wide selection from Revolution Brewing.
Cheese: if having only dozens of choices isn't enough for you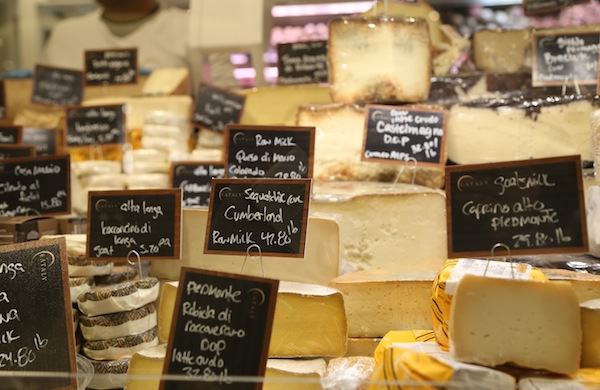 It's easy to feel overwhelmed by the sheer volume of choices facing you in this area, but you'll be rewarded for your patience. Begin your visit at the massive counter, filled to the brim with soft-rind, blue, and hard cheeses. Here you'll find more than a hundred domestic varieties and a whopping 400 more imported from Italy—fontina, asiago, and styles you've never even heard of vie for your attention. Pause a moment to admire the enormous wheels of parmesan that line the counter, then walk behind it to find shelves lined with burrata, housemade ricotta, and at least eight kinds of aged parmigiano-reggiano. Before you depart, plan to make a stop at the mozzarella bar across La Piazza, where balls of both cow's milk and bufala varieties are hand-pulled daily. Nibble on slices at an adjacent bar or pick up a container—filled with one or two large balls or bocconcini—to take along on your journey.
The bakery: to take a jealousy-inducing selfie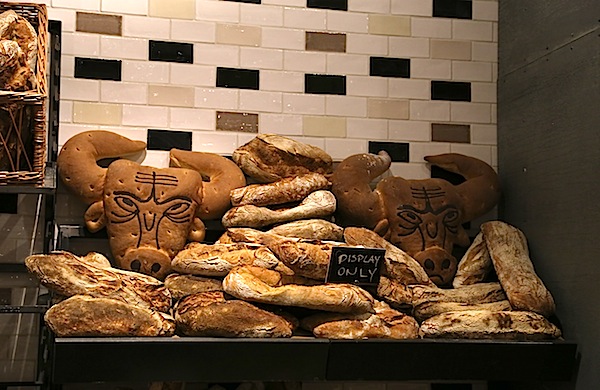 It can be dangerous to wander Eataly even moderately hungry, which is why occasional visits to the bakery counter are so important to any itinerary. Keep your eyes open for samples of the dozens of different styles of loaves that emerge from a massive wood-burning oven. That oven, built by hand with bricks brought over from Spain, takes so long to heat up—about six hours—that it's never shut down. The bakers themselves face similarly grueling hours: they're some of the first ones in the store every morning long before the sun rises. After all, they have to crank out 10,000 loaves of bread every week. This section is also a great place to make friends jealous by Instagramming yourself hanging out with a cool foreign friend or perfectly crusty loaf of fig bread.
Meats: if you enjoy watching beef age
With its hunks of meats strung up in nets, the salumi and cheese counter looks a bit like a cartoon of an Italian butcher's. But things get less cartoony and much more real once you bite into the wonderfully thin slices of pancetta that the counter's staff will happily offer up. It's easy to taste the care that goes into custom cuts of cured meats. In the aisle behind the counter are hefty meats in club form, sourced from Utah, New York, and plenty from West Loop Salumi. This, however, is the first of the three meat sections, which curve along the second floor's southeastern wall, nonchalantly merging from one to another, much like European streets that change names at every block for no reason at all. Next is the butcher's shop, whose meats come from sustainable farms and ranches that use no antibiotics, hormones, or growth-promoting drugs. Look for cuts of Piedmontese beef, a species with a prized lean-to-fat ratio, and pork products from frenched chops to tenderloin. The dry-age and take-away coolers were pretty empty at the start of Week One, but both should be full soon enough. In the meantime, peek through nearby glass-and-steel doors to see cuts of beef in the process of dry-aging. If you ask, the staff may even open the cooler, releasing a whiff of its funky, flavorful aromas.
APPENDIX
USEFUL PHRASES
"Where is the cheese section?" Dove si trovano i formaggi?
"This selection of cheeses is so great as to be totally overwhelming." Ce ne sono cosi tanti tipi che mi confondo.
"No, I'll be fine in a second. I just needed to lie down and try to wrap my head around the number of varieties of parmesan that exist." No grazie, va benissimo. Devo solo stendermi e capire un po' quanti tipi di parmigiano ce ne sono.
"Yes, it is a little like trying to comprehend the nature of infinity." Si, è come cercare di capire l'infinità.
"I'll have 15 scoops of strawberry gelato, please." Vorrei 15 palline di gelato al gusto fragola, per piacere.
"What are the symptoms of a gelato overdose?" Cosa sono i sintomi di una dose eccessiva di gelato?
"Ah, OK, because I think that's what's happening to me." Ecco quello che mi succede adesso.
"Medic … ?" Dottore … ?
Photos by Melanie Zanoza Bartelme, Groupon