A Valentine's Party with a Pinch of Cynicism
BY: Amelia Buzzell |
Oct 19, 2022
We couldn't decide if we loved or hated Valentine's Day, so we put together a party that only kind of makes fun of it.
For some people, Valentine's Day is sweet. For others, it's saccharine—even if they're in love. If you're torn on whether to celebrate the holiday sincerely or cynically, gather a good-humored group for a party that does both with tongue-in-cheek party favors in a Cupid-approved spectrum of pinks and reds. Use offbeat Valentine cards as place settings (they may look like threats, but read the affectionate fine print), and serve appetizers with heart-printed cocktail napkins and a tray marked "Single." As partygoers take turns reading aloud from
Dear Old Love
, an anthology of hilariously bitter breakup notes, they can grab chocolates from a peanut-shaped bowl that underscores how romance makes everyone a little nutty. If that isn't cathartic enough, a spray paint–shaped cocktail shaker does double duty mixing drinks and letting guests pantomime any graffiti they'd like to leave on a bathroom stall.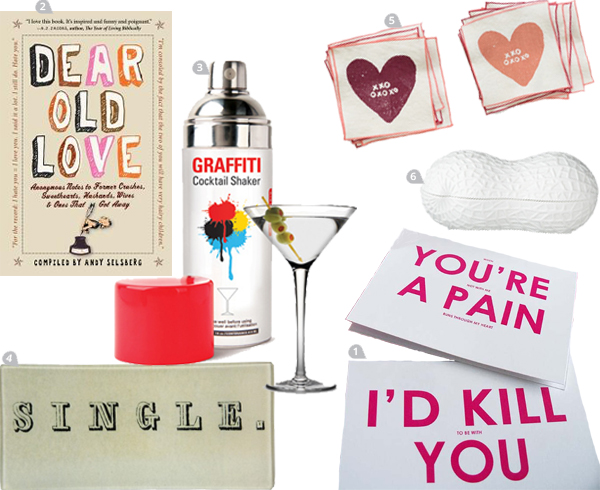 1.
My FUnny Valentine cards
; YesUMaystationery on Etsy ($12.50 for six) 2.
Dear Old Love
; available at
City Lit Books
, 523 N. Kedzie Blvd. ($9.95) 3.
Graffiti cocktail shaker
; Kikkerland ($25) 4.
Single tray
; Jayson Home, 1885 N. Clybourn Ave. ($66) 5.
Hearts reusable cocktail napkins
by Boutique Textiles; available at Anthropologie ($42.50 for four) 6.
Nut Case
; CB2 ($7.95)