A Weekend with: Matthew Rogoski, Guitarist for the Peekaboos, Owner of Weaponized Guitars, and Poster Artist About Town
BY: Daphne Sidor |
Oct 19, 2022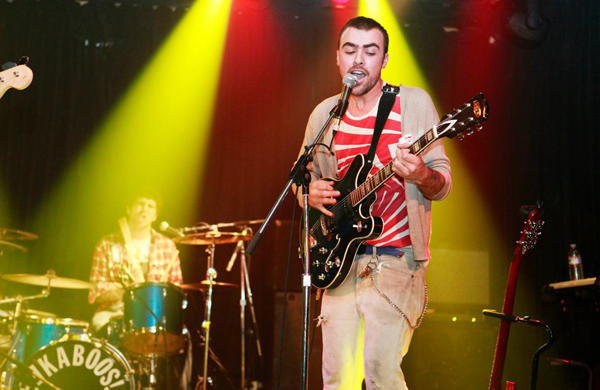 With shout-along melodies and song titles that reference the likes of
Pee-wee's Playhouse
and local pet shops, Chicago four-piece the 
Peekaboos
acts as a candy-colored megaphone for the inner children of its members and fans alike. A key force behind the band's sound and aesthetic is Matthew Rogoski. In addition to laying down guitar, vocals, and the occasional synth line, he's developed an instantly recognizable visual style for the band's artwork—take, for instance, the smiling, slightly disheveled stuffed platypus on the cover of new self-released album
Stay Positive
. The Peekaboos recently celebrated its release—on randomly colored, swirled vinyl, naturally—with a party at
Subterranean
, joined by their friends in garage-rock band
Bobcat Williams
and bouncy-jangly
Kangaroo
. When he's not playing shows, Matt stays busy bestowing his Day-Glo style on gig posters for other bands and making other musicians' guitars fit to be shredded via his one-man guitar-repair shop,
Weaponized Guitars
. We asked Matt to let us tag along via email for a weekend as he practiced, partied, worked, and cooked a mouthwatering hangover breakfast, complete with recipe. In his own words, here's how he spent the weekend of June 21–24:
Friday night:
After getting a few art projects in the bag, I jump halfway into it myself and head out to a show. Tonight, I go over to see a few friends at
Township
before heading to a drag party in Logan Square. I didn't dress up, but there was a man who resembled a hypnotic Jambi [of
Pee-wee's Playhouse
– ed.] alongside more traditional (but no less impressive) drag queens who welcomed us quite generously.
Saturday morning:
I wake up late, feeling the effects of other people's cheap taste in liquor. Not one to complain, I make the same breakfast that I make almost every single day:
2 medium potatoes seasoned with garlic, cumin, rosemary, dill, and sage
2 eggs steamed over medium on a bed of spinach with black pepper
3 slices of bacon
2 slices of toast
Not having a regular schedule, this really helps to ground myself. Steaming eggs on a bed of spinach is something my roommate Dan showed me—his parents emigrated from Iran, and this is the most delicious way anyone could ever carry on a legacy.
Saturday afternoon:
I finish a flier for the Peekaboos show at
Cole's
—one of my favorite venues because of how welcoming it is. I've never been made to feel out of place by any of the staff, [and they have] great acts and better crowds. I'm not altogether happy with it, but schedules dictate a change of focus, so I pick up where I left off cleaning and restoring an old imported Fender-style bass. When it showed up at my door, it was covered in grime and black goo about 1/16th of an inch thick, but after a couple of hours with a razorblade a beautiful pattern shows on the neck. At some point this was somebody's baby, but now it needs a ridiculous amount of love.
Saturday night:
Tonight I am biking to a friend's birthday party in Logan Square. I never, never miss a party here, and even though the night ends up being milder than usual, I'm able to really unwind. Full of barbecue, we talk loudly, catch up, carry on, and otherwise have a good time. A bike ride home at 3 a.m. ends the night with nothing but pleasure preceding it.
Sunday morning:
I wake up from a dream that unsettles me even though I cannot think of what it was about. ... I hum a tune in bed that I've been working on—a song which until this day would have only two lines—and mold it around the feeling I was stuck with after waking up. After an hour in bed with my guitar, I go to my workshop desk to write and rearrange the words to match a structure. The initial fire that makes a song worth writing can disappear in a second if you don't accurately record it onto paper or an audio track. After a while, the skeleton emerges and I'm able to put the song up for now. Time to cook.
Sunday night:
Around 5, I meet up with Michael Sunnycide, who plays drums in the Peekaboos. We waste some time with the good old Xbox until Koala Rob and Shannon Candy show up. For the next few hours, we work on the set for our release show. The week ends with some TV, a quick bowl of ramen at home, and my bed. Work keeps me company until I'm able to spend time with like-minded folks, and I couldn't chose another life if I wanted to.
Diary condensed and edited by Daphne Sidor.
Catch The Peekaboos in action:
10 p.m. on Friday, July 19, at Cole's with Shiloh, The Joy Kills, and Post Child
Hear their new album, Stay Positive:
Listen on
Bandcamp
or pick up a vinyl copy ($10) at any show.