A Wisconsin State Fair Scavenger Hunt
BY: Anna Skorczeski |
Oct 19, 2022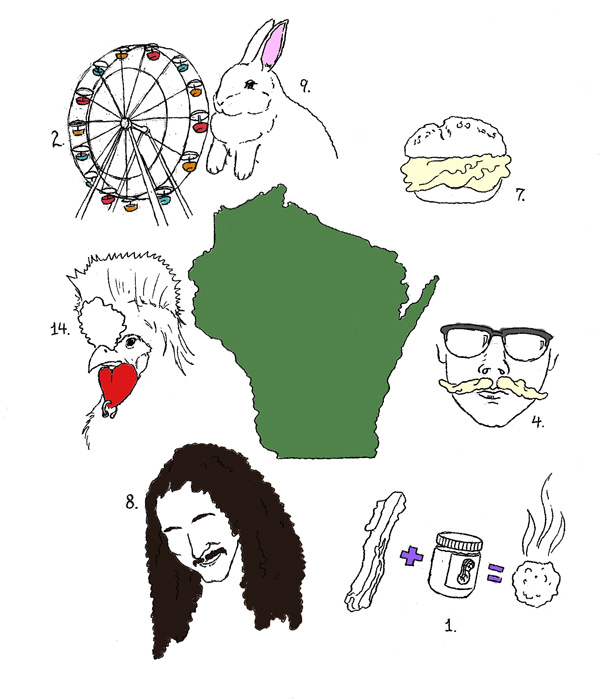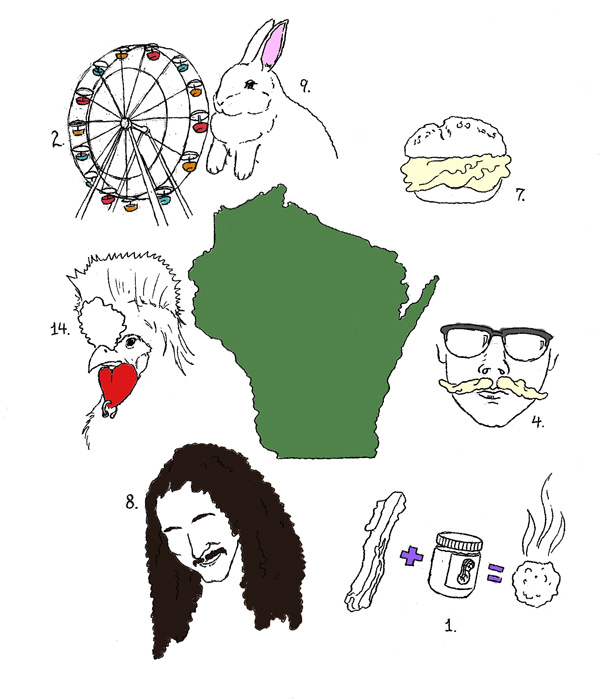 The Wisconsin State Fair, which takes place August 1–11 just outside Milwaukee, is a Chicagoan's most convenient option for a summertime dose of fried foods, midway rides, animal exhibits, and grandstand shows. Make the most of this wholesome bacchanal by completing this scavenger hunt during your visit.
1. Sample at least one of the eight finalist entries in the first annual Sporkies. (We suggest the deep-fried peanut butter and bacon nuggets from Saz's.)
2. Instagram a photo from the top of the 88-foot gondola wheel and tag it #kingoftheworld.
3. Cheer for a pig in the pig-racing contest.
4. Sport a handlebar puffstache made of filling from a cream puff.
5. Sing a Miranda Lambert song to a broken-hearted stranger.
6. Read the first chapter of Life of Pi to a white tiger.
7. Wager at least one cream puff on the outcome of the cream-puff-eating contest.
8. Take a photo of someone with Weird Al hair who is not Weird Al.
9. Wiggle your nose at a Flemish Giant.
10. Get your picture taken high-fiving Cravin' D. Creampuff.
11. Scowl at someone in a purple Brett Favre jersey.
12. Request a horse-milking demonstration in the milking parlor.
13. Elicit a wave from a chef in the Cream Puff Pavillion.
14. Find the chicken with the punkest head plumage in the Small Animal Palace.
15. Scour the art collection for a seed-art portrait of Scott Walker.
Snap photos of yourself completing these tasks and email them to grouponguide@groupon.com. We'll publish our favorites in a special blog post!
Nathalie Lagerfeld contributed to the reporting of this article.
Illustration: © Will Landon, Groupon