A Year's Worth of Wine: Different Bottles for All Four Seasons
BY: Kevin Moore |
Mar 29, 2013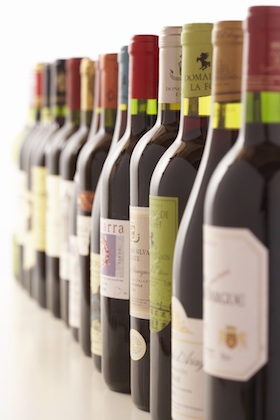 Trying to ice-fish in August or sunbathe in February tends to not work out well. Although wine can be enjoyed all year long, people's tastes do change throughout the seasons. Steve Patun, the manager and wine buyer at
Fine Wine Brokers
in Chicago, shares some of his favorite wines to enjoy throughout the year.
Winter: Syrah
In the dead of winter, hearty, full-bodied reds draw Steve's attention and tempt his palate. However, instead of turning to varietals such as zinfandel, which "really, work better with barbecue," he prefers the spicy and earthy boldness of syrahs—particularly those from the St. Joseph region of the northern Rhône Valley.
Spring: Gewürztraminer
Wines made from this grape range from refreshingly bright and crisp to pleasantly sweet, although they characteristically exude an unmistakably perfumed bouquet with hints of baking spices. Steve thinks that this wine perfectly complements the season and said gewürztraminer "has such a floral aroma, it immediately makes me think of all the blooming flowers."
Summer: Rosé
Rosé wines have come a long way since the infamous days of white zinfandel, and Steve recommends pairing a hot day with a glass of rosé made from Spanish monastrell grapes. In addition to retaining some of the richness and texture characteristic of red wines, he loves that these rosés still contain enough vibrant acidity to remain refreshing.
Fall: Pinot Noir
French pinot noir shows restraint above all else. The relatively cool climate of Burgundy, in particular, helps preserve the delicate balance between the grapes' mild tannins and relatively high acidity. A pinot noir's flavors can include everything from tart cherry to a hint of smoky bacon. For Steve, few wines have aromas that are as profoundly autumnal as the pinot noirs of Gevrey-Chambertin, which hail from some of the northernmost vineyards in the Burgundy region.
Located in the heart of Lincoln Square, Fine Wine Brokers features a curated selection of handpicked wines, beers, and spirits. This neighborhood shop specializes in helping patrons discover hidden gems—including anything from a red sancerre to a rare single-malt scotch—and staff members are always on hand to give some insight.
BY: Kevin Moore
Iowa-born, Arizona-raised, and Illinois-tax-paying writer who can answer any Trivial Pursuit question about wine or snakes.