Accuracy and Anachronism at the Bristol Renaissance Faire
BY: Stephanie McDaniel |
Oct 19, 2022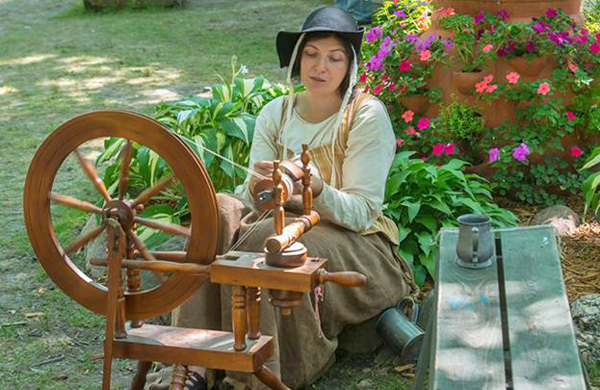 The year is 1574, and Queen Elizabeth I is making her honorary visit to the port city of Bristol. As she strolls the cobbled streets with her courtly retinue, a dragon emerges from a shady alleyway and Robin Hood darts across the—wait, something is clearly off about this scene. For one, this isn't the Bristol in southwest England. It's the Village of Bristol just outside Kenosha, Wisconsin, and the year is actually 2013. The Bristol Renaissance Faire is a place removed from history. For nine weeks every summer, the fair escorts visitors back to medieval times, or at least the medieval times of popular imagination. After all, there's only one place—in this time or any other—where you can watch a cluster of fairies bow to Queen Elizabeth while drinking Miller Lite from a wooden mug. The fair surprises at every turn with its balance of historical accuracy and anachronism, but this balance isn't always easy to maintain. Highly accurate reenactment guilds must contend with street actors dressed in frocks and flowing robes. And then there's the fantasy element, which includes everything from the aforementioned fairies to characters from Disney films.
Volunteering to Reconstruct History
Andrea Ewing-Ostergaard is a volunteer with the Guild of Saint Lawrence, one of three historically accurate guilds within Bristol. Members of Andrea's guild represent middle-class artisans, and their job isn't easy. They run a food co-op where they routinely find themselves "cooking over a fire in 100-degree weather while wearing several layers of historic clothing."
Andrea admits that the work is pretty brutal but maintains that "people are doing this because they love it." She's no exception. One of her favorite parts of cooking at the fair is helping "kids appreciate that things come from other things." In the past, she explains, people had to make their own breads and meat pies, and milk didn't just "[appear] on the shelf at the store." The same goes for textiles, which Andrea weaves on a loom after the lunch rush. She delights in explaining to her young audience how cotton is grown, woven, and sewn to make the shirts on their backs.
The fair's other two guilds are the Saint Michael soldiers and the Saint George nobility. Like the Saint Lawrence bunch, they take their history seriously. The nobles are so concerned with accuracy, Andrea explains, that "they'll research a particular person" and actually become that person. At any given moment, a Lord Burghley or Robert Dudley is liable to appear in the stands at a joust. The military guild is no less serious; its members hoist real swords and 15-foot pikes, all in the name of accuracy.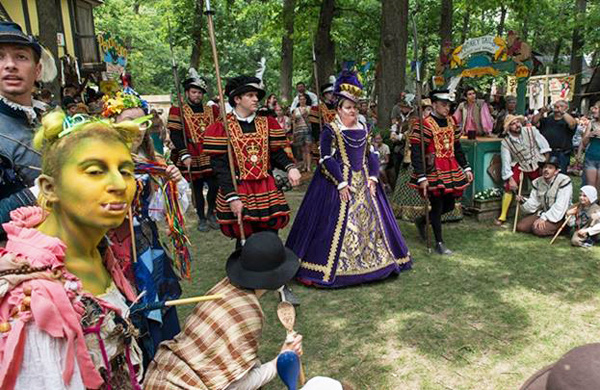 Fantasy on the Fringe
Though costumed guild members take great pains to stay within the time period, other groups let their fantasies roam freely. Fairies perch for hours on tree limbs, dragon slayers issue threats to the open sky, and more than a few Jack Sparrows scan the grounds in search of something to pillage.
It took Andrea some time to get used to these colorful personalities. "Eventually," she explains, "you learn that the Renaissance Faire is its own thing. There are plenty of accurate bits and plenty of fantasy bits and a lot of gray area." In the time she's worked at the fair, Andrea has noticed a trend toward the fantasy. "They've definitely pushed out the boundaries of what's acceptable," she says. "The fair is more about the feeling that it gives you than actual research at this point."
Still, certain limits are respected. Most performers try to stay away from things that are clearly mechanical or electronic, given that these wouldn't have existed in 1574. The glaring exception is Steampunk Weekend, when costume contests include full body armor and "magical" claws that move of their own accord.
Where Medieval Meets Modern: The Food
Though the performers follow a loose set of rules, visitors are welcome to come as they are. Andrea has seen people dressed as "everything from cavemen to Jedi." No matter what they look like or which era they're from, these people find common ground in one of the fair's most compelling aspects: its food.
The most historically accurate foods Andrea has seen at the fair are the candied nuts, the mushrooms, and the ever-popular turkey legs. People have been spicing nuts and eating game birds for hundred of years, but the foods at the fair aren't always prepared how they once were. This seems understandable, as a small fire pit could never handle the volume of turkey legs consumed by visitors each day. The mushrooms are likewise stewed in cauldrons large enough to feed a seemingly endless line of hungry customers.
Aside from these outliers, Andrea describes the fair's food offerings as "fairly modern." Visitors can purchase everything from pizza to grilled corn on the cob—a delicacy not discovered until Native Americans built the first outdoor barbecues. Andrea explains that anything made with potatoes, tomatoes, or corn is technically inaccurate, as these crops had not been introduced to Europe by 1574. Still, some food is too good to avoid, anachronism or not. "The cheesecake on a stick is not historic," Andrea reflects. "But it is damn good."