Adventures in Fitness: Lights-Out Indoor Cycling at Flywheel
BY: Michelle Algeo |
Sep 10, 2015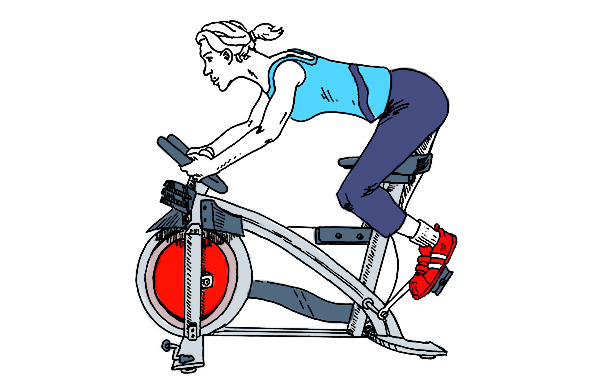 She's perched on a bike in front of stadium-style tiers, a toned mass of muscles and energy. Her platform is under a spotlight, the lone circle of light in an otherwise dim room. Others move through the semi-darkness, adjusting the stationary cycles that form a semicircle around her. And then, cued by thumping music, the cycles flutter into action, their riders reflected in the wall of mirrors behind her.
She is my instructor at Flywheel, a chain of indoor-cycling studios that have popped up in major cities all over the country. The studios claim a completely different spinning experience, one that replaces the often chaotic gym atmosphere with a specialized fitness-boutique setting—but that doesn't mean instructors go easy on you. I learned that quickly when I attended one of their spin classes.
Of course, things didn't start out so intensely. When I walked in, I had a smiling employee at my elbow who helped me check in on laptops by the front desk. She gave me a quick tour and set me up with a pair of the specialty shoes (free to rent) needed to ride Flywheel's bikes. Once inside the actual cycling studio, the self-conscious exerciser in me was immediately set at ease by the aforementioned mood lighting, which created a sense of privacy as I prepared to sweat and breathe heavily.
Surprisingly enough, I quickly ditched my guarded attitude: I elected to have my bike monitored on the "Torqboards," two screens above the instructor's head that ranked participating classmates in terms of "power" (a metric that also correlates to calories burned). This was perhaps the most imaginative aspect of class, as the added competition of trying to out-spin my roommate definitely gave me an extra push (spoiler alert: I lost).
The ebb and flow of the class as we increased and decreased Torq (resistance) and RPMs (speed) was enough to keep me engaged, but became challenging over time. Particularly when the instructor mixed things up toward the end of class by throwing in some arm work with the weighted bars stowed by our feet. A dance-y mash-up of "I Want It That Way" and "Someone Like You" was the only thing that kept me going. By class's end, I had burned nearly 570 calories (an estimate my instructor told me I could obtain by multiplying my "power" number by 2.4), and I felt totally justified in eating the cupcake that awaited me at home.
Try it if:

You're a cardio junkie

Don't go if:

You prefer slow-paced workouts

Beware of:

iPhones or Black

B

err

y

s in your pockets—they're not allowed inside the studio, but you can stow them in a complimentary locker

Invite a friend who:

Will sing along to Top 40 hits with you

Come prepared with:

Just yourself—they'll supply the shoes, towels, and even water

Wear:

Comfy workout clothing, particularly form-fitting pants that won't get caught in the pedals

Intensity level:

You'll need a nap afterward
Illustration: © Will Landon, Groupon