Affogato Takes Ice Cream to the Next Level
BY: Aimee Algas Alker |
Apr 30, 2014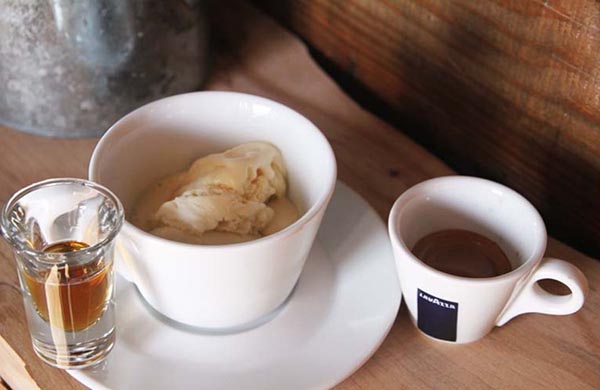 Ice cream submerged in espresso sounds like the beginnings of the most decadent latte. It's not my invention; Italians call it affogato. If you go by its full name, affogato al cafe literally means "drowned in coffee," and it's not just popping up at ice cream shops and cafes, but at restaurants all over.
At its most basic, it comes to the table in two parts: a cup of vanilla gelato and a demitasse of espresso. Sometimes, it gets an extra kick from amaretto, as in the version pictured above, from Chicago comfort-food spot The Peasantry. It's a classic Italian cup, more sippable than a Red Bull and vodka, sweeter than an (American) macchiato, and packing more punch than a whiskey ice-cream soda.
Variations
The sky's the limit when it comes to experimenting with affogato.
The menu at Chicago's Nico Osteria features several new takes, including one with burnt honey, apricot, and prosecco as the liqueur. L'Arte del Gelato in New York City serves up the traditional non-alcoholic version, but also an affogato all'arancia, with lemon sorbetto, fresh orange juice, and Campari. Caffe Yolly in Austin tucks a brownie beneath hand-crafted frozen yogurt, and after the espresso, tops it with chocolate sauce. Dominique Ansel, of cronut fame, has just introduced a waffle-affogato hybrid named, appropriately, the Waffogato.
Some ice-cream and coffee shops let you DIY the dish—after all, they already have most of the ingredients. You can pour espresso over Humphrey Slocombe ice cream at several Blue Bottle Coffee locations in San Francisco. At St. Louis' espresso and gelato house Gelateria Tavolini, you can douse any of their gelato flavors with a just-brewed cup.
At Home
If you don't have an espresso maker, brew some very, very strong coffee and pour it on top a scoop of vanilla. Then drizzle in the liqueur of your choice.
Or have fun with it and try some of these creative affogato combinations, invented by my colleagues. Let us know how it goes!
Peach Pie-gato = Vanilla ice cream + peach schnapps + crushed graham crackers
Miss U, Fall = Goat cheese cashew caramel gelato (from Black Dog Gelato) + apple butter + cashews and gingerbread
PB & J & C = Peanut butter ice cream + grape jelly + animal crackers
Cold & Bitter = Fernet + Fernet + Fernet
Photo courtesy of The Peasantry
BY: Aimee Algas Alker
Guide Staff Writer
Though Aimee stays up to date on the latest food trends for the Guide, most of her meals are served cold and cut into tiny, toddler-sized bites.